It's a universally accepted fact that Beyonce is beautiful.
But damn Bey! These photos are knockout!
Beyonce shared with her 109 million followers  a few behind-the-scene photos of herself wearing a striped LaQuan Smith mini dress from earlier this week.
She presented NFL football player Colin Kaepernick with the Muhammad Ali Legacy Award at the Sports Illustrated Awards on Tuesday.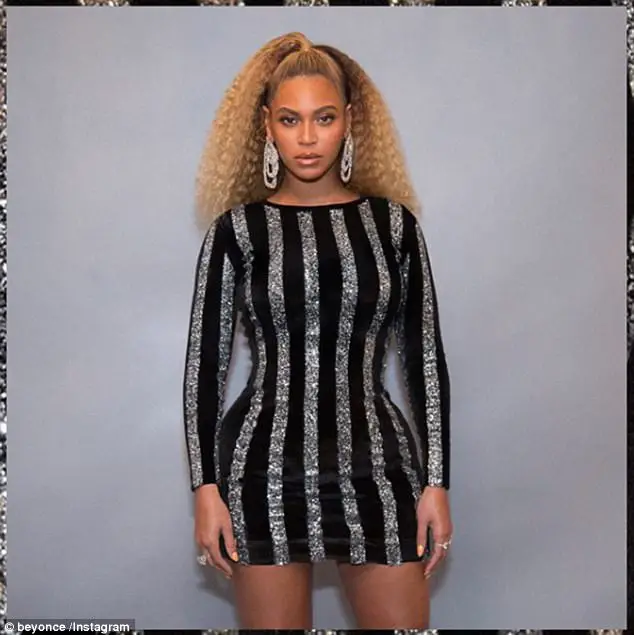 Beyonce looked simply elegant as she accessorized with diamong earrings and multiple diamond rings.
The 'Single Ladies' singer kept her voluminous caramel locks slicked up in a half-up half-down hair style.
Then the mom-of-three finished off her glamorous make-up look with a barely-there make up look and a glossy nude pout.
Queen Bey paired her stunning striped dress with silver open-toe strappy heels. 
In one of the singers Instagram posts, the pop star is seen mimicking boxing moves while heading on stage – a cute tribute to the late Muhammad Ali.
In an other photo, the 22-time Grammy winner is seen getting fitted in her ensemble while in her dressing room. 
Beyonce's appearance at the award ceremony was the night's best kept secret, as even Kaepernick was shocked.  
'Thank you, Colin Kaepernick. Thank you for your selfless heart. And your conviction,' the singing legend told Colin.
Beyonce continued: 'Thank you for your personal sacrifice. Colin took action with no fear of consequences or repercussions, only hope to change the world for the better.'
The athlete took the stage to a standing ovation and said: 'I accept this award not for myself, but on behalf of the people.
'Because if it was not for my love of the people, I would not have protested. And if it was not for the support of the people, I would not be on this stage today.'
'With or without the NFL's platform, I will continue to work for the people, because my platform is the people.'