Here's the dilemma: You adore Beyonce. You've been following her career since Girls Tyme (if you know, you know.)
You may have seen her in concert a few times, but you were sitting waaaaay back in the front row.
Then one day, you're innocently doing your shopping in Target.
You can't believe your eyes. Right there in the tampon aisle – it's Queen Bey herself!
Now, Beyonce has the right to shop for her period products in private. But this may be the only chance for you to get a selfie. Do you approach or nah?
This was the predicament several Target shoppers faced in Southern California – kinda.
Well, as far as I know, no sanitary products were purchased! 
Eagle-eyed customers at the discount retailer in San Clemente in Orange County spotted Beyonce browsing the aisles with her mom Tina Lawson and daughter Blue Ivy.
The 36-year-old had half her hair slicked up in a bun, as the other half of her blonde corkscrew curls fell on her shoulders.
Beyonce was dressed in a black sweater paired with wide-legged white pants that had yellow and black vertical stripes down the sides.
She tried to go incognito in sunglasses.
The mom-of-three even pushed her own red shopping cart along as she perused the shelves.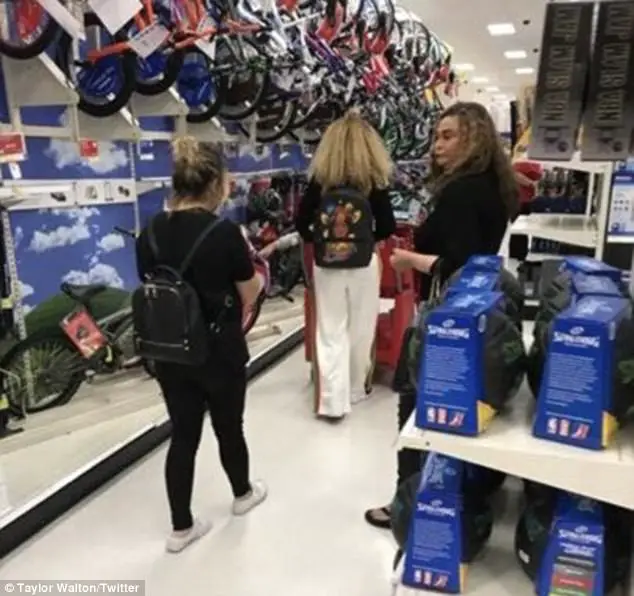 Five-year-old daughter Blue Ivy wore her hair in two long braids and seemed to be having fun checking out the toys.
Beyonce shares Blue Ivy and infant twins Rumi and Sir with her husband Jay Z. 
Twitter user @MsTaylorOlivia posted cell phone pics she managed to take of the Lemonade singer.
'It's not everyday you see @Beyonce at target (sic),' she tweeted.
Another user Jessica W. shared cell phone video of the star on the store. 
But it was obvious Beyonce wasn't in a selfie mood, as pictures show her putting her hand up as fans snapped pics of her.
Check out more photos below: