A sick and twisted sex trafficker finally saw justice after he was sentenced to 472 years in federal prison.
It has been described as the longest sentence in U.S. history for a case of human trafficking.
Brock Franklin, 31, was the leader of a human trafficking ring that reportedly recruited its victims, several women and girls, on Facebook. 
The gang then drugged them and sold them online for sex that took place in hotels.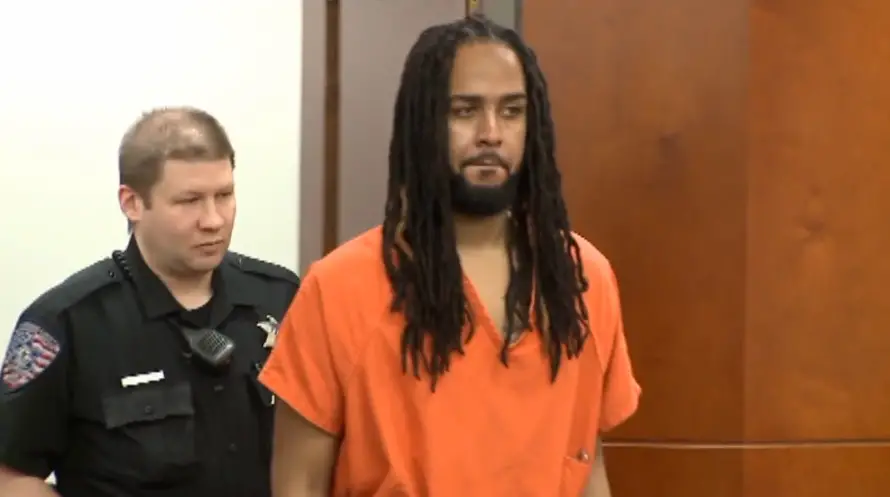 Franklin was found guilty in a Colorado state court earlier this year.
The sadistic man was convicted on 30 counts including human trafficking of a minor, human trafficking of an adult and soliciting of child prostitution.
'A 400-year sentence sends a strong message across the country that we're not going to tolerate this kind of violence,' Janet Drake, a spokeswoman with the Colorado Attorney General's Office, told FOX 31.
'I can't begin to even explain what he did to my life,' one of the victims told local media. 'He deserves every single minute in those walls.'
The sex trafficking ring consisted of up to seven members, four of whom have already been sentenced. 
Among them was David Fullenwiley Jones. He received an 18-year sentence after pleading guilty to human trafficking for sexual servitude.
Another was Isis Debreaux. She was handed a four-year deferred sentence after she pleaded guilty to contributing to the delinquency of a minor. 
Franklin was both ruthless and calculated in his abuse of his victims. 
He regularly used violence and drugs to control his victims. They had set rules they had to follow, including daily earning quotas. 
He would then take all of the money the women earned to support himself. 
One juvenile victim, known as D.Y., told authorities that Franklin recruited her between April and July 2015 after persuading her to leave her parents' home.
The victim said that during this time Franklin supplied her with ecstasy and repeatedly punched her in the face.
Another juvenile victim, known as C.W., was recruited by Franklin's ring for around five weeks between January and February 2015.
She claims Franklin forced her to perform oral sex acts on him in front of other gang members.
Both victims said they were encouraged to advertise themselves for sexual services on classified ad website Backpage.com. 
One adult victim said that Franklin used the GPS on her cell phone to monitor her location.
He also choked, pistol whipped and forced her to have sex against her will.
According to the International Labour Organization, globally, more than 40 million people are victims of human trafficking each year.