It was a sunny day in Western Australia back in 2011. The ultra athletic Turia Pitt stood at the start line full of anticipation and energy. 
She was competing in a ultra marathon that would see her run through Western Australia's Kimberley region.
She could not have known that her life was about to change forever. 
While running she was trapped in a bush fire. Through sheer determination she was able to emerge from the flames. 
Sadly over 65% of her body was burned. Four fingers from her left hand were amputated and she also lost the thumb on her right hand.
Throughout the ordeal her boyfriend, Michael Hoskin, stayed by his side. Michael purchased an engagement ring while Turia was still inside intensive care recovering from her burns.
He told Turia that he found her to be the most beautiful woman he had ever seen. Her severe burns had not changed his feelings whatsoever.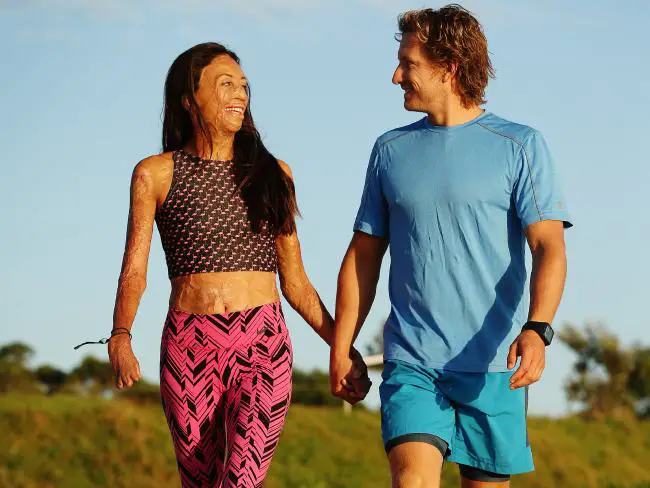 Michael not only sees Turia for the true beauty she is, but even gave up his job and lifestyle to take care of her when she could not do it herself.  
In 2014 Turia won the New South Wales Premier Award for Woman of the Year 2014. She is also a humanitarian and raised close to $200,000 for Interplast by trekking part of a section of the Great Wall of China.
Just recently the Australian athlete and burns survivor shared some heartwarming news.
She is pregnant with her first child.
The 29-year-old was so shocked she took six more pregnancy tests before she told fiancé Michael.
She broke the news by leaving one on the tests on the bathroom sink.
'I had a mouthful of toothpaste,' Mr Hoskin told 60 Minutes.
'I couldn't really say much but I knew what was going on and I was like, "Wow I can't believe it."'
Turia – who is 15 weeks pregnant – was feeling tired and sick days before she was due to tackle Mount Everest. 
After revealing the couple is expecting a baby, Mr Hoskin says he is 'stoked' to become a father.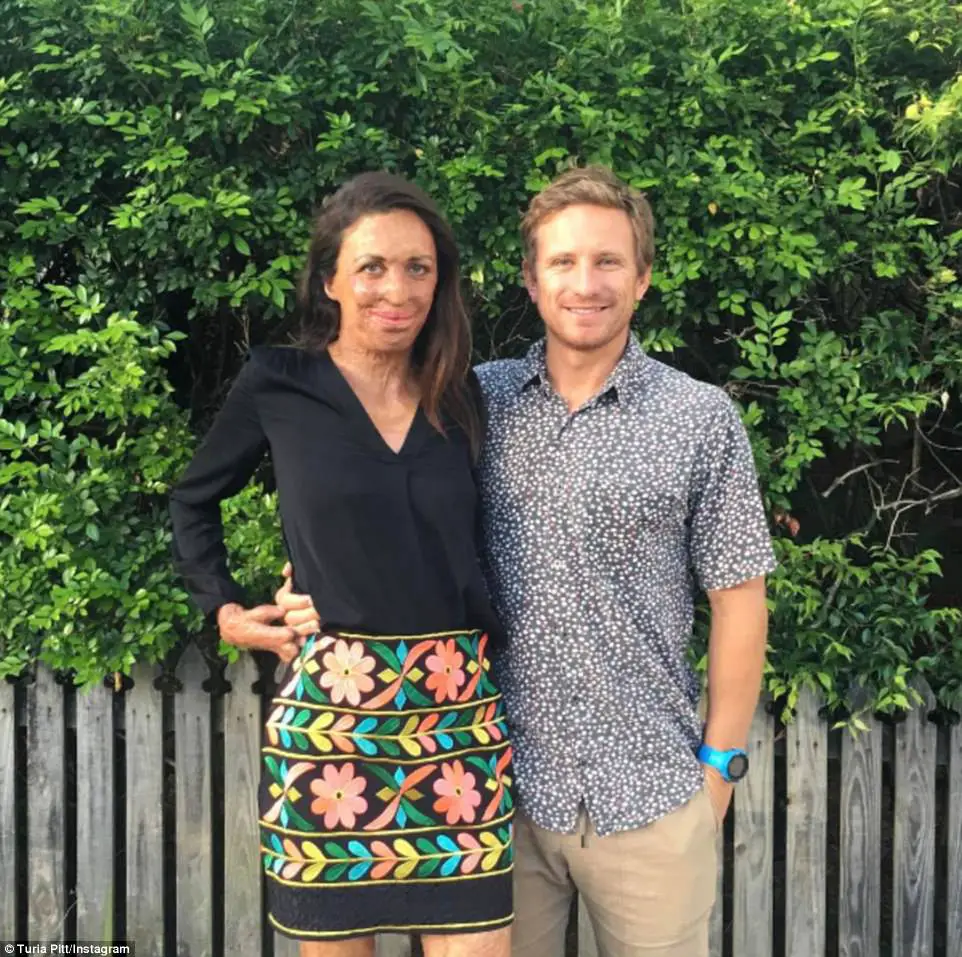 Turia spoke about her initial panic after realising she was pregnant.
'When that first test came through I was just like 'f***'. Then I thought I needed to stay calm,' she recalled.   
She decided to pull out of the challenging Mt Everest trek after deeming it too risky to do while pregnant.
'I wanted to do the walk. I had to think about it because it's just not myself to shy away from adventure,' Ms Pitt said.
Despite suffering horrific burns after she was trapped in a raging bush fire, luckily she suffered no internal injuries.
Her obstetrician is confident she will have no trouble carrying or delivering her baby. 
The loved-up couple were amazed after their first doctor's visit when they heard the tiny heartbeat of their unborn child.
'Seeing the first heartbeat is like, 'wow this is real', there is something inside your belly. There's a little baby… that was fascinating. It blew me away,' Turia said. 
'I know 100 per cent Michael is going to be an amazing dad, because for 6 years he had to look after me,' she said.
'He was so caring and so patient and I think those qualities are really desirable especially in a parent.'
Turia and Michael are due to have their baby in December and the pair have been brainstorming both girl and boy names, 9Honey reports.
They have hinted the name will give a nod to Turia's Tahitian heritage. 
The mom-to-be was pictured for the first time out and about in Sydney with a blossoming baby bump.
She was spotted in Bondi wearing a tight grey dress which hugged her blooming tummy.
In a recent newsletter that Turia sent to her online followers, she opened up about how life often teaches us lessons in ways we don't like.
'You know, things aren't always gonna turn out the way we imagined, sometimes you're going to feel scared and sometimes you're gonna get dumped,' Turia wrote.
'But here's the cool part: While you can't always control what happens to you, you get to decide how you're gonna respond.'