Cardi B has it all the looks, the talent and a baby?
Rumors continue to swirl that the Grammy nominated artist is pregnant. But the Bodak Yellow rapper is doing her best to counteract the gossip.
The former Love & Hip Hop Star shared a picture of herself on social media wearing a very revealing tailored red jacket with matching skinny trousers.
The 25-year-old captioned the photo: 'DRIPPIN in finesse.'
Cardi B paired her fashionable outfit with a pair of nude sandal heels.
She wore her blonde hair up in a messy topknot with a few bangs left out to frame her face.
The star left the top button of her jacket undone to give her ample assets room to breathe.
Earlier in the day, Cardi shared a racy snap of an ensemble she wore for a trip to the Ace Of Diamonds strip club in West Hollywood.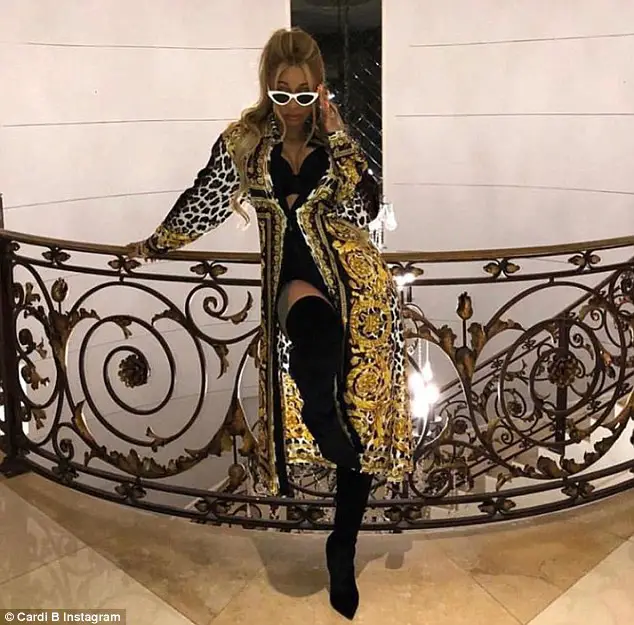 The Bartier Cardi artist was seen in a black bra and panties with matching thigh-high boots and a full length black and gold Versace coat.
The rapper also sported a pair of white-rimmed cat eye sunglasses.
Last week TMZ reported that members of the rapper's team revealed she was pregnant.
The rumors were ignited during her appearance at a Super Bowl party in Minneapolis, Minnesota, this month.
According to the site, after she performed at Maxim's bash, a member of her team said that she didn't want to be in the 'party atmosphere' of the VIP room.
Her management claimed it was because she's 'three to four months' pregnant.