Janet Jackson's out here making mommy moves!
The legendary singer cradled her one-year-old son Eissa while out with pals in London on Monday.
The 51-year-old spent her first Christmas as a single mom in Miami after splitting from her billionaire husband Wissam Al Mana in April 2017.
The 'Control' singer was every inch the doting mother as she held her little one close outside the restaurant.
Janet looked stunning as she accentuated her flawless complexion and high cheekbones by working her caramel locks into a sleek top knot.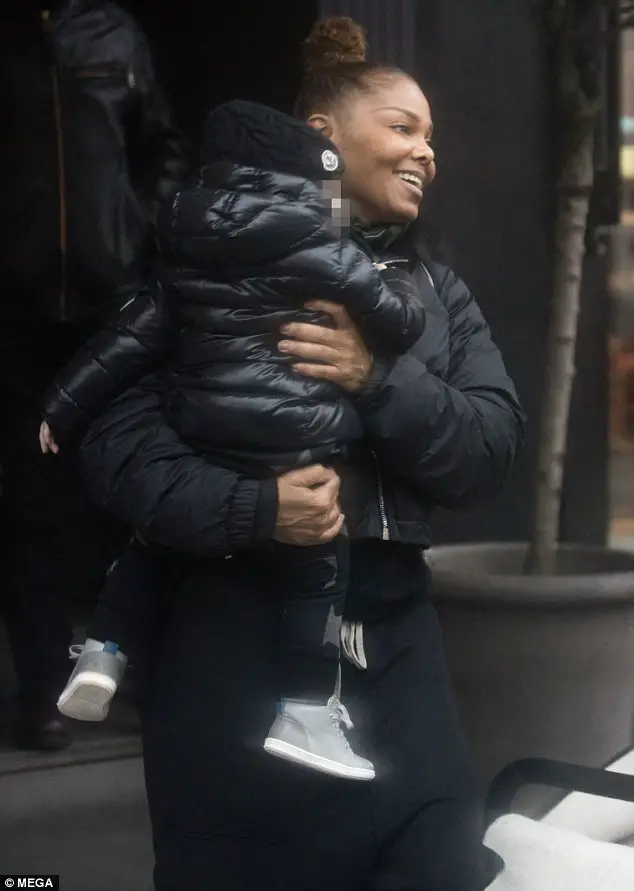 Janet revealed early last year she had split up from her Qatari billionaire husband after five years of marriage.
At the time she said: 'I just want to keep it real with you guys for a second. Yes, I separated from my husband. We are in court and the rest is in God's hands.'
According to People magazine, Janet and Wissam, who were notoriously known for being private about their family life, ended their five year marriage due to 'recognising their dissimilarities more than ever', following Eissa's arrival.
An insider said: 'They separated shortly after the baby was born. The cultural differences between her and Wissam became even more obvious [after Eissa arrived].'
'They come from very different worlds.'
'For years, Janet tried to adapt to his culture. Since it's not a culture she grew up with, it's been challenging for her. She often felt she disappointed Wissam.'
Despite their split, a family source had revealed that the former couple will 'raise their son together'.