Anthony Borges looked evil straight in the eye.
But instead of running away, he saved 20 of his classmates during the Parkland school shooting.
The soccer player used his own body to shield them from gunfire.
The student from Marjory Stoneman Douglas High School is being treated in hospital after his selfless act on Valentine's Day.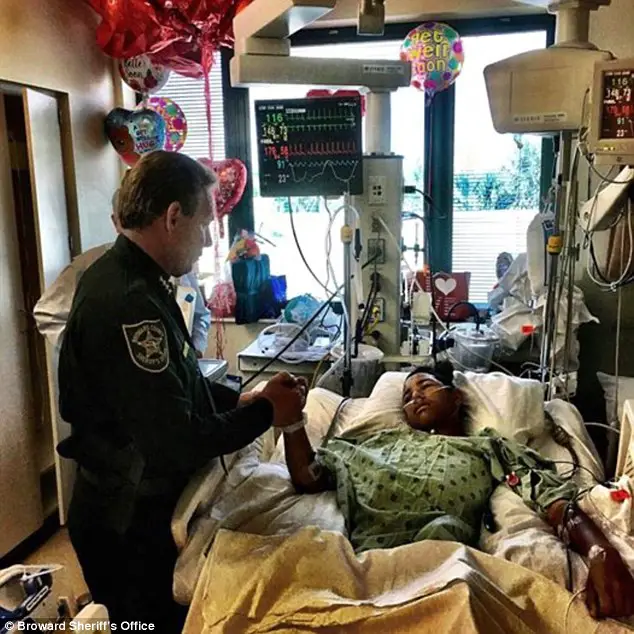 The 15-year-old was shot five times by mass murderer Nikolas Cruz.
The expelled former student, 19, went on a killing spree that claimed 17 lives.
Yesterday the sheriff of Broward County visited the brave young boy as he lay in hospital.

Cristobal Herrera/EPA/REX/Shutterstock
The sheriff's office tweeted: 'Fortunately, he is recovering, but has a long road ahead with more surgeries needed.
'Please join us in praying for the swift recovery of Anthony and all others from #StonemanDouglas,' it added.

Instagram
Sheriff Scott Israel says he was 'honored' to visit the boy, his office added.
His father Royer, meanwhile, said he asks only that people 'pray for him'.
Speaking to ABC News, he explained what happened after the massacre: 'He just called me and says, "Dad, somebody shot me in the back and my leg, too".'
He added: 'He's my hero.'

Facebook
A fellow student and friend of Anthony's, Carlos Rodriguez, said the heroic youngster 'took the initiative just to save his other classmates'.
'None of us knew what to do,' he said.
Rodriquez added that he is alive because of Borges.
The student ran with other students to hide in a locked room.
Anthony put his body between the bullets and his fellow students, allowing them to escape while taking shots to the legs and back.