Cardi B has just reached a milestone that most musicians dream of – the cover of Rolling Stone magazine. 
The former Love & Hip Hop star graces the cover of the November 16 issue of the iconic mag.
The 25-year-old revealed the amazing feature just three days after her boyfriend Offset proposed to her onstage in Philadelphia. 
In her true no- nonsense style, the Bronx native did not hold back in the interview, as she discussed her stripper background, her hopes for motherhood and her sex life with beau Offset.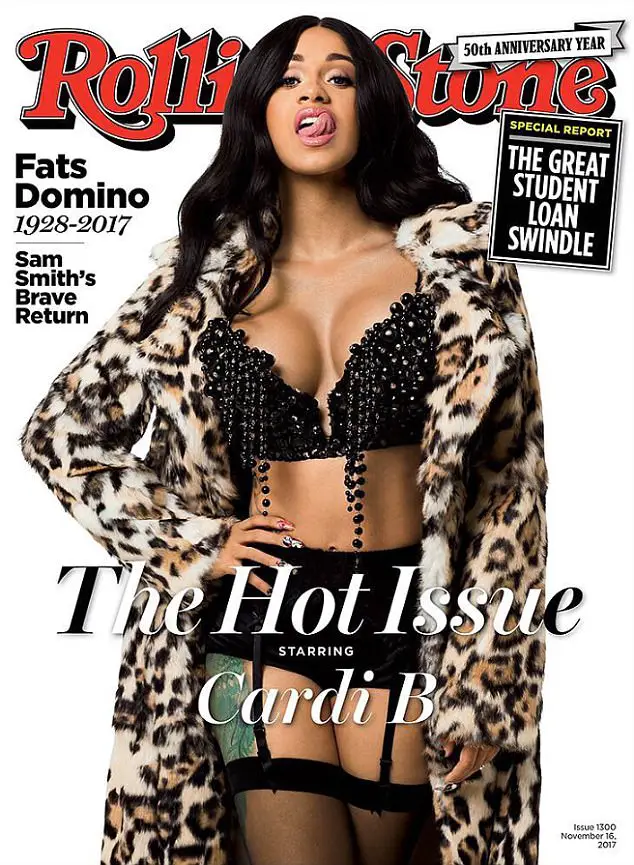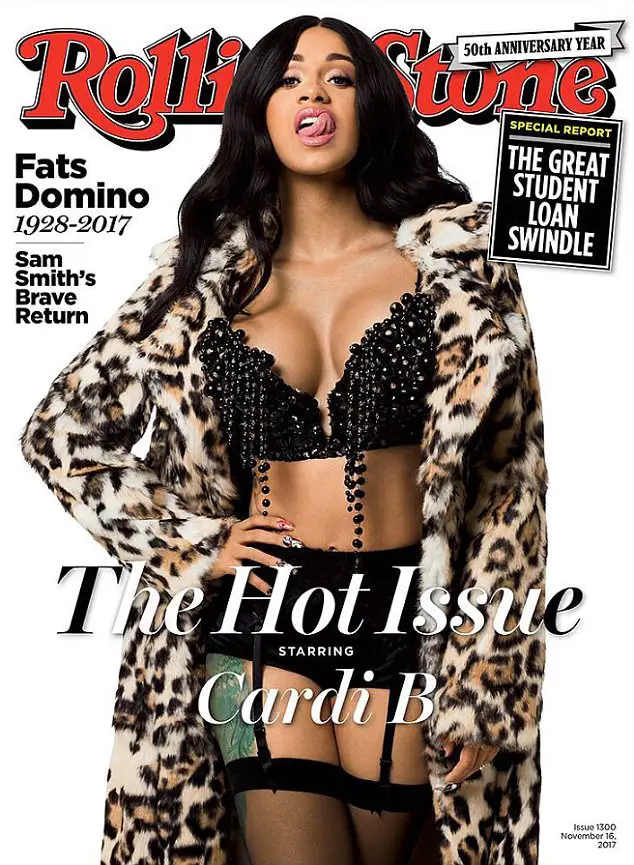 The 'Bodak Yellow' rapper dished in the interview: 'I need to make money for my family and my future family.'
'I'm not a YOLO person. I think 25 years from now. I think about my future kids, future husband, future house. I see myself cursin' at my kids.'
On the cover of the publication, Cardi oozes sex appeal whilst modeling a leopard print coat.
Underneath, she wears an embellished bra and stockings. 
Cardi flashes her huge tattoo etched onto her thigh, as she dons black briefs and suspenders. 
Cardi poses with her hand on her hip and provocatively sticks her tongue out and upwards to rest on her lip.
She wore her long raven hair down in glamorous curls that tumbled down to her waist. 
Cardi and her fiancé Offset are now set to make a mint by filming their big day in a wedding TV special worth $1million. 
According to TMZ, shortly after their engagement BET, VH1 and WE expressed their interest. The couple are now reportedly 'mulling over' offers. 
Speaking of her beau in the new interview with Rolling Stone, Cardi admitted that on her birthday in October, Offset was away on tour.
'I was sad, because it's like, "Oh, my gosh, I'm not getting no d**k on my birthday." But I wasn't going to get d**k on my birthday anyway, because I got my period.'
Professionally, she and Offset 'polish' each other, she claims. Cardi said: 'I could always ask him, "Do you think this is OK to do? Do you think I'm getting tricked?"'
In the interview, Cardi also reflected on her time as a stripper and defended her former career, as she claimed: 'A lot of people wonder, "Why would anybody want to be a dancer?" Because there's money!' 
Cardi's track 'Bodak Yellow' catapulted her to the top of the charts and toppled Taylor Swift's 'Look What You Made Me Do' from the top spot on the Billboard Hot 100.
As of this week, 'Bodak Yellow' is still No. 2 – while 'Look What You made Me Do' has slid downward to No. 10.
Cardi said of stardom: 'I cannot turn my life back around. I'm already a public figure, I'm famous. It's like, I might as well keep it going, might as well make the money.'
'People are always going to talk s*** – I cannot make myself unfamous.'