All Jaheim McKinzie wanted was for his mom to stop beating him.
Robin McKinzie severely beat and choked her 10-year-old son. So much so, the little boy from Tennessee fatally stabbed himself.
Memphis police found Jaheim bleeding from his chest at an apartment Saturday afternoon. 
Jaheim McKinzie was taken to a hospital, where he was sadly pronounced dead.
His mother Robin McKinzie is now charged with aggravated child abuse, according to a police report. 
According to an arrest affidavit, McKinzie admitted to authorities she whipped her son with an extension cord.
She then began to choked him.
Jaheim managed to break free, where he ran into the kitchen and stabbed himself with a knife.
Robin McKinzie remained in jail Monday on an aggravated child abuse charge and $100,000 bond.
Her charges could change pending the medical examiner's investigation. 
Jaheim was a fourth-grade student at Cornerstone Prep-Denver Campus. Principal Michelle Lyons says grief counselors and police came to the school Monday.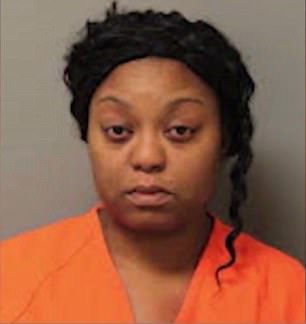 Meanwhile a close friend of McKinzie's who did not want to be identified told reporters:
'All I can say is that she was a good mother, and her son was her life.'
Another friend said that McKinzie became distant this past year, and she didn't know why.
Several local pastors went to Jaheim's school, Denver Elementary, on Monday morning to comfort bereaved students.
'I haven't had to do something that difficult in a long time,' Pastor Deandre Brown said to Fox13.
'The fact they were just with this young man Saturday and to hear how he died was very traumatizing for them,' Pastor Charlie Caswell said.
People who saw the Jaheim on Saturday told the news station that he boy was seen throwing rocks at the window of an apartment on Saturday afternoon.
Jaheim was then called inside by his mother.
Ten minutes later, his mother Robin was seen running out of her own apartment screaming for help.
She told officers her son got angry, ran into the kitchen, and stabbed himself in the chest with a kitchen knife. 
Police are continuing to gather evidence in order to determine what led to the Jaheim's death.