More than ever before brands are starting to embrace models with a range of different looks.
Now a model with an intriguing style and an individual sense of fashion has been hired to be the face of ASOS Makeup. 
Jazzelle Zanaughtti, a 21-year-old Chicago native, has a strong social media presence with more than 280,000 followers on Instagram.
Jazzelle's followers are captivated by her unique androgynous look. In a world where us ladies are on the quest for fleeky eyebrows – Jazzelle prides herself on having none.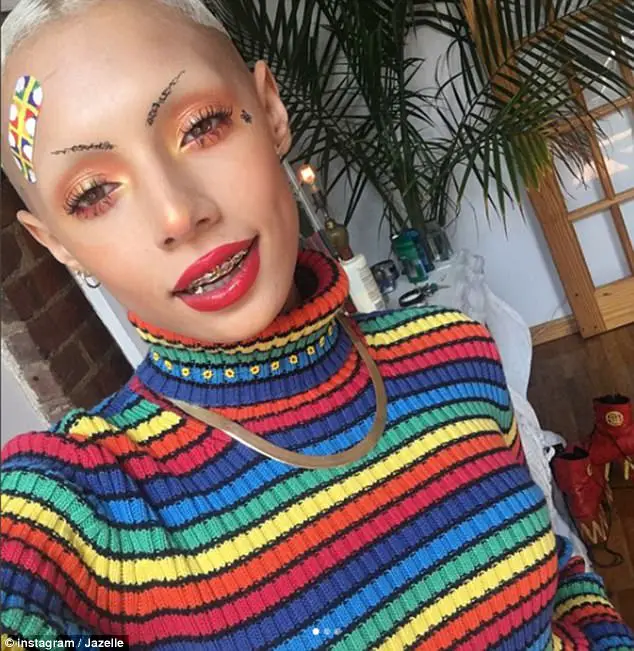 The rising runway star made her debut back in 2016 after being discovered on Instagram.
Her striking looks have led to her being featured in the Fenty Puma by Rihanna show at New York Fashion Week on Sunday.
Not bad for a model who once described herself to Alive magazine as 'not a boy or a girl, just a creature.'
In an interview with Vogue earlier this year, Jazzelle revealed that she used to just bleach her eyebrows, but after the effect began bleaching her skin as well she decided to shave them off altogether. 
'It's 10 times easier, looks better, and make-up goes on a lot smoother,' she said.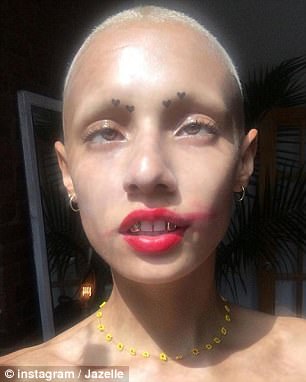 The model's trademark sees her sport gold and silver grills. 
'I have a bottom grill, too, but it makes me talk with a lisp, so I don't wear them the whole time,' she said. 'They're my favorite thing. I won't leave my house without them.' 
Jazelle also sometimes takes to creating a false gap in between her two front teeth with a black insert.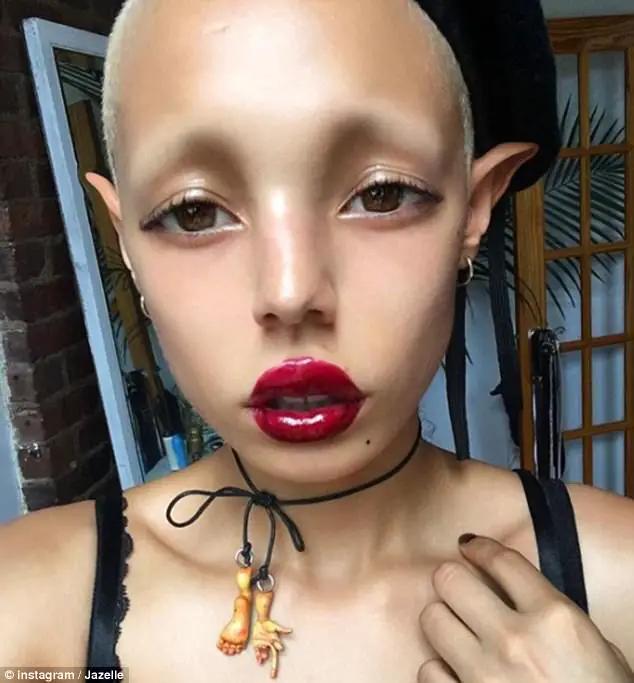 As for her famous Instagram handle, UglyWorldwide, Jazelle explains in a recent Oyster magazine video that she took on the name after a friend dubbed her drawings of unique characters 'ugly.'
Jazzelle regularly edits her Instagram pictures to give herself pointy elf-like ears or make herself appear cross-eyed.
Her extraordinary look should surely see her on the pages of magazines and Fashion Week runways for the foreseeable future.