A Georgia mother has received severe backlash after she gave some truly awkward, yet brutally honest, advice on a Christian blog about what to do if your 'daughter brings home a black man.'
Gaye Clark, a cardiac nurse from Augusta, says all she wanted for her daughter Anna was a husband who was 'godly' and 'kind' as well as a great father and a good provider.
Clark notes that not too long ago interracial marriage – 'particularly a black man like Glenn with dreadlocks marrying a white girl like her daughter Anna' – was considered the 'ultimate taboo.' 
While she insists that she never shared this prejudice, she admits that she never thought the issue would factor into her life.
But as her daughter was deeply in love with Glenn and wished to marry him 'she accepted Glenn as her son.'
In her blogpost the mom offers heartfelt guidelines to other parents for 'when your white daughter brings home a black man home for dinner.'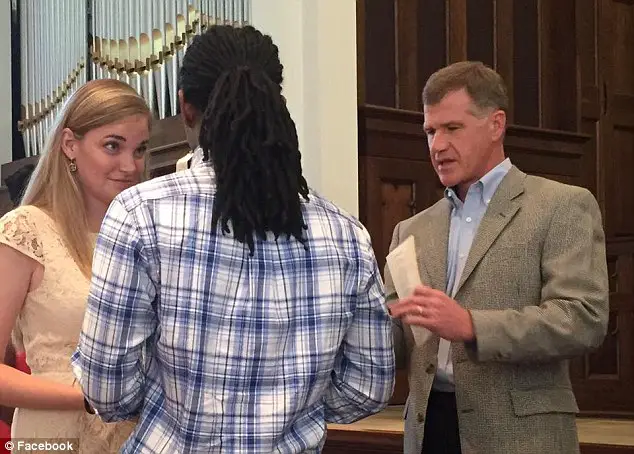 Gaye Clark asks all parents whose child brings home a black partner to remember that, "All ethnicities are made in the image of God.'
'Have one ancestor, and can trace their roots to the same parents, Adam and Eve.'
Clark continues: 'As you pray for your daughter to choose well, pray for your eyes to see clearly, too.' 
She adds that Glenn went from being 'a black man to a beloved son' when she recognized him as 'a brother in Christ.' 
Clark also told of an incident in church when a woman was shocked to see the interracial couple.
Clark says in her blogpost: 'One woman in church looked over at Anna and Glenn and gingerly asked, "Are they . . . dating?"' Clark recalls.'"Engaged!" I grinned and winked at them.'
The woman then told her: "It's just . . . their future children. They have no idea what's ahead of them!"
Clark uses the tale to remind her readers that 'no one is promised a life without trials.' 
She replied to the woman: 'When Jim and I were married, we had no idea what was ahead of us either.' 
Clark also urges people to 'be patient with their family members' who have their own reservations about interracial marriage.
Clark gives readers advice about unhappy family members: 'Calling Uncle Fred a bigot because he doesn't want your daughter in an interracial marriage dehumanizes him.'
'It doesn't help your daughter either,' she says. 'Lovingly bear with others' fears, concerns, and objections while firmly supporting your daughter and son-in-law.'
Unsurprisingly the article received a tremendous amount of online anger. One man wrote: @TGC I appreciate the conversation, but this headline deeply troubles me. The framing doesn't make me feel dignified as a black man.'
The article has been removed from The Gospel Coalition website at the request of Gaye Clark, who says she regrets hurting many readers. 
"I have asked TGC to remove my article from their website," she tweeted.
"I am profoundly grieved over the hurt and harm it has caused. Would covet prayers."
However the full article is still available to read here.