The students who died at Marjory Stoneman Douglas High School will never be forgotten.
But as the surviving students struggle to come to terms with the horrific incident, Miami Heat guard Dwyane Wade decided to surprise them.
Wade visited the school in Florida on Wednesday morning.
The humble giant met with students and teachers and posed for photos. Wade told the excited crowd they inspired him.
The NBA legend has worn the name of shooting victim Joaquin Oliver on his game sneakers for the past several games.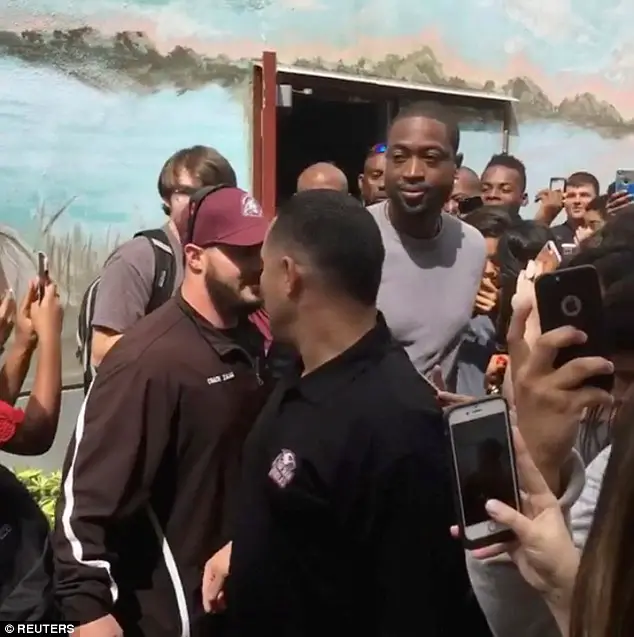 He was reduced to tears last week after learning that Oliver was buried in a replica of his No 3 Heat jersey.
Wade met privately with the boy's parents last weekend to thank them and ask how he could help going forward.
Videos seen on social media show Wade making his way in a sea of screaming students.
'I just wanted to come here today and hopefully for a moment, for a second, bring a little bit of this,' he said into a microphone, addressing a crowded lunchroom.
'Bring a little excitement, bring a little joy. What you guys have been going through and how resilient you have been has been amazing from afar.'

Instagram
'I just wanted to come and say I'm inspired by you.'
'As someone out here in the public eye, I'm proud to say I'm from this state, because of you guys, because of the future of this world, because of you guys.'
He punctuated his brief remarks with 'MSD Strong all the way' – which was met with a loud roar.
Following his visit, Wade, 36, took to Twitter, writing that he had 'a great conversation with some of the students at Stoneman Douglas High School.
He told fans that they had discussed some important and impactful things.

Instagram
'I'm looking forward to being more involved in the change that they WILL create. #MSDStrong'
In a follow-up tweet, the Heat player praised the Parkland students, saying:
'These young adults GET IT. They understand the power of their voices for the ones that often go unheard!'


Twitter
Wade has dedicated the rest of his season to shooting victim Joaquin Oliver, who was excited about his recent return to Miami and was laid to rest in his Heat jersey.
'You hurt for the family,' Wade told reporters.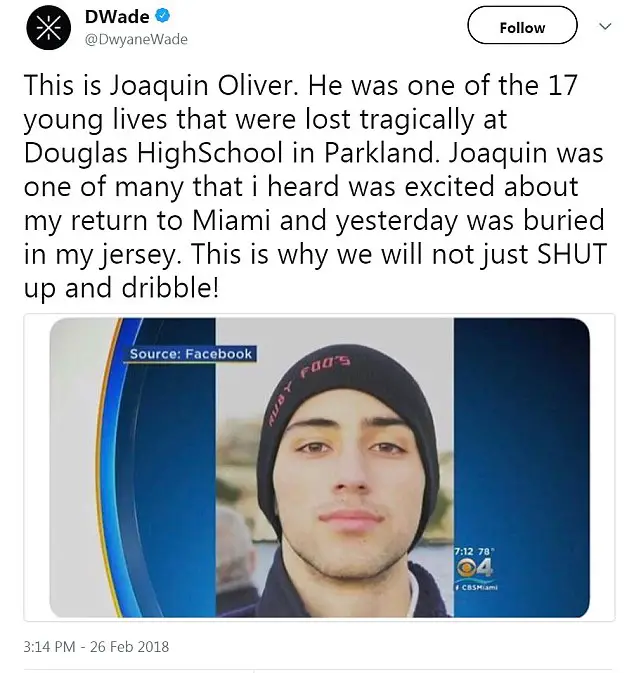 'It's emotional even thinking about that, that his parents felt that burying him in my jersey is something that he wanted.'
'I take a lot of pride in what I've done in this state and what I've meant for the youth, so I appreciate that.'
A few days later, Wade honored the slain boy by wearing custom-made Nike sneakers with the teenager's name written on them against the Philadelphia 76ers.