Penny Jensen was just happy to see her beautiful granddaughter marry the love of her life.
But the joyous family occasion was made even more special when Jordyn Cleverly surprised her grandmother. 
Just before the ceremony, she revealed that she would be wearing her grandmother's 1962 dress to walk down the aisle.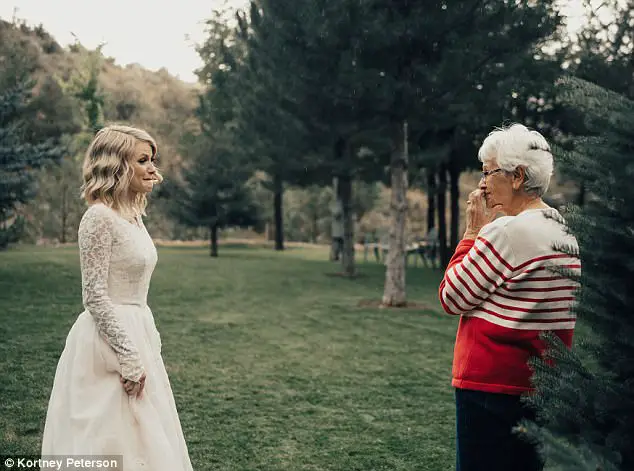 Jordyn, 23, decided to use Penny's dress as her 'something borrowed' as she prepared to wed her high school sweetheart.
The bride from Idaho managed to keep the news a surprise until the day of the wedding.
And what a surprise it turned out to be.  
In photographs captured by Kortney Peterson, grandmother Penny appears overwhelmed as she sees her granddaughter's touching tribute.
Penny was quickly reduced to tears as she saw her stunning granddaughter in the gown she had once wore.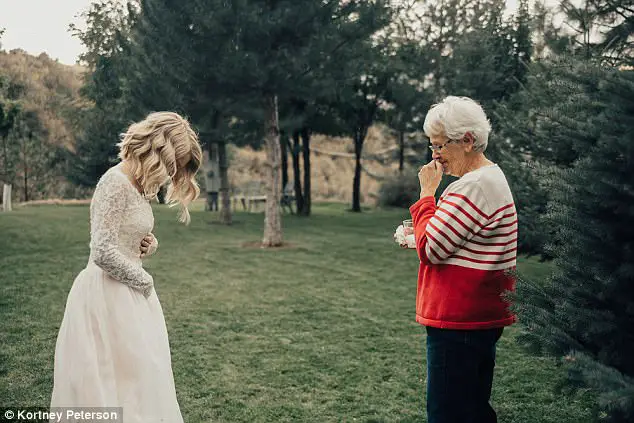 Speaking to Huffington Post, Kortney revealed that Penny didn't even know that Jordyn had the dress in her possession, let alone that she was about to wear it.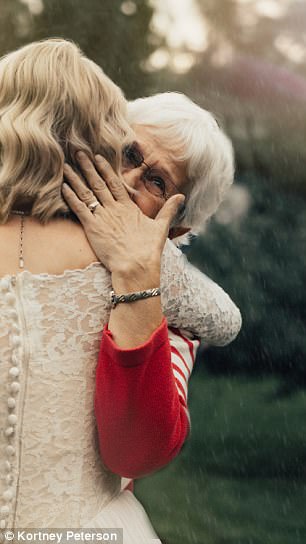 'Jordyn and I stepped out [of the rehearsal dinner] and got her all ready and into the dress.'
'We got her grandmother to step outside and we showed her the old photo of her in the dress that was going to be displayed at the wedding,' she said.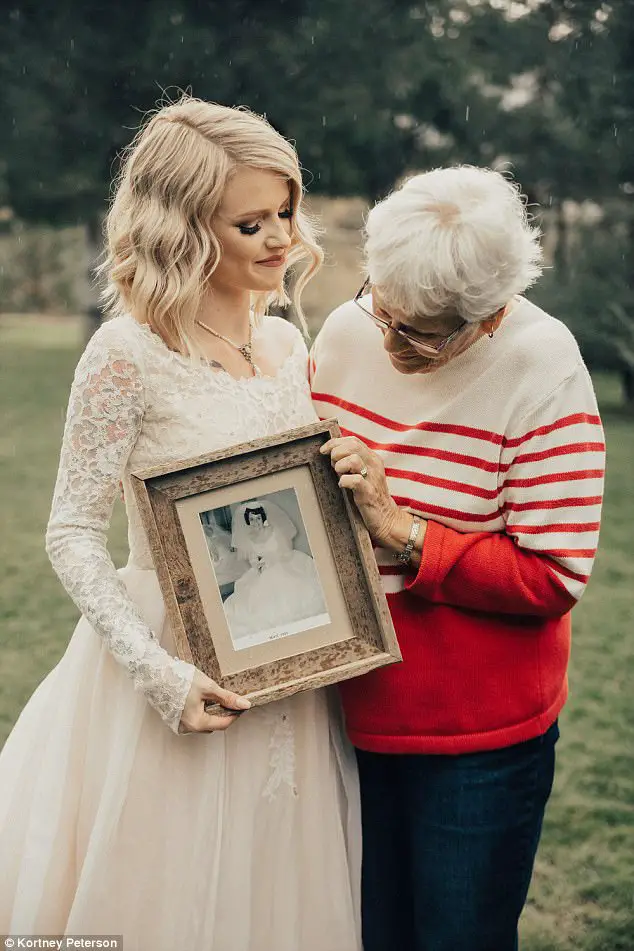 Jordyn debuted her grandmother's dress at the rehearsal dinner. 
She felt that her grandmother seeing the dress for the first time as she walked down the aisle would be too emotional. 
In the moment of the surprise, Jordyn claims that she 'blacked out' for a moment. 
'All I heard her saying in the back was, "Wow, wow, wow." I finally went up and hugged her and she whispered in my ear, "I married my high school sweetheart in this dress and so will you".'
Sadly, Penny's husband died 25 years ago.
He wasn't able to meet Jordyn, which made her choice to wear the dress all the more special. 
Jordyn has previously tried on dozens of dresses, failing to come across anything that felt right. It was when she learned her grandmother was thinking of donating her own dress, that she felt compelled to see it. 
She secretly tried it on and was left blown away.
though it was originally a few sizes too big, she was able to find a seamstress that altered it to fit like a dream.
Meanwhile, Jordyn's love story began when she was just 14. She met her no husband in the eighth grade.
They were married on September 23 and plans to keep the dress for future generations of their family.