This time last year, Kamiyah Mobley's life changed forever.
It emerged that for 18 years the young woman had been living a lie.
She was snatched at birth and raised under a false identity. But remarkably, she has forgiven the woman who raised and deceived her.
Kamiyah has pleaded with authorities for leniency for her kidnapper 'mom'. Gloria Williams will stand trial next month.
But Kamiyah doesn't believe Williams should be harshly punished, telling DailyMailTV: 'It's not like she tortured me.'
Williams stole Kamiyah from her parents in a hospital when she was just eight hours old.
For almost two decades, the 52 year old posed as Kamiyah's biological mother.
In an exclusive interview with DailyMailTV, Kamiyah revealed how investigators finally solved her 1998 abduction and arrested Williams on kidnapping charges.
'Don't get me wrong, I do feel like it was wrong.'
'But we talked about it and I can understand at the time what was going on,' said Kamiyah, now aged 19. 'I sympathize with her, I'm not mad at her – of course I forgive her.'
'I am certain that she's going to get time but I'm hoping not very, very long. I think they should be lenient. It's not like she took me and tortured me my whole life. She took care of me very well.'
Meanwhile, Kamiyah has spent the past year building relationships with her biological mom and dad. Shanara Mobley, 36, and Craig Aiken, 42, were the parents robbed of their precious baby girl.
Kamiyah says she has an 'incredible bond' with Aiken and stays at his Jacksonville home for weeks at a time.
She even celebrated Christmas with him, his wife Shannon, 42, and her eight half-siblings. But sadly, it's been harder for Kamiyah to rebuild her relationship with her mom.
Shanara is struggling to come to terms to why Kamiyah is still close to the woman who stole her.
She wrote on Facebook: 'The tears won't stop. I see my baby girl wanting this lady in her life and not me.'
Kamiyah told DailyMailTV: 'It's been harder for my mother to cope. We are working on our relationship. I don't like to define which one is my mother, I like to be respectful of both parties.'
'I don't like to take away from either one of their duties or what they did. I don't want to pick sides.'
Shanara was just 16 years old when she gave birth to Kamiyah, her first child, at 6:55am on July 10, 1998.
But her happiness soon turned to heartache.
A woman wearing blue scrubs and surgical gloves came into her room at University Medical Center in Jacksonville before stealing the 8lb 2oz infant away.
Mobley assumed the kidnapper was a nurse but investigators say Williams impersonated a hospital employee.
'Please bring my baby back,' Mobley wept afterwards in a harrowing TV appeal. 'If you were faking a pregnancy or you just can't have no kids, how do you think I feel?'
Williams had undergone the trauma of miscarrying a child a week before.
But instead of grieving with family and friends, she kept it a secret from her parents and two sons Antoine and Andre, then aged 10 and 11.
She returned home with her new baby who she named Alexis Kelli. They had no reason to believe it wasn't their own flesh and blood.
Aiken was in jail at the time of the birth for sleeping with Mobley when he was 19 and she was 15.
But he told DailyMailTV he doesn't resent Kamiyah for refusing to sever ties with the woman who stole her.
'She can't help what happened with Gloria or the feelings she's got for Gloria,' said Aiken, a radio DJ and property manager.'
'She just wants her mama to understand that she's not trying to do anything to hurt her. The last thing she wants to do is hurt her mama.'
'What I try and do is block out all the negativity and just focus on building that relationship with her. That helps me cope better too.'
'I'm proud that she turned out the way she did and that's why I can't criticize anybody. She was given every chance to make it in life and that's what I hope for all my kids.'
Growing up as Alexis Manigo, Kamiyah insists she had no reason to doubt that Williams was her mom.
Her family treated her like a princess and and loved playing with her 'brothers' Antoine and Andre.
Williams worked at the medical records department at Joint Base Charleston and took her family to the local Methodist church on Sundays.
'As a mom, she was very smart, very loving, and generous. She was always giving everything she had to me and my friends,' Kamiyah said.
'She wasn't a parent who could say no. I was very spoiled. I know she loved me.
'She taught me the difference between right and wrong. We went to church. She may have had a few speeding tickets, but she was never in any trouble. She is a good person.'
Kamiyah grew up believing her father was a car dealership worker called Charles Manigo who had split with her mom before she was born.
But the deception began to unravel when Kamiyah applied for a restaurant job two years before Williams was arrested.
She demanded her social security number. That's when Williams broke down and confessed to the abduction, according to investigators.
Kamiyah won't go into detail into what occurred in the two years as she doesn't want to further implicate her 'mom.'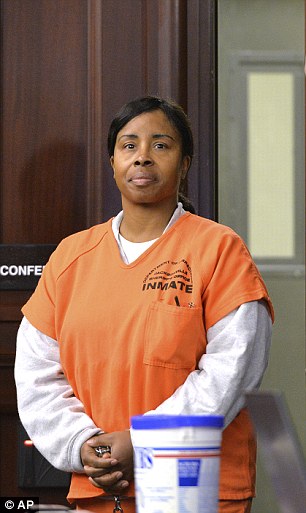 It wouldn't be until January 2017, when Kamiyah finally met her biological mom and dad.
Mobley and Aiken, who had separated after the abduction, raced to to meet her in the wake of Williams' arrest.
The trio posed for a heart warming snap with tears streaming down Mobley's face.
On Kamiyah's 16th birthday Mobley wrote on Facebook: 'Happy Sweet 16th Birthday Kamiyah. Wherever you are you are truly missed & very much loved.'
Recounting the emotional meeting, Kamiyah told DailyMailTV: 'We met at the hotel I was staying at. I couldn't go home because the news people were at my house.'
'The first time we hugged was very exciting. She was shaking with joy, it was very nice, very heartwarming. I remember her saying "oh my God" all day long.'
'Mom [Mobley] told me all these things about my dad so I was really excited way before I saw him.
'When I met him I realized he looks like me. We talk alike, we are very jokey, and laid back. I love having a dad who's there. A dad I can call and talk to for hours.'
'I really didn't want it to go to trial. I always felt like everything didn't need to be said,' she added. 'Maybe we could have just skipped that part. I do want to be there but I don't want to be forced to choose sides.'
'I'm glad everything is out in the open. I've gotten to et a second family. I've been able to bond with my parents.'
'Legally I'm Kamiyah. But there's still people in South Carolina who call me Alexis. I answer to anything. I'm not really particular or picky, I'm not really offended by the name thing. They are the same person.'