Rapper Future has fathered six children from six different mothers.
There is now an alleged seventh and eighth baby mama too. But it's the seventh that Future is fighting in court.
The Grammy-winning artist has hit back at claims from Instagram model Eliza Seraphin that he is the father of her young child Reign.
The 35–year–old rapper filed legal documents to have a paternity suit in Broward County, Florida thrown out.
He claims that Seraphin is fraudulently trying to get access to his money, according to TMZ.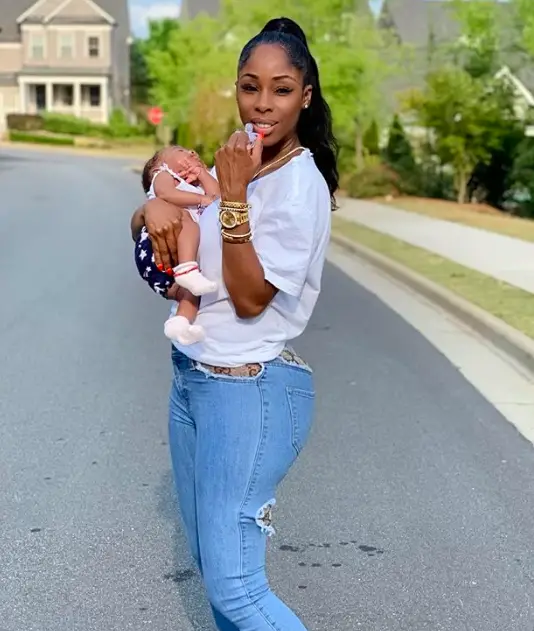 In court documents, Eliza claims that she doesn't have any source of income or a checking account. She also stated that she doesn't have a car to get around.
The Turn On The Light rapper says each of those claims are false, and part of the proof is on Seraphin's own Instagram page. The model is seen in various different pictures holding stacks of money. 
She also has a link on her Instagram page to a website called Just Take The Test.
Clicking the link takes viewers to a site that seems to sell one single item: a white T-shirt reading "1 (800) DEADBEAT."
The site features a single photo of her wearing the shirt, which was also posted to Instagram on October 17. 
The model claims the Atlanta rapper fathered her daughter, Reign Wilburn. 
In an Instagram rant, Eliza exposed Future's alleged behaviour towards her and their child.
She is requesting child support as well as other medical expenses. 
Eliza claims that she hasn't worked since she was 5 months pregnant. And in order to make ends meet, she was forced to sell her car.
The Haitian model says the "Love Me" rapper made promises to her that he would support them. But he soon blocked her number and broke off all contact. 
Eliza says she doesn't need Future to take care of her, but she wants him to support their daughter – who she has given his last name. 
Taking to Instagram she has begged him not to abandon "an innocent child."
"[Future] came back around. We got cool. Hashed out the past. He made promises. Then disappeared again," her post reads.
"I'm not running no n***a down to do what he's supposed to do. So I finally decided to let the courts chase him instead.""[To be honest]—I really think he did this and forced my hand to make me look bad like I planned this the whole time," Eliza wrote.