Gabrielle Union was a sight to behold when she stepped out in New York on Tuesday.
The stunning 45-year-old actress modeled an eye-catching yellow coat over a turtleneck grey mini dress.
She even flashed a little leg in thigh-high black suede boots.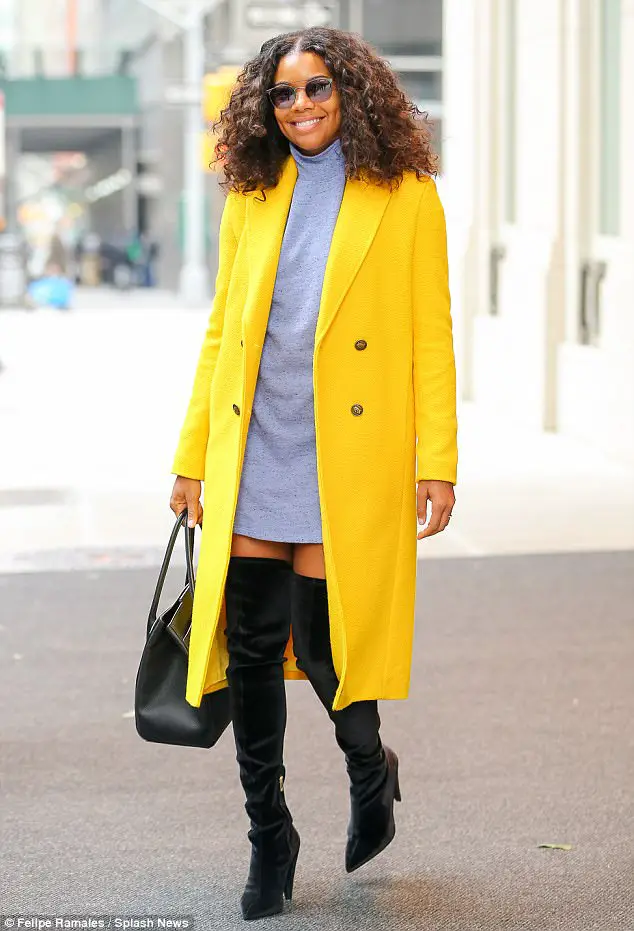 Her brunette shoulder cut was styled in big voluminous curls, as she wore stylish sunglasses. 
Last month the Being Mary Jane star spoke out about sexual harassment.
Union detailed her own rape in her memoir We're Going to Need More Wine.
She was just 19.
In a series of messages on Twitter, Gabrielle tried to clarify some of the myths surrounding assault amid the Harvey Weinstein scandal.
She wrote: 'Sexual violence & harassment can happen to anyone at anytime anywhere.
'Ppl remain silent 4 many different very personal reasons. Judgment, victim shaming/blaming, loss of job/$, fear of violence, retaliation.'
'Folks are also very open and obvious about what kind of victim should be prioritized & believed. To think otherwise is to be willfully dim.'
'In Hollywood meetings in homes, hotel lobbies/restaurants/suites, private isolated office space is the norm. NO ONE "ASKED FOR IT!!"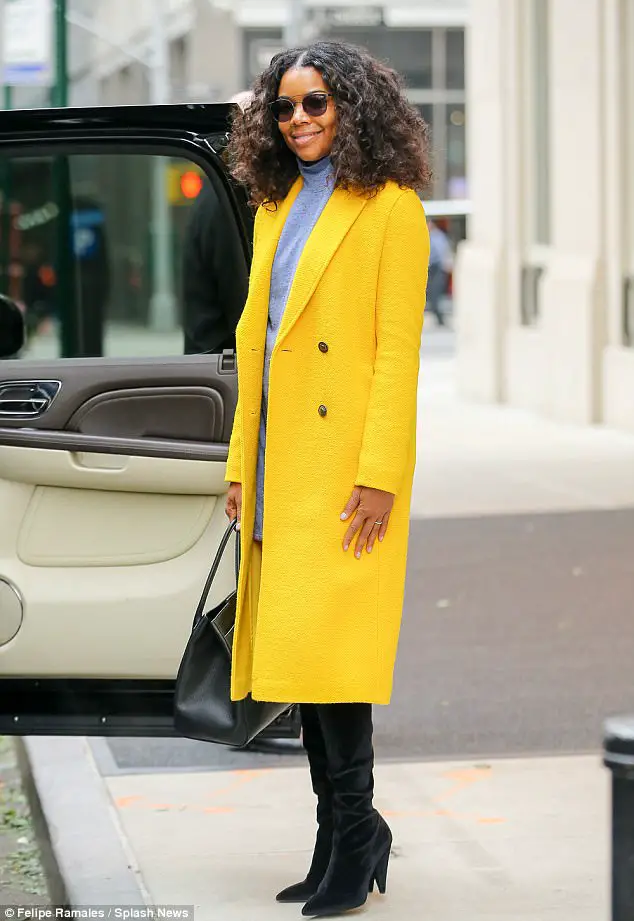 'Sexual or physical violence, harassment, demeaning language is NOT the price one should pay for seeking or maintaining employment. Period.'
Gabrielle was raped at gunpoint when she was 19 at the shoe shop she was working at. 
She pointed out that each case is different and has nothing to do with what a person is wearing. 
She explained: 'Reminder. I got raped at work at a Payless shoe store. I had on a long tunic & leggings so miss me w/ "dress modestly" s**t.'
'Though I was raped by a stranger who raped me at gunpoint after robbing the store, I was still asked by a female "friend" what I had worn.'
'Look around, u can EASILY see whose pain is "real/valid" & must be addressed & whose pain is tolerable, unimportant & systematically ignored.'
Gabrielle has been married to basketball star Dwyane Wade since 2014.