Who saw this coming?! Either way a HUGE congratulations goes out to Jordin Sparks!
The 28-year-old has been secretly married to her boyfriend Dana Isaiah for four months – and is pregnant with the couple's first child.
The American Idol winner and her 25-year-old husband went public with their relationship in July, the same month they tied the knot.
Jordin told People.com that she and Dana eloped on vacation in Hawaii.
Only a few friends were present at the ceremony, before the 'No Air' singer found out she was pregnant in late August.
The pregnancy news came as a massive surprise to the couple. Jordin admits the moment she found out she was expecting was 'terrifying'.
She explained: 'It was like such a shock for both of us, and then I started bawling in the closet.'
Asked if they were happy tears, Jordin laughed: 'Nope, they were shocked, scared and terrified tears!
'I'm going to be completely honest. I was just like, "Oh my gosh!'"
"We're both really excited," says Sparks. "He's been like, 'I want to shout it from the mountain tops!' We're really proud to be married to each other and to be celebrating this."
Sparks first met her new husband's family when she traveled to the Houston during Super Bowl weekend this past February.
A few weeks later Isaiah told his mom he wanted to move to L.A to pursue to a modeling career.
Sparks' mom and Isaiah's mom put their children on a group text chat. "My mom was trying to get [Jordin] to talk me out of moving to L.A. because she's experienced the industry out here," Isaiah says. "It wasn't like, 'We want you guys to date.'"
The pair bonded quickly over their tight-knit families and shared Christian faith. The pair spoke on  the phone nearly every day for a month. Then Isaiah flew out to Los Angeles for an agency meeting and met his future wife for the first time over Easter weekend.
"A couple days after we had actually met, I was like in my head 'That's going to be my husband! That's my husband right there,'" says Sparks.
"When I'm with him, I feel comfort and safety and calm and peace, and those aren't things that I normally felt. So it was a little wake-up call for me."
After surprising their loved ones with their wedding news, the couple received the biggest shock of their lives when Sparks discovered she was pregnant in late August.
"It was about five days after he moved to L.A. He comes in and I go 'I'm pregnant.' It was such a shock for both of us. I turned around and started bawling in the closet," says Sparks.
"It's been really crazy because everything changes. Everything has been so crazy and fast-forward. Once we got over the initial shock of it, now again just like it is with the marriage, to be able to share that this amazing thing is happening, it's such a great thing. We did this together!"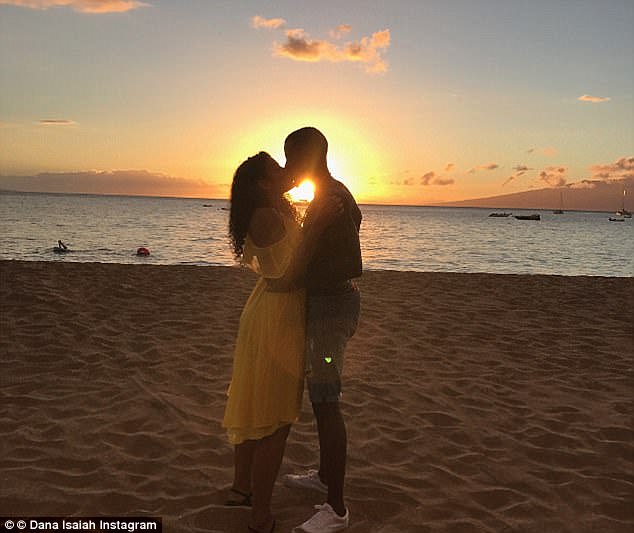 But once they had time to get to used to the news, Jordin and Dana are now happier about their future.
'We're really proud to be married to each other and to be celebrating this,' Jordin smiled.
Prior to meeting Dana, Jordin dated Jason Derulo for three years until 2014. Jordin then started dating Sage the Gemini in 2015, but the pair called time on their romance in February 2016, after nine months together.