Most of us enjoy some time out to get our hair done. For many it's a nice break away from the kids or a little bit of much needed pampering.
But for one depressed teen, her trip to the salon was life-changing.
Kayley Olsson, 20, is a student hairdresser from Waterloo, Iowa. She recently shared a story on Facebook about a 16-year-old girl who came into her salon. The young girl had been dealing with severe depression for many years.
She had felt so low that she couldn't even face looking in the mirror to brush her own hair.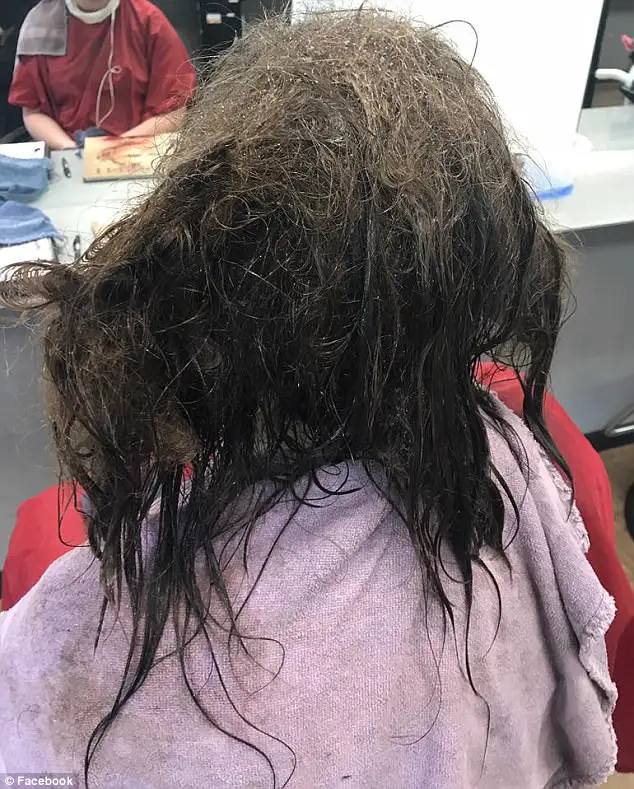 The unnamed teen's hair was completely matted. So she asked Olsson to just shave her head in time for her school's picture day.
But the kind hearted hairdresser refused and spent 13 hours fixing it for her. 
The hairdresser, who attends cosmetology school at Capri Waterloo, has garnered more than 160,000 likes, 67,000 shares and more than 8,500 comments on the post.
Olsson admits it was one of the most challenging experiences that she ever had. 
She wrote on Facebook about her client: 'She got to the point where she felt so down and so worthless she couldn't even brush her hair, she told me she only got up to use the restroom.'
'She starts back at school in a few weeks but she has her school pictures today. When she walked in she told us "just cut it all off I can't deal with the pain of combing it out", she called herself worthless for it.'
'It honestly broke my heart and we tried everything we could to keep this child's hair for her! At the end of the day I want this to be a lesson to people.'
Olsson continued: 'MENTAL HEALTH is a thing, it effects people all around the world and of all ages! PARENTS take it serious don't just push your kids off and tell them to get over something they legitimately can't. 
'A CHILD should NEVER feel so worthless to not even want to brush their hair. After being here 8 hours yesterday and 5 hours today we finally made this beautiful girl smile and feel like she IS worth something! 
'Her last words to me was "I will actually smile for my schools pictures today, you made me feel like me again".' 
Social media users have praised Olsson for sharing the story and helping the young teen. 
Mary Litchfield wrote: 'You did a beautiful job. Most people who have taken the easy way and just cut her hair. But you invested time and she needed to be invested in for her to know she has beauty and value.'
Recent studies show that depression rates young people has sky rocketed. 11.3 per cent of 12- to 17-year-olds have untreated depression, up from 8.7 per cent in 2005.