A shocking video has emerged of a high-school coach in Denver, Colorado pushing a 13-year-old cheerleader forcibly into the splits.
Ally Wakefield can be seen in the film screaming and begging her coach Ozell Williams to stop.
The student from East High claims she tore one of her ligaments and leg muscles during the gruesome exercise, which is known as 'breaking'.
Williams has since been fired from his post.
But the coach has since defended his medieval tactics – telling the Denver Post that the video was 'taken out of context.'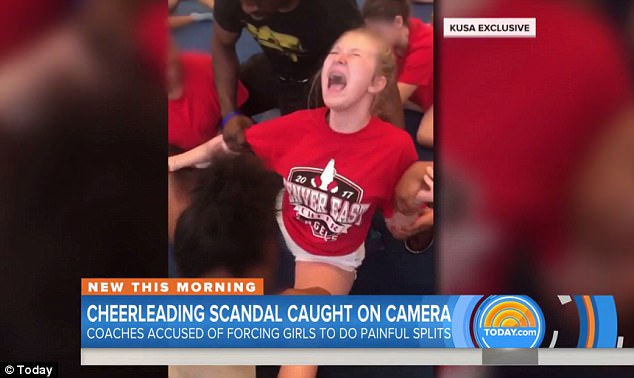 But it can now be revealed that Williams was previously fired from Boulder High in 2016 for 'breaking' other girls, KUSA reported.
On Thursday afternoon, Boulder High Principal James A Hill sent a note to parents saying that Williams 'unfortunately, had connections to our cheerleading squad.'
Williams was under contract from 2015-2016. His post only ended because a parent complained he began using his 'breaking' technique there.
An owner of a gym in Brighton has also come forward to claim Williams, who founded athlete coaching business Mile High Tumblers 5280, displayed worrying behavior.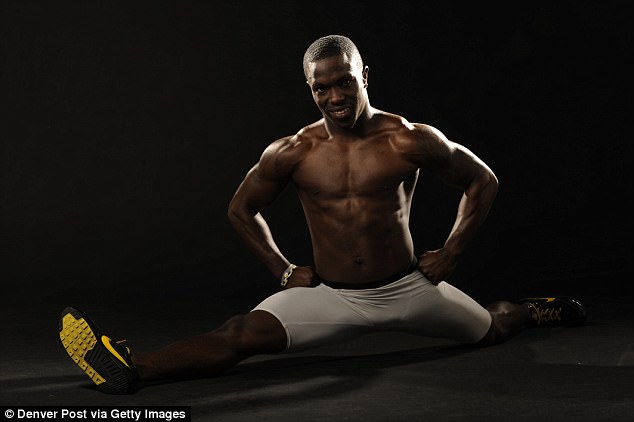 'They would go to do things and if they would stop, like they would go into a tumbling pass and they would stop, and he would be like, "I'm going to punch you in the face if you don't do it next time,"' Julie Ledbetter told KUSA. 
She added: 'You don't tell kids you're going to punch them in the face if they can't pull the skill.'
Ledbetter told the channel she didn't see any other girls being made to do the splits, but also said she didn't leave her students alone with Williams.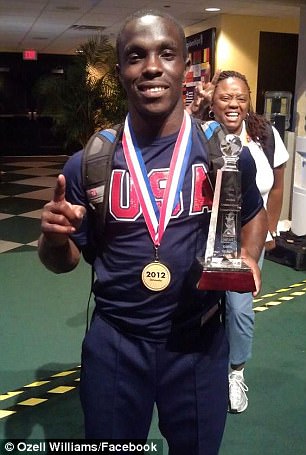 Since the video went viral earlier this week East High has placed four members of staff on administrative leave.
They are Principal Andy Mendelsberg, Lisa Portert, an assistant principal; Mariah Cladis, assistant cheer coach; and Michael Huckman, school district deputy general counsel.
The school and the police are currently investigating the footage.
Meanwhile the cheerleader at the center of the video, Ally Wakefield, told KUSA that the pain was unbearable. 
'It was tearing my ligament and my muscle at the same time,' she said.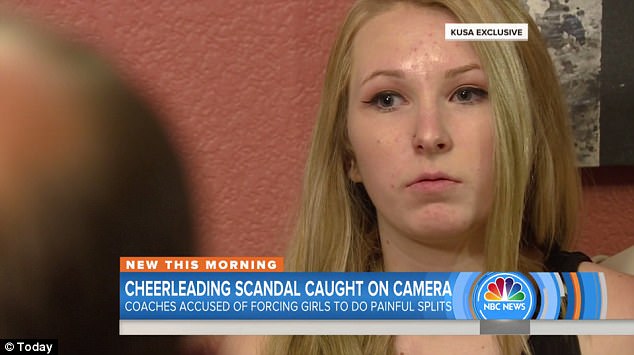 'He was pushing down on the back of my right leg. He was pushing like with his other knee on my back to try to keep my posture straight.'
When Wakefield's mother Kirsten became aware of the tape, she sent an email to the assistant principal.
Attaching the horrifying video she wrote that her daughter severely injured her leg as a result of what she was made to do.
'This is a grown man pushing my 13-year-old girl so hard against her will while she's crying and screaming for him to stop that he's ripping tissues in her body,' she told KUSA.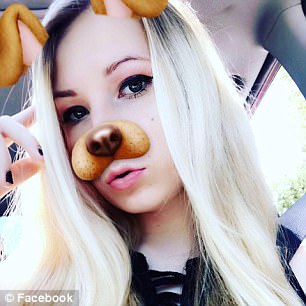 In another video, a second, unidentified girl, is seen screaming as she is held down and Williams tells her to stay still.
'Please help me,' she wails. 'Help me up. Help me up. Help me up.'
'You stay there,' Williams tells her.
Denver Public Schools superintendent Tom Boasberg called the videos 'extremely distressing.' 
'We absolutely prohibit any practices that place our students' physical and mental health in jeopardy,' Boasberg said in a statement. 
'We do not and will not allow any situation in which a student is forced to perform an activity or exercise beyond the point at which they express their desire to stop.'