I'm both excited and devastated that October will air Scandal's last ever season.
But it's lovely to see the stars of the show so close and hanging out with each other outside of work.
Over the weekend Katie Lowes, who plays former B6-13 agent Quinn Perkins on the hit show, celebrated her baby shower. 
Lead actress Kerry Washington attended the event at Au Fudge in L.A. She later shared a photo on Instagram writing: "You are all light and love. What a blessed bundle! Thank you for allowing us to love you and celebrate you this weekend."
I will never forget all the love in that room! I'm so excited for you. And always here for you. Xo."
Lowes first announced her pregnancy during an appearance on Jimmy Kimmel Live! in May. This will be the first child for the actress and her husband, Adam Shapiro.
"It's a boy!" the 35-year-old TV star told host Jimmy Kimmel. "We have zero names."
Lowes also revealed that the first person she told on set was Scandal creator Shonda Rhimes.
 "I told her five minutes from being pregnant. She already knew. She's a genius," Lowes said, adding that Rhimes had a hunch she might be pregnant after reviewing clips in the editing room.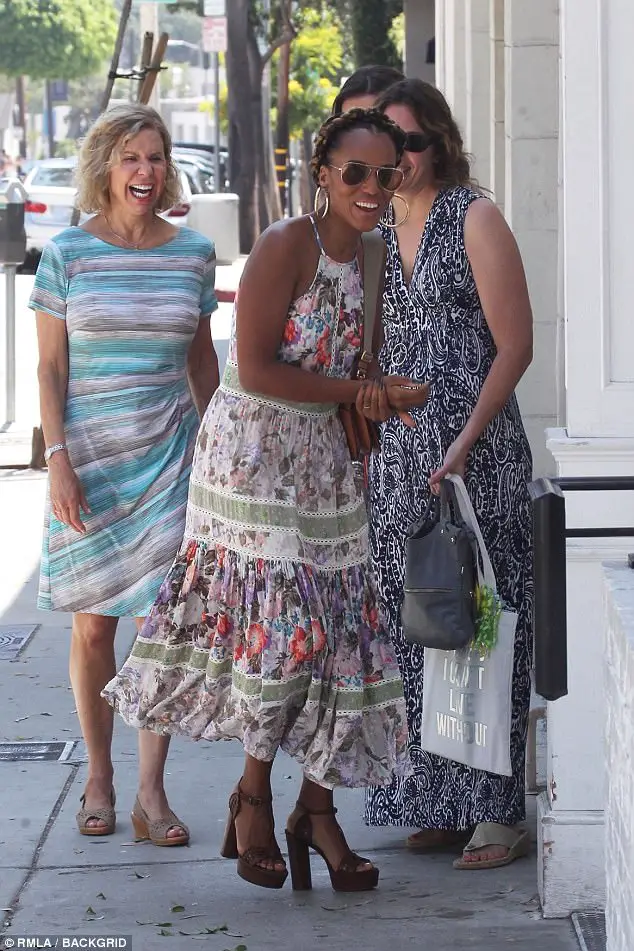 "She knows the minute I got pregnant." Lowes admitted she took her time telling the rest of the cast. But some suspected such as Guillermo Díaz who plays Huck. He told the actress, "Your boobs look super big!"
Lowes' real-life pregnancy will be worked into the final season of Scandal.
Lowes says Shonda Rhimes is her inspiration when it comes to work life balance. "Shonda's got I-don't-know-how-many shows now, plus three kids, and she just figures it out," Washington told Net-a-Porter's The EDIT in May.
"However busy I feel, Shonda feels busier, so I'm just going to rise to the occasion."
"She's been a real role model. Seeing the community she's created and the work ethic—I feel like there should be more of this in the world."
Scandal's seventh season will premiere Oct. 5.