Kevin Hart has a long road to recovery following his horrific car crash last weekend. 
The funnyman is heavily medicated to relieve the intense pain from the crippling collision.  
Sources told TMZ that the Night School actor underwent  surgery on Sunday night with surgeons fusing the two fractures in his upper back and one in his lower.  
Although the procedure was successful, Hart is reportedly in an unbelievable about of pain. 
The popular comedian's vintage Plymouth Barracuda was almost completely wrecked. 
However the actor's wife Eniko Hart confirmed that her husband was "going to be just fine" in a video obtained by TMZ. 
Hart's vintage car careened off the road and plummeted into a ditch, leaving the Hollywood actor with major back injuries. 
The shocking crash occurred in the early hours of Sunday morning in the hills of Malibu.
Hart was the passenger in a 1970 Plymouth Barracuda with his wife's personal trainer Rebecca Broxterman, 31, and her fiancé Jared Black, 28.
Black, who was driving, lost control of the car as he came down a hill off of Mulholland Highway around 1am.   
Black and Broxterman were left trapped inside the wreckage of the vehicle.  
"Hart and Black sustained major back injuries as a result of this collision and were transported and treated at nearby hospitals," Highway Patrol said in a report.

Hart's car smashed into a wooden fence, crushing the roof on impact.  
The top of the classic ride was completely torn off and with a smashed windshield on top of a missing hood.
Most of the body of the vehicle was still intact despite major dents on the trunk and side doors.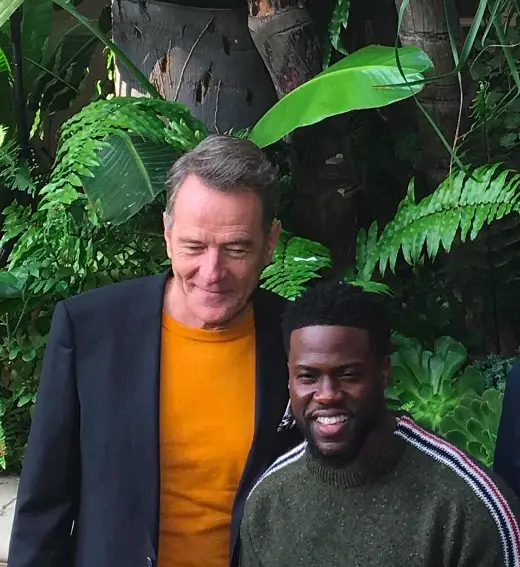 Bryan Cranston, who co-starred with Hart in the 2017 film The Upside, posted a get well message to the funnyman on Instagram.
Cranston wrote: "I've just heard that @kevinhart4real was injured today in a car accident in Los Angeles. Let's all send him positive energy and healing thoughts. He's a good human. Get well soon, brother. B."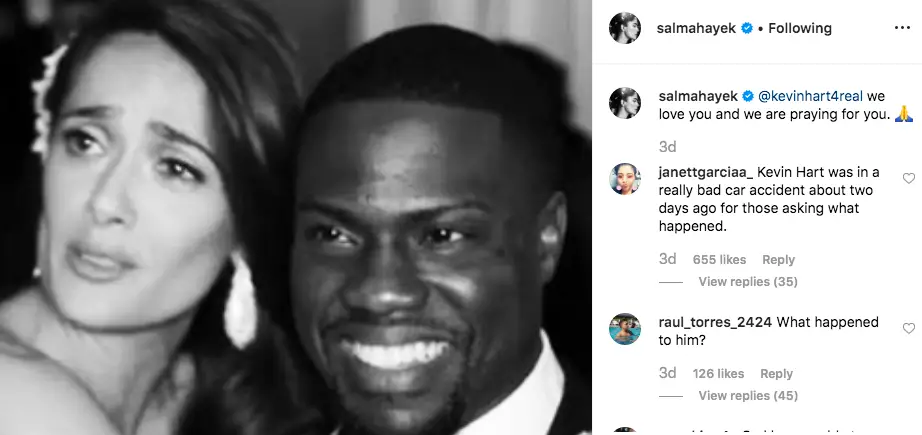 Dwayne Johnson also sent a message of support to Kevin Hart after his car accident. 
The Rock wrote: :Stop messing with my emotions brother @kevinhart4real. We have a lot more laughing to do together. Love you man. Stay strong."
Salma Hayek also posted a photo of her hugging Kevin and wrote: "@kevinhart4real we love you and we are praying for you."