Wherever they go, the Obamas draw huge crowds.
It's no different across the pond in historic Avignon, France.
On day three of their vacation, Barack, Michelle and their two daughters, Malia and Sasha went to the Michelin-starred restaurant La Mirande.
French fans lines the streets to see our Forever President enjoy a Father's Day dinner celebration with his family.
Our Forever First Lady Michelle was seen celebrating the occasion in a black sun dress.
Meanwhile her oldest daughter Malia looked breathtaking in a white backless jumpsuit, as youngest daughter Sasha looked beautiful in a yellow snake-skin dress.
Barack was seen casually dressed in a blue shirt, jeans and a pair of sunglasses. As the family left the restaurant, the 44th President of the United States was seen waving to dozens of well-wishers. 
According to the establishment's website, La Mirande "delivers all the richness of its secular heritage."
"This timeless hideaway offers an experience of daydreaming, strolling and authenticity, in a tasteful décor, evocative of 18th century atmospheres and the relaxed lifestyle of the houses of the past."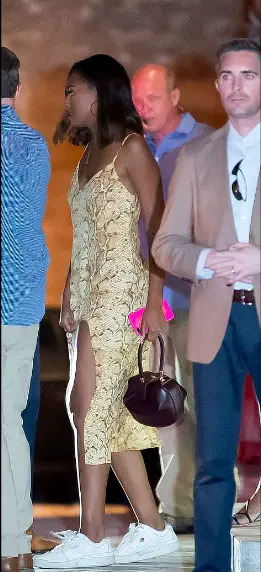 Earlier on Sunday, the family toured the Palais des Papes, the biggest gothic palace in the world that was built by popes in the 1300s.
Just a day before, Sasha and Malia had some sister time, touring the famous L'Isle-sur-la-Sorgue Market, which is famous for its antiques.
The market is one of the top tourist attractions in the idyllic Provençal town known as the "Venice of Provence' thanks to the scenic Sorgue river. 
For this occasion Malia wore a black button-down shirt with a pair of black shorts under an oversize black denim jacket. 
Sasha opted to wear a white crop-crop top, classic blue jeans and a green military jacket topped off with a cheetah-print bucket hat. 
The girls were accompanied by two friends, as well as a couple of members of the secret service. 
Malia was seen sampling fresh strawberries before purchasing some to bring home to her parents.   
Vidéo : Après moins d'une heure de visite dans le Palais des Papes, Barack Obama se rend en face au restaurant étoilé la Mirande @ParisMatch pic.twitter.com/aLqv4P5miS

— Pauline Lallement (@pau_lallement) June 16, 2019
The Obamas arrived in Avignon in the south of France for a week's holiday that began on Friday.
It came just days after they were pictured celebrating daughter Sasha's graduation from high school.
They are reportedly staying at a luxurious 18th century farmhouse on Bathelasse island, near the Provencal city.