It was mommies night off on Friday night, as new parents Beyonce and Janet Jackson were spotted at Missy Elliot's concert.
Missy Elliott played a sell out gig at the FYF Fest at Exposition Park in Los Angeles.
Less than six weeks after giving birth to her twins, Beyonce was seen in high spirits dancing on the sidelines with sister Solange.
The 'Lemonade' singer was one of many names big names in attendance for the performance, including Janet Jackson, Katy Perry and Tyler the Creator.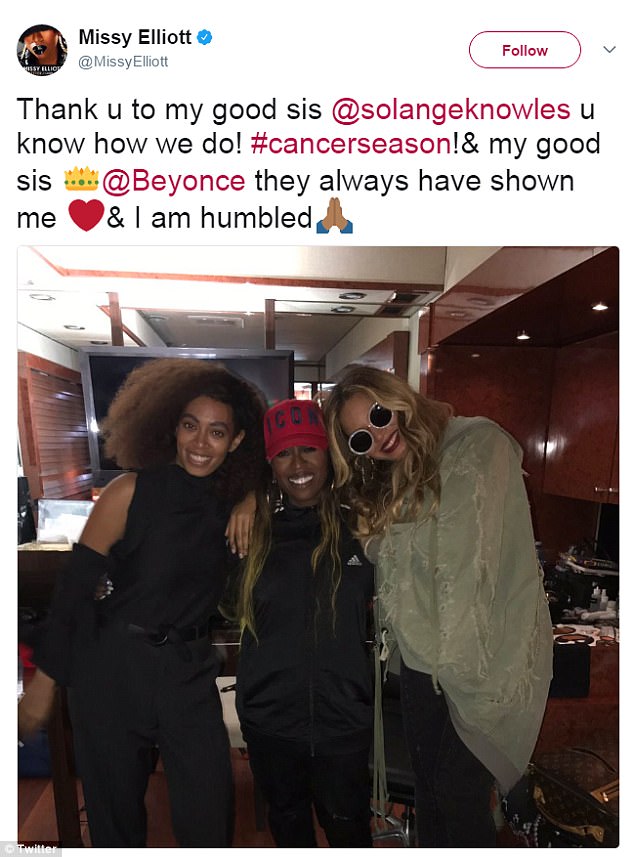 Elliott, 46, was clearly thrilled to have Queen Bey in her presence. Midway through her set she shouted her out, telling her, 'Hey girl!'
The 'Lose Control' singer took to Twitter to share a pic in which she posed with the Grammy-award winning sisters Beyonce and Solange. 
Missy wrote: 'Thank u to my good sis @solangeknowles u know how we do! #cancerseason!& my good sis [Queen] @Beyonce they always have shown me [love] & I am humbled.'
Beyonce had her twins Rumi and Sir Carter on June 13. She was spotted looking casual but chic in an oat brown denim poncho with grey jeans.
She teamed them up with black heeled ankle-length boots and sparkly shades.
Missy Elliott wore an all-black ensemble with an Adidas jacket with sweatpants and a red ball cap that read, 'ICON.' 
Solange, 31, also looked amazing in an all-black ensemble and sandals.
Solange one of the performers for the weekend-long music festival. The festival also features standouts such as Nine Inch Nails, Bjork, A Tribe Called Quest and Frank Ocean.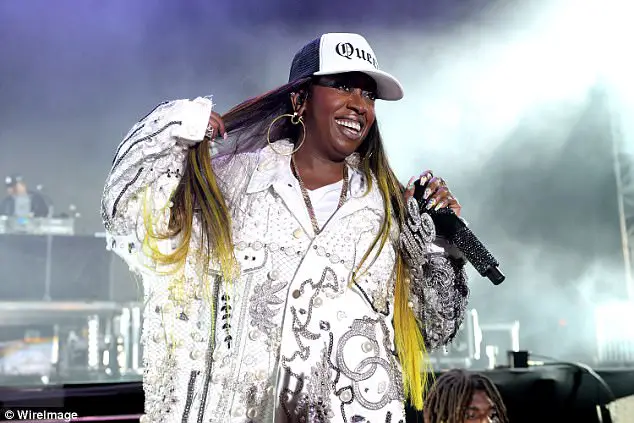 Missy Elliott's highly anticipated comeback gig is her first in the U.S. for  more than a decade.
This aside from the rapper joining Katy Perry's onstage during headline spot at the 2015 Super Bowl. Missy's last studio album release was 2005's The Cookbook.
Katy Perry was in attendance at Missy's performance with the 'Get Ur Freak On' rapper thanking her for 'coming out to support.'
Missy later posted a clip of the 'Roar' pop star dancing to her hit 'Lose Control'.
Beyoncé dancing to @MissyElliott at @FYFFEST backstage (July 21). pic.twitter.com/LaeCjaX7Yr

— BEYONCÉ LEGION (@Bey_Legion) July 22, 2017
The Grammy award-winning artist, who released the single I'm Better earlier this year revealed to fans she was actually ill.
But she said she braved illness to conquer the stage and bring the house down at the festival. 
https://twitter.com/MissyElliott/status/888795974981865472?ref_src=twsrc%5Etfw&ref_url=http%3A%2F%2Fwww.dailymail.co.uk%2Ftvshowbiz%2Farticle-4721426%2FBeyonce-Solange-support-Missy-Elliott-LA.html
The Get Ur Freak On singer, Entertainment Weekly reported, told concertgoers, 'I want y'all to know I was sick and I said, "I'm not going to miss this show for nothing.
"We still come out here and rock this s—."' The rap veteran has been meticulous in working on her seventh studio album for years."