Popular beauty blogger Callie Thorpe is a champion for curvy girls everywhere. 
The '20-something' plus-size model was thrilled, when one of her bikini photos was recently included in a swimwear article on Vogue's website.
But her feature in the powerhouse fashion bible was short lived as she was soon inundated with hateful comments.
Callie is now opening up about her feelings following the cruel trolls who have left her feeling angry and upset.
She admits that she had hoped being included in the article alongside catwalk models such as Bella Hadid and Kendall Jenner was a milestone moment for diversity.
Speaking in an online vlog titled Dealing With Online Abuse, Callie said: "It's the first time I've ever seen Vogue feature any diversity really – especially in regards to size."
"I was really proud of it and I still am really proud."
But the backlash began when Vogue tweeted a link to the article, which Callie eagerly retweeted.
She added: "To all the people that called me fat, ugly and treated me like trash because of my weight growing up, catch me on Vogue with your Woman Crush Wednesday."
After Callie's tweet went viral, she was asked by Yahoo! if she'd like to speak to them. 
But Callie was floored when she read the article back and took a look at the comment section. She discovered almost 1000 cruel comments about her weight.
Explaining on YouTube, Callie said: "I scrolled onto some really nasty comments about me that… They were just so awful that I couldn't even get them out of my mind."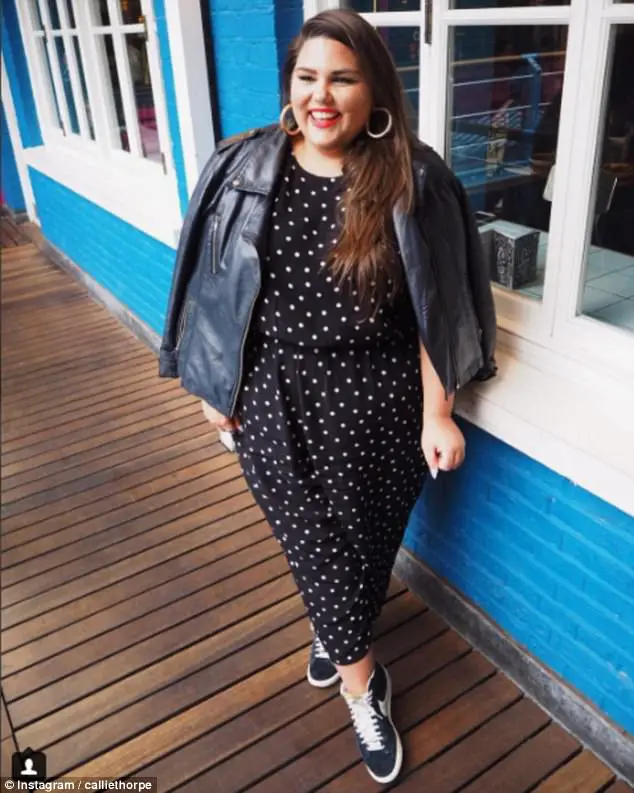 "There were 900 comments and pretty much all of them were vile – they were violent, abusive comments and it was the worst thing I've ever read in the whole five years I've been blogging."
The comment section from the Yahoo article has now been removed from the article, but Callie is understandably still reeling from the abuse. 
Callie says one of the worst comments were: "Realistically models are meant to be appealing not to make me puke."
She added: "I couldn't get it out of my brain. I couldn't sleep because of some of the things I read about myself.
"I can't understand how people can be so hateful. I'm very sad at the prospect that people are going through this alone."
She was also forced to remove the ability to comment on the Instagram picture that was featured in the article.
In her vlog, Callie calls for attitudes towards online trolls to change.
She said: "It's insane to me, we just think that if we call someone a 'troll' it makes it okay."
"Some of the stuff these people write is illegal, it's not even opinion. It's just violent, nasty shit that no one should ever have to see."
"We can't just keep pretending that it's not happening."
https://www.instagram.com/p/BWZ5rm7lbde/
"Please use your voice, please use your report button, please email people in charge and tell them that it's not acceptable to have comments in a section like that."
Despite the narrow minded views of some, Callie continues to break so called beauty conventions. She has over 145k followers on Instagram and proudly writes on her blog;
"I believe women of all sizes should be able to enjoy fashion and shouldn't have to wait to be a certain size to wear fashionable clothes."