Rap star Nicki Minaj obtained a marriage licence at Beverly Hills Courthouse on Monday.
Now it is being reported that Minaj will take on her ex-con boyfriend Kenneth Petty's surname when they wed.   
The rapper, 36, whose real name is Onika Tanya Maraj, is said to want to be known as Onika Tanya Maraj-Petty, according to TMZ.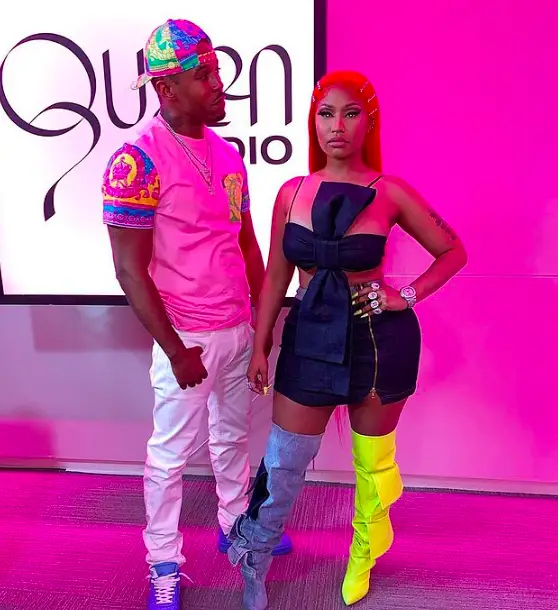 Rumors are circulating that they may already be married or tying the knot this weekend after "several of her close friends" flew into LA on Tuesday.
But Minaj has been widely criticized for becoming engaged to convicted felon Kenneth "Zoo" Petty. 
The "Megatron" artist slammed critics who have cast doubt on her life choices during her Queen Radio show. 
"When a person is with a n**** that loved them before they had a dime in their pocket?" the Grammy nominated artist proclaimed . 
"How do you not understand that? How do you not understand happiness versus clout? How f***ing dare you talk about lowering standards," the 36-year-old star added. 
Minaj went insisted she was happy Petty is not famous in his own right.
However her beau's criminal rap sheet is disturbing to say the least. One of his felonies includes the attempted rape of a 16-year-old girl in 1994 when he was 16.
He went to prison for almost four years for the crime and was registered as a level two sex offender in New York.
He has also been arrested for manslaughter for his involvement in the deadly shooting of a man.
Petty grew up in Queens, New York just like his girlfriend Minaj. It is where the pair first met before Minaj hit the big time. 
They began a relationship when she was only 16 and he was 21.
New York's age of consent is 17.
Like it or not it seems Minaj and Petty are here for keeps. 
The "Anaconda" rapper appeared to say she was engaged to Petty on her verse on the new Chance The Rapper song, "Zanies And Fools."
Minaj (born Onika Tanya Maraj) indicated she was pregnant by Petty on the new track.
"He the Clyde to my Bonnie, 'bout to walk down the aisle and be a mommy," she raps.