How many of us had that one incredible teacher who changed our lives?
There can never be a big enough thank you – but a group of students from Chicago wanted to show their appreciation to their choir teacher Mrs. Watson.
Recently, she went through a rough patch with her health when she was diagnosed with cancer.
But thankfully she is now in full remission.
After she returned to work her students gathered together and rehearsed a surprise presentation for her in the hallway of her high school.
Gabrielyn Watson thought she was going to a meeting at Chicago's Morgan Park High School.
This is when one of her former pupils stepped into the hallway and started belting out 'Amazing Grace.'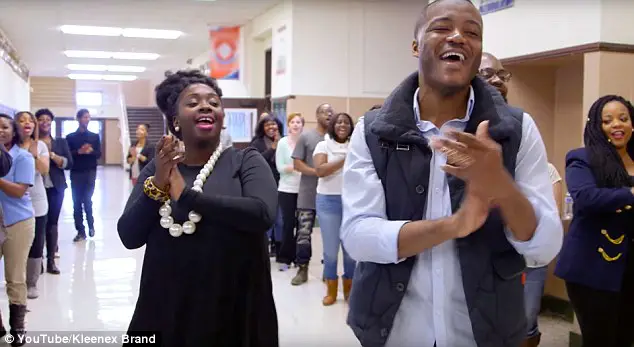 The 59-year-old choir teacher was so surprised, she dropped to the floor and started crying.
That's when even more students came together and joined in on the song. 
The song later took a more up-tempo turn near the end with more than a dozen students coming out to sing to their favorite teacher.
Once she was able to gain her composure, Mrs Watson joined in the singing and dancing in a heartwarming moment that was filmed and sponsored by Kleenex.
Watson took seven months off her teaching post to fight multiple myeloma. She has taught choir for the past 17 years. 
One of Mrs Watson's former students helped organize the now viral performance.
Peter Frank, was a finalist on season 10 of American Idol and says he owes his career to Mrs Watson. 
'I realized that I never really had a chance to let her know just how influential she was in my life,' Frank, who now lives in Los Angeles, said.
A 2005 graduate of Morgan Park, Frank says that one time Ms Watson gave him a tuxedo to wear to a chorus competition because he couldn't afford one. 
Frank nominated Ms Watson for Kleenex's 'Someone Needs One' program back in June.  
'It's just great to feel loved and that what you do matters,' Ms Watson said. 'I love my students and I want them to have the best opportunities so that they can thrive.'