How can a child who has been abused by an adult in the worst possible way ever learn to trust again?
This tragic set of circumstances happens way too often.
But a teen who had sexually abused by her stepfather as a adolescent has found an unlikely source of support among a group of Los Angeles bikers.
Bikers Against Child Abuse, or BACA, banded together to protect the girl known only as 'FA', after it heard about her story.
As 'FA' prepared to testify against her stepfather, the bikers supported her by standing guard outside her house throughout the night.
They even escorted her to school and made her a part of their tight-knit community.
In an incredibly moving video, which has since gone viral,  FA's journey and recovery is shown – thanks to with the help of the incredibly heroic group of men and women.
BACA, has a number of chapters all around the world and first formed in 1995 by licensed social worker and therapist John Paul Lilly.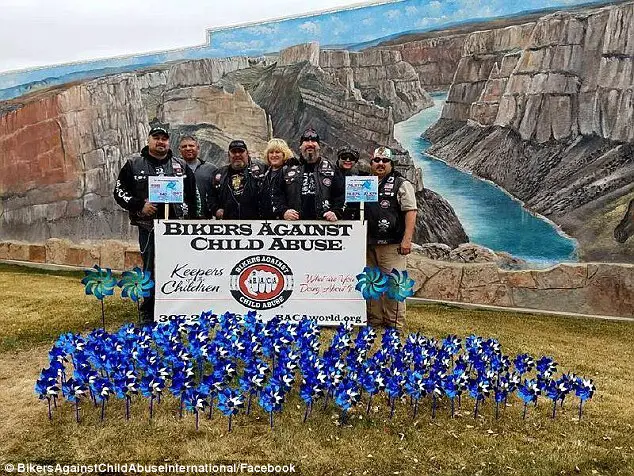 Lilly met an eight-year-old abuse victim who was too scared to leave his house.
He included the boy in his biking community and saw a massive improvement in his behavior over the course of a few weeks.
The group, which began in Utah, has since spread to places such as Iceland and New Zealand.
They aim to 'empower children who have been victims of child abuse to no longer be afraid of the world that they live in.'
One member of the Los Angeles chapter known as 'Bikerdad' said: 'If they need escorts to court, to therapy, to school, if it takes us having to stand outside and guard their house all night so they can sleep, then that's what we'll do.'
Another biker known as 'Tombstone' said: 'We're a rough lot, and we're scarier than their perpetrators. We are scarier than their demons. It works.'
'They get that any one of us would gladly take a bullet for them. It is probably the most important role in my life. These kids have no one. We're that single strand of barbed wire between hell and happiness for them. 
'All these kids are our heroes. We're just the guys who ride around and give them some support. I'm in it for life.'
FA, who was abused by her stepfather when she was 10, pressed charges after she told her mother at the age of 12. 
While FA was outgoing and fearless as a young girl, she eventually became suicidal after the abuse. 
She would shower with her clothes on, check if all her doors and windows were locked, and had trouble eating or sleeping at night.
FA, who is now a young woman, held back tears as she recounted the trauma she experienced, saying: 'I was in the worst time of my life, going through so much, seeing my family go through so much.'
'I really gave up and everyone around me knew that.'
After she pressed charges, it took another three years until the case was brought to trial, during which time FA and her mother feared for their safety.
BACA, which gets referrals from the police, child-care agencies, and guardians, stepped in to protect FA. They would stand guard around the clock and even appeared in the stands of court.
FA said: 'I looked over and saw my stepdad just staring at me and I felt like I could have passed out or died just from his glare.'
'And I looked over and BACA's there, and they're just sitting there with their thumbs up giving me the emotional support that I needed.'  
Her abuser was jailed, and FA credited her journey to the heroic group by saying: 'BACA pretty much turned me into the woman I am today.'
FA went on to graduate high school with honors, and attended college while working full time.