A stunning woman who was deemed 'unfit for modeling' has finally broken into the industry. 
Taylor Rhoden, a former student nurse, was picked from almost 1,000 competitors to become the new face of underwear label Curvy Kate.
For years, Taylor, a size 12, was told she was 'too curvy' for catwalks and 'too tall' for commercial modeling.
But the beautiful brunettte yearned to see more women like her in the fashion world.
Curvy Kate ran an open casting call to pick its next model.
Taylor, who gave up nursing and moved to LA to pursue her modeling dreams, entered the competition.
Dubbed 'Star In A Bra', she hoped it would give her the long-awaited big break she dreamed of.
After a round of live auditions, Taylor won the final vote, which was left up to the public
In addition to becoming the face of Curvy Kate, she has also won a modelling contract with True Model Management, an agency based in New York.
'I've been turned away from many agencies due to my height. I've always been told that I'm "too tall". Although I thought my height and look was beautiful and unique, I felt like the agencies never saw that,' Taylor said.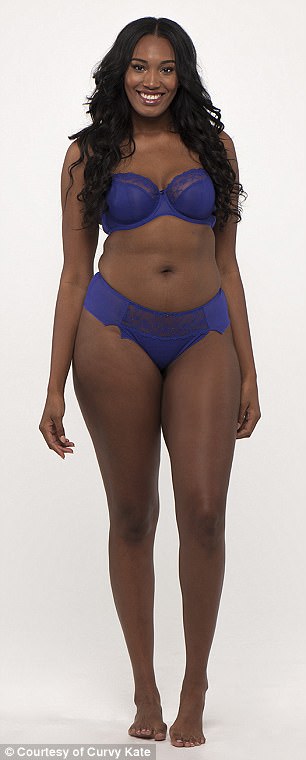 'It's because of this that I entered Star in a Bra, in the wider modelling industry I am yet to see women that look like me, not only am I tall, I'm also plus size and I'm black, African-American, so I would really like to see someone that resembles me for once in the spotlight.'
At first, Taylor said she 'literally could not believe' she had won the competition. 
'It felt so surreal because I've been working so hard at turning my modelling dreams into my reality for so long and finally everything was coming to fruition,' she said.
'Through winning I'm hoping to bring a new look to Curvy Kate.'
'I am not the traditional curve model, and I think that's always a plus. I'm hoping that by adding me to the family, a different target population of women will also feel included: women of color and taller women.'
'This is an opportunity for me to inspire women all over the world to love the skin they're in.'
Check out more photos below: