Her motto is "eff your beauty standards."
Plus-sized model Tess Holliday certainly did that as she stormed the runway during New York Fashion Week on Saturday.
The 34-year-old wore made a statement in a white cut-out gown covered with the phrase "sample size."
Holliday sashayed down the catwalk for Chromat's Spring/Summer 2020 show at Gallery I at Spring Studios.
The daring gown's slogan appeared to be a response to some high end designers making only "child size" sample size dresses. 
Tess – who has sons Bowie, three, and Rylee, 12 – wore her red locks in a high ponytail. The former make-up artist rocked a bold red lip and electric blue eyeliner. 
Her stunning array of tattoos were on show as she modeled the gown for Becca McCharen-Tran's label.
Holliday wore patent leather open-toe heels and accessorized with statement silver and royal blue drop earrings.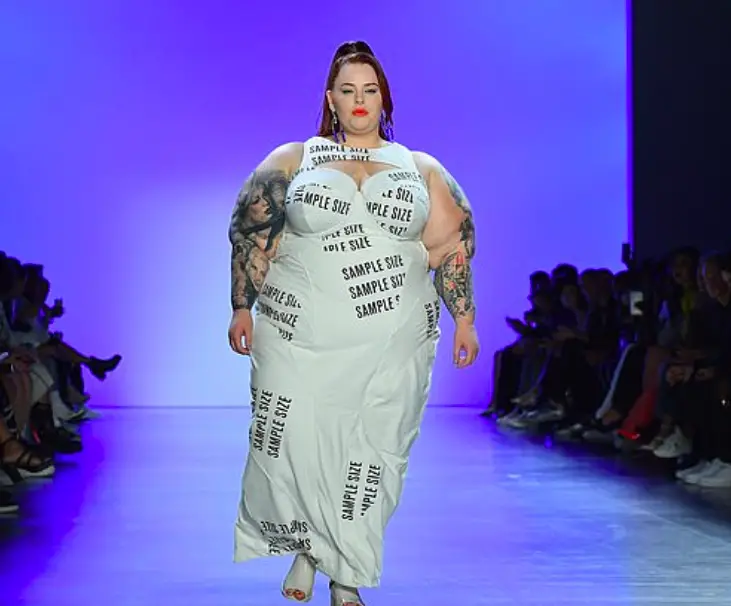 According to Vogue, Chromat, which celebrated its tenth anniversary this year, is known for "its groundbreaking runway shows that set the standard for body positivity with their all-sizes, ages, races, and abilities casting."
Holliday self-describes as a "body positive activist." In September 2015, she criticized Victoria's Secret for their limited amount of plus-size clothing options.
The Laurel, Mississippi native regularly takes to her Instagram account to inspire her 1.9 million followers to love the skin their in.
Earlier this year, Tess hit back at her critics who insisted plus-size people can't be healthy.
Taking to Instagram she wrote: "I drive over 2 hours to train with @massy.arias 3x a week. That's commitment. So don't tell me what folks in bigger bodies aren't capable of, because we will prove you wrong ever time."