Damn! Teyana Taylor is serving bawdy goals!
The stunning mom-of-one showed of her enviable physique on the beach in Miami on Monday.
The 26-year-old looked every inch of the Hollywood star in a black Fade2Fit bikini.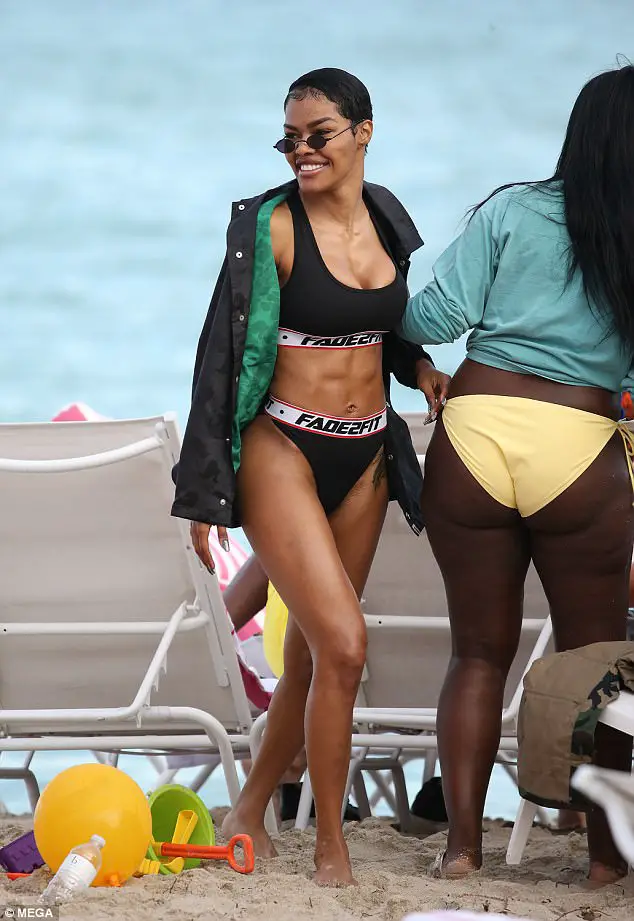 Her love for the gym was clear for everyone to see as she showcased her toned tummy and rock hard abs.
As she turned towards the ocean, Teyana's pert derriere took revealed a Rolling Stones tongue tattoo.
The 'Fade' star rocked a pair of retro shades and at one point rocked a lightweight black and green jacket.
Teyana doted on her one-year-old daughter Iman – known as Junie – as they played together on the beach.
The proud mom kissed her little one on the lips as she carried her in her arms.
The pair also walked hand in hand in the sand, little Junie was then seen playing in the sand with her toys.
The toddler is the only child of Teyana and her Cleveland Cavaliers player husband Iman Shumpert.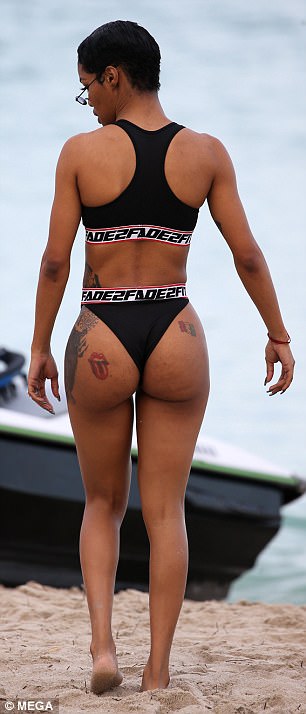 In December 2015, Teyana went into early labour on her bathroom floor.
Her husband, NBA star Iman Shumpert delivered their child.
The couple celebrated one year of marriage in October, with Shumpert presenting her with an upgraded engagement ring as a gift.
He wrote on Instagram: 'We did it our way and on our time. Something to live for, something to fight for and something I'd die for.'
'This union with you has made me unbreakable, there is no giving up! Thank you for helping my troubled heart to trust in love. Happy anniversary Mrs Shumpert! Here's to many more, I love you always.'
After ten years working as a dancer and singer, Teyana found a wider audience last year when Kanye West cast her as the star of his visual track Fade.
She also stormed the runway at New York Fashion Week, walking for The Blonds and Philipp Plein.
Check out more photos below: