TLC singer T-Boz recently took to social media to raise awareness of the killing of her 25-year-old cousin Eddie Russell Jr.
Peoria Police Department officers allegedly fired off 15-20 rounds at Russell Jr. who was mentally ill. 
Now T-Boz, whose real name is Tionne Watkins, told TMZ the family are looking to sue the Illinois police department for shooting her cousin to death.
"It's so disappointing," T-Boz said.
"The crime doesn't fit the punishment," she continued. "This child had a non-violent history…he was mentally ill. The police aren't equipped to deal with a mentally ill person."
She also revealed that the police department hadn't contacted her family since the shooting.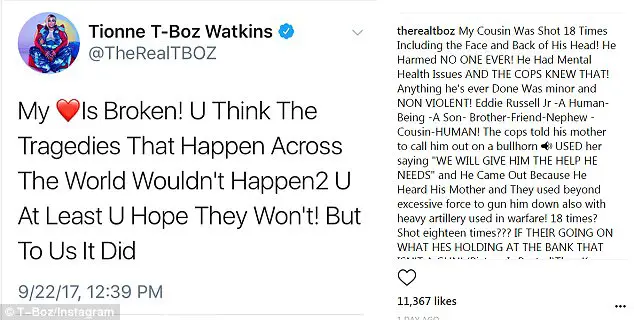 Russell Jr. was allegedly being sought after by police after being caught on security camera supposedly robbing a bank.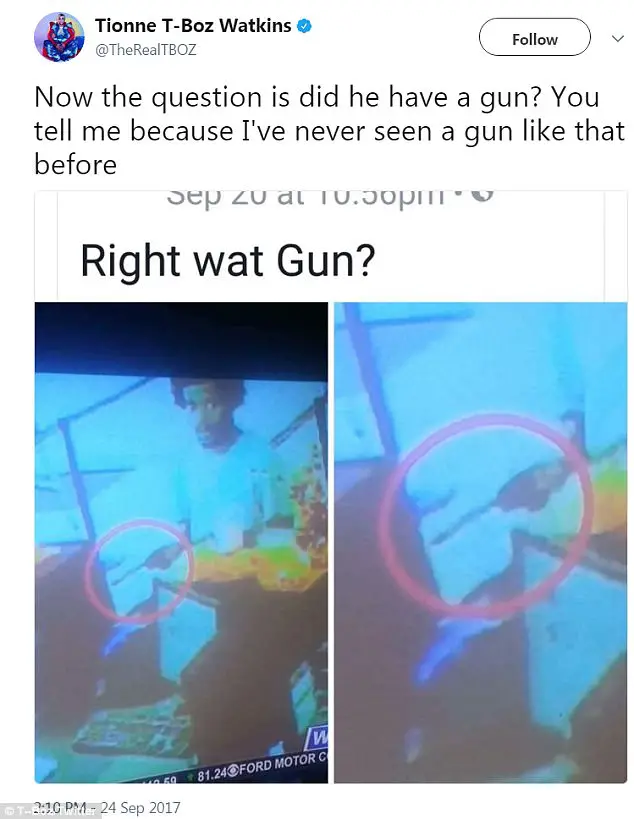 Police say a standoff occurred outside Russell's home for several hours. They eventually used his mom to try and entice him out of the house. 
However, Watkins denies that there was even a standoff.
Authorities claim Russell Jr. was advancing towards them with a gun, which led to the shootout.
"My Cousin Was Shot 18 Times Including the Face and Back of His Head! He Harmed NO ONE EVER!"
"He Had Mental Health Issues AND THE COPS KNEW THAT!," T-Boz wrote on social media following the tragic incident. 

"They haven't Even Gave my cousin the RESPECT of trying to call and explain WHAT HAPPENED IN DETAIL TO HER CHILD! He needs JUSTICE!" she continued.
Russell Jr. had reportedly just been released from a mental health facility before he was killed.
During the incident that led to his death, family members tried to talk to police. 
Russell Jr.'s allegedly tried to ask cops to let him inside his home to talk to his son. They reportedly said "trust us" before unleashing several rounds on the young man.