Online marketing is something that all businesses are taking seriously because it is an effective way to gain new customers and reach new markets. SEO is an integral aspect of online marketing because it is the most reliable way to rank highly on Google, and this is especially true for small businesses that are yet to build their name up in order to generate organic traffic. There are many things that you can do in order to increase your Google search rankings, but before you fine-tune your online presence, it's important to learn the key aspects of it first.
1. Link Building
Link Building is just a fancy term for building links from other sites that link back to your site, which is why it's important to build a collection of quality links that will keep readers on your page and convince them to click on more of your content. As you learn more on SEO, you'll find that links are incredibly important for a successful online marketing campaign. It will not only help you rank higher, but it will also improve your domain authority, which is the score that Moz uses based upon numerous factors to determine how valued your website is. Of course, the trick here is finding reputable websites that will allow you to add a link to your site. As with anything else SEO-related, you can always turn to experts for help. That way you can ensure that your link-building efforts will yield results. However, the main thing to keep in mind with link building is that you want the link to be added as seamlessly as possible. It needs to be in a context that, when people click on the link, will actually want to stay on your page and see the content that you have to offer because it's relevant to what they were reading previously.
2. Thoughtful Web Design
When it comes to creating content that ranks highly on Google, you need to put in the time and effort into ensuring that your site is easy for crawlers – Google's web crawlers or bots – to index and subsequently rank. You can do this by ensuring that your site is properly coded, which means you need to install a tag management system because it's important not to manually code everything from scratch. One of the most important tips on web designing is that anything from the width of your content blocks all the way down to where you place certain tags makes a difference as to how Google interprets your code, so you need to be very careful when it comes to the details. There are different kinds of tags you should use as well. Meta tags will help improve the speed of your site, which is an SEO ranking factor. Another kind of tag to use is a meta description, which will give Google a brief summary of what your site offers. This is one way that you can entice those who are searching for something specific to click on your link instead of someone else's.
3. Avoid Overused Keywords
Writing tags, headlines, and general content that uses keywords related to your niche is a no-brainer when it comes to increasing your search rankings, but you have to be careful about how often you use them. The shadier side of SEO has been known to utilize a method called keyword stuffing, which means that they will try and use a particular term as many times as possible in order to rank higher. While that did yield results for a time, crawlers now disqualify websites that use this technique. However, even if you do it the right way technically, you still need to keep competition in mind. Using keywords that are overly saturated – meaning that there are simply too many high-ranking established sites in your industry for you to realistically compete against those already using them – is another no-no when it comes to optimizing your site.
4. Web Analytics
It is important to get a feel for how people are using your site, which you can do by utilizing web analytics. In essence, web analytics is a way that you can track everything from where people are coming from and how long they stay on your site to what page they land on and whether or not there is anything about your site that needs to be improved. This makes it easier for you as the website owner to pinpoint which content works and which doesn't work as well, allowing you to update the former and avoid the latter. There are numerous analytics programs that you can use, and looking at the different reviews will help you decide which ones are best for your needs. With web analytics, you can also take a look at things from the perspective of each country's audience, as well as break down your traffic into genders if that is something important to you.
5. Use Pictures And Videos
Just like people, Google prefers content that's highly engaging. And that means it's not all just text. We live in a visual generation. If you want to be relevant, you need to make use of multimedia because it breaks up the monotony associated with reading long pieces of content and also allows for Google bots to better understand what your site is about, which will help your SEO rank. However, you don't want to go overboard with this either. You can incorporate up to one image per every 150 words or about 2.6 percent of your total content, but anything more may not be indexed by Google. Videos are even better since some people prefer to watch rather than read. If you are going to do this, make sure the videos are at least one minute long and that they will be relevant for several months – meaning that you don't want it to change too much after publishing, since Google updates its search algorithms frequently.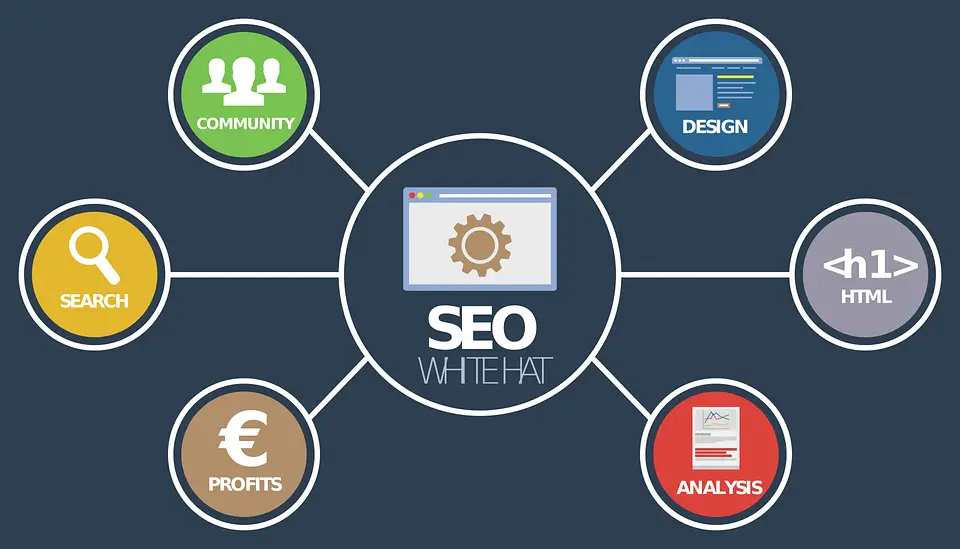 Online marketing is one of the most effective ways to get your business and name out there, especially for small businesses that need to compete with larger organizations that already have a strong presence. While SEO takes time and patience, it's one of the best strategies you can use in order to get more traffic coming to your site, so following these five simple yet effective tips can help you get noticed by the search engines and rank higher.