H&M is having a bad start to the new year.
The Swedish fashion brand has received backlash for using an image of a black child wearing a $10.99 green hoodie with the phrase 'Coolest Monkey in the Jungle' emblazoned on it.
The image featured on it's UK and US websites.
Now, singer The Weeknd has parted ways with the retailer after critics labeled the picture 'racist.'
The Weeknd, whose real name is Abel Tesfaye, has twice collaborated with H&M.
He even performed at the brand's Spring 2017 fashion show. However, he tweeted on Monday that he will no longer be working with the fashion retailer.
Sharing a photo of the young boy wearing the controversial sweatshirt, the singer wrote: 'Woke up this morning shocked and embarrassed by this photo. I'm deeply offended and will not be working with @hm anymore…'
In a statement H&M said: 'We completely understand and agree with his reaction to the image. We are deeply sorry that the picture was taken, and we also regret the actual print.'
'We have removed the image from all our channels and the sweater is no longer for sale in our stores. We will also look into our internal routines to avoid such situations in the future. We will continue the discussion with The Weeknd and his team separately.'
'We sincerely apologize for offending people with this image of a printed hooded top,' the company said in a statement.
The image has now been removed from all online channels and the product will not be for sale in the United States.
'We believe in diversity and inclusion in all that we do and will be reviewing all our internal policies accordingly to avoid any future issues,' the statement read.
The Weeknd released his second clothing collaboration with H&M in September. He proudly shared a photo of himself modeling a varsity jacket from the line to announce it's launch last fall.
It's unclear if the star was working on a third collaboration with H&M at the time of the announcement.
After photos of the children's top took went viral, customers took to Twitter to question whether H&M were being 'casually racist.'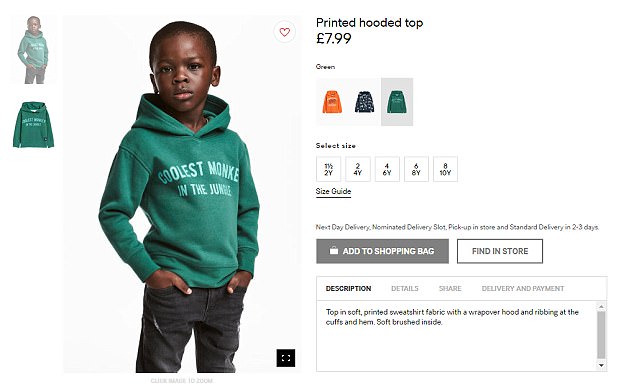 One wrote: 'Is this part of a publicity stunt? Do some brands want to be dragged on twitter in order to gain more visibility?'
Another added: 'Wow. I mean, put it on a child of literally ANY other race. How did NO ONE consider this is inappropriate? Not the photographer, stylist, creative director, editor… I truly wonder if anyone raised a concern that was ignored or they are all just stupid.'
The British-based diversity advocate Models for Diversity was also dismayed at H&M's choice of model, tweeting to the H&M account, "How on earth can this be? SHAME ON YOU !"
https://www.instagram.com/p/BdtS-hsBUNk/?taken-by=kingjames
Manchester United striker Romelu Lukaku reposted the image of the child to his 2.3 million Instagram followers. He wrote a message directly to the child model at the center of the controversy: 'You're a prince soon to be king. Don't let anybody tell you different…# blackexcellence.'
The post received more than 150,00 likes in less than 12 hours. NBA player Lebron James also posted thepicture on his Instagram page. But this time he added a crown on the little boy's head and replaced the offensive slogan. He wrote "when I look at this photo I see a Young King!!"