Talk show queen Wendy Williams has been seen with her son for the first time since he pleaded not guilty to assaulting her ex husband.
Kevin Hunter Jr was in court earlier this week, reported Page Six. 
Williams and her only son were spotted walking to dinner in New York City with a male friend. The 54-year-old looked at ease in a long form fitted black dress as her son rocked a print T-shirt.   
His white T-shirt featured an image of a Paul Cezanne painting of two men playing cards.
Wendy accesorized with a black Hermès bag with a silver chain that featured multiple cat and dog-shaped medallions.
She finished the look with a white hoodie jacket and a pair of white Jimmy Choo trainers.
Meanwhile her son Kevin was dressed more casually, with a pair of navy blue sweatpants and blue, black and white athletic shoes.
On Tuesday, 18-year-old Kevin Jr pleaded not guilty in a New Jersey courtroom to assaulting his father Kevin Hunter Sr.
The college student allegedly punched his father in the face during an altercation in a parking lot in New Jersey in May.
Since the alleged assault, Wendy's estranged husband has said he doesn't want to press charges.
"I love my son very much and I will not be pursuing this matter legally. Things are not always how they appear," he told TMZ.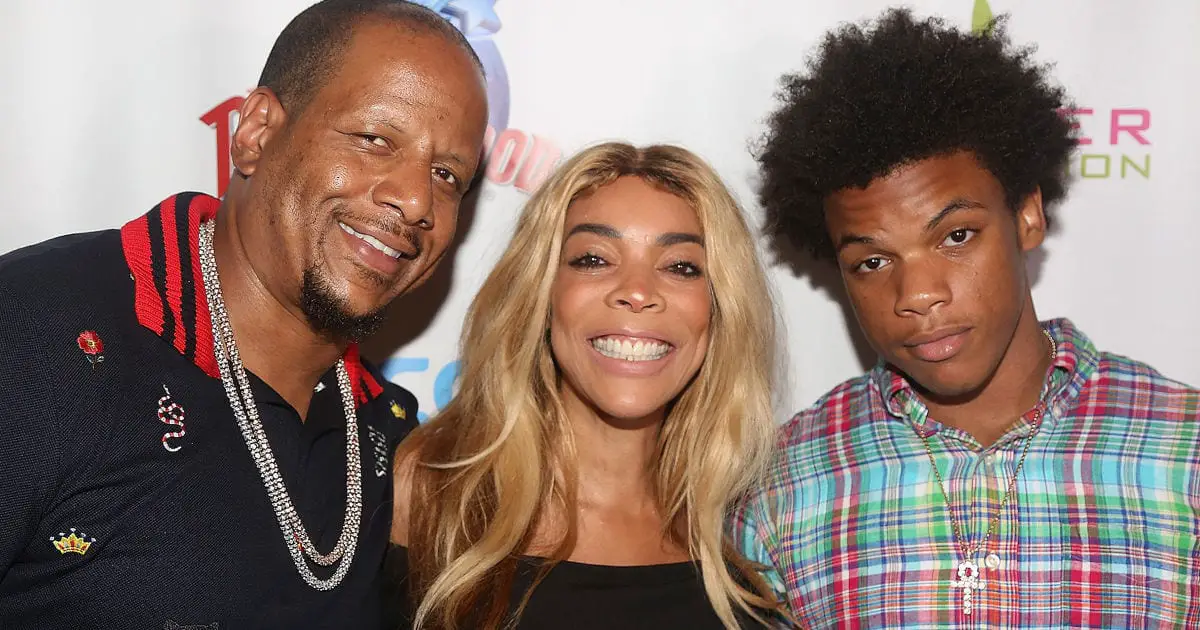 Even though Kevin Sr isn't interested in pressing charges, prosecutors can bring charges anyway in a domestic dispute. 
But since Kevin Jr has no criminal record, a New Jersey conditional dismissal program allows individuals to have the incident removed from their record. But Wendy's son must stay out of trouble for a certain period of time.
The former radio host filed for divorce from her husband of 22 years in April. It came after his mistress of ten years, Sharina Hudson, allegedly gave birth to his love child. The affair had reportedly been going on for at least 10 years.