Willow and Jaden Smith looked to be having the time of their lives on a beach in Hawaii on Thursday.
The son and daughter of A-List actors Will and Jada were seen surfing with friends.
17-year-old Willow was spotted frolicking in the sunshine, while wearing a sporty blue and green swimsuit.
She was also seen been affectionate with rumored beau Tyler Cole.
The 'Whip My Hair' singer and her brother seemed to be quite competent surfers.
Willow was all smiles as she stood up on her board and skilfully caught a wave.
Jaden also enjoyed the ocean waves as he wore a Quicksilver wetsuit.
The Karate Kid star then joined his sister on the sand after his successful surf.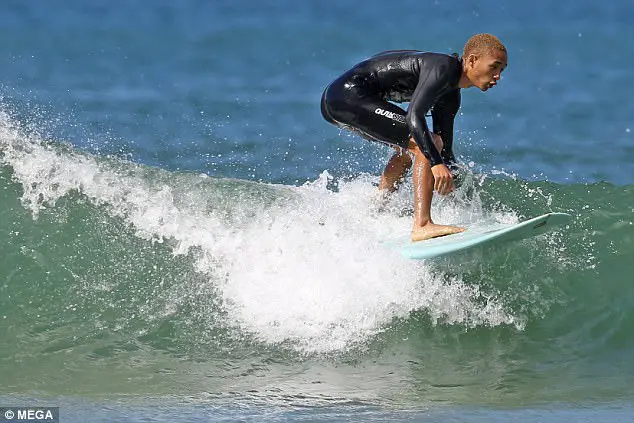 Willow and Jaden were also joined by their pal Moises Arias.
Willow's reported boyfriend Tyler, who's known for singing the track 'Blow Up Your TV!', wore a pastel pink long sleeve shirt and short-shorts.
Tyler tied his hair into a top knot as he shared a warm embrace with his rumored girl.
The group then sat together as they relaxed on the sand.
Recently, Willow told Girlgaze magazine about her struggle to 'grow up and try to figure out your life' in the spotlight.
She admitted she was frustrated with the attention, telling the mag: 'People feel like they have some sort of entitlement to know what's going on [which is] is absolutely, excruciatingly terrible.'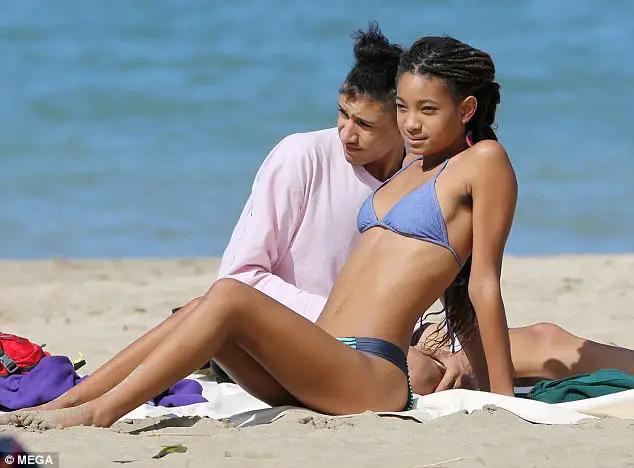 The '21st Century Girl' singer claimed 'the only way to get over' the public gaze was 'to go into it.'
'You can't change your face. You can't change your parents. You can't change any of those things.'
'So I feel like most kids like me end up going down a spiral of depression and the world is sitting looking at them through their phones.'
'Laughing and making jokes and making memes at the crippling effect that this lifestyle has on the psyche.'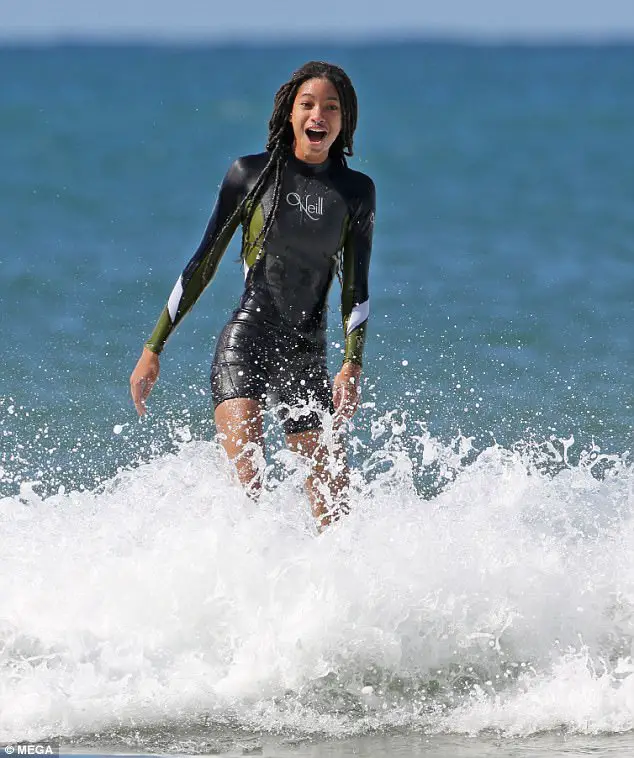 Willow released her first single, 'Whip My Hair', at the tender age of 10.
Smith released her first full length album, Ardipithecus, in 2015. In late October, she released her sophomore LP, The 1st.
Jaden is also hard at work, with two feature films in the pipeline.
He also released the new album, Syre, in November with a follow-up called Erys due out sometime in 2018.