They came into world together. But one half of the Ramirez twins is tragically dead.
Amanda Ramirez, 27, was in court on Thursday to face a charge of first-degree aggravated manslaughter in the murder of her twin sister, Anna.  
It has now emerged that the identical twins from New Jersey may have been fighting over the same man.
According to police, and the women's own relatives, after a night of drinking, Amanda fatally stabbed Anna. 
Anna Ramirez who was found mortally wounded outside their apartment building in Camden early Saturday morning.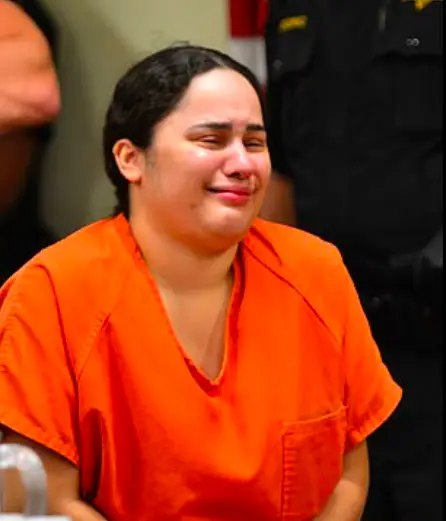 Prosecutors say Amanda changed her story multiple times, before claiming she stabbed her sister in self-defense. 
A police source told the New York Times this week said that it appears that a "love' triangle" was the reason behind the deadly altercation. 
The twins' aunt, Blanca Class, also told the Times that their mother told her that the argument was over Anna's boyfriend.
The aunt did not know whether or not Amanda was also dating the same man.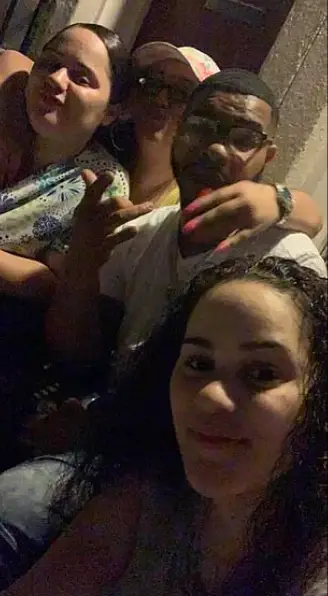 Anna, who had three daughters, described herself as single on her Facebook page.
Meanwhile Amanda, who is a mother-of-one, did not state her relationship status.
"They went to a party, they came home, they were drinking, they were arguing about a boyfriend," Class said. 'She [Amanda] just went on a crazy trip, stabbed her and killed her.'
The sisters' final photo taken less than two hours before Anna's death. It showed the twins sitting on a stoop with their female cousin and a man in glasses.
It's unclear if he is the boyfriend mentioned by their aunt, or just a friend. 
Amanda shook and wept through much of her bail hearing Thursday.
Camden County Superior Court Judge Edward McBride revealed that a witness heard her identical twin scream: "Amanda, you stabbed me!", as she lay dying on Saturday.
The witness claims to have heard Ramirez threaten her sibling moments before the killing. 
Amanda allegedly told Anna, "Watch what I'm going to do," before going back inside her home and coming out with a large kitchen knife.
The female witness who lives on an upper floor of the Centennial Village Apartments – the same as the sister's family –  says she overheard Ramirez's threat from a window.
When she went downstairs to investigate she saw Anna's lifeless body laying on the ground.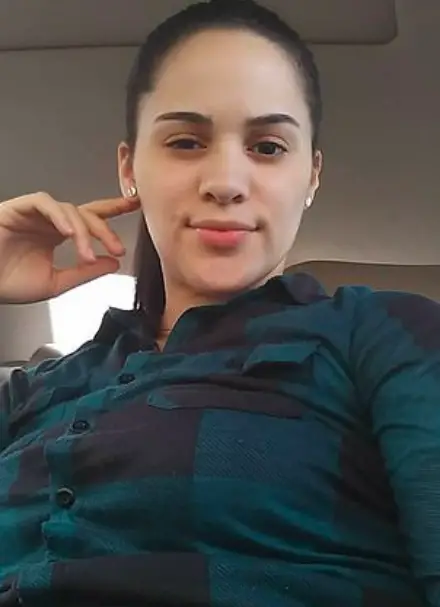 Police arrived at the scene at 5:40am on June 22 to find Amanda Ramirez covered in blood.
Officers claim Amanda initially told them she found her sister that way.
She later claim she and Anna fought "until they were on their knees." That's when Anna broke free and got a knife from the kitchen.
Amanda claimed Anna resumed the fight, where the pair struggled over control of the blade.
Ramirez then admitted in an act of self-defense, she plunged the knife into the left side of her chest.
Police documents show that Amanda had scratches on her face, lacerations on one finger and dried blood on her ear.
A knife was later recovered from Ramirez's family's apartment, with preliminary tests suggesting it may have blood on it. 
On Thursday, Amanda Ramirez burst into tears as soon as she entered the courtroom. Her wrists and ankles were both shackled.
Her public defender, Igor Levenberg, argued his client should be released on house arrest, citing her otherwise unblemished criminal record. He also stated that the incident was not premeditated. 
However, the judge sided with prosecutors and ordered Ramirez to be remanded in custody without bail. 
As she left the courtroom her family members called out "Love you" from the gallery, with one woman telling her to "Keep your head up, sis," according to NJ.com.