A beautiful boy has been was found dead inside a van outside a Florida daycare. 
Myles Hill, 3, spent more than 11 hours in a van outside the Little Miracles Academy. He was discovered Monday night, Orlando Police Chief John Mina confirmed Tuesday.
He was found just weeks after the school was cited for not keeping track of children during transport. 
Orlando Police received a call about a child being left in the van on Monday around 8.30pm. 
The little boy's frantic family called police when he had not returned from the daycare academy – more than two hours after he was expected home. 
Sadly, Myles would have turned four on August 22.  
When police arrived at the school, they found the young boy unresponsive in a van. They later determined that the boy was dead.
Myles's family say they dropped him off at the daycare earlier in the day. He is usually returned home around 6pm. When he hadn't returned home by 8pm, the family called police.  
The boy's aunt, Barbara Livingston, said that when she asked daycare workers where her nephew was, they said he was 'gone'.  
'(We) said, 'Gone where?' And she pointed at the van,' Livingston told News 6. 'I'm numb. I don't know how to feel.'  
An Florida Department of Children and Families inspection report from last month showed that Little Miracles Academy had been reprimanded for not keeping track of children to and from the academy.
"The facility's log for children transported did not include the following required elements: [destination time, arrival time, destination location and departure location.]. (Section 6.2, number 3) [SR]," the DCF report said.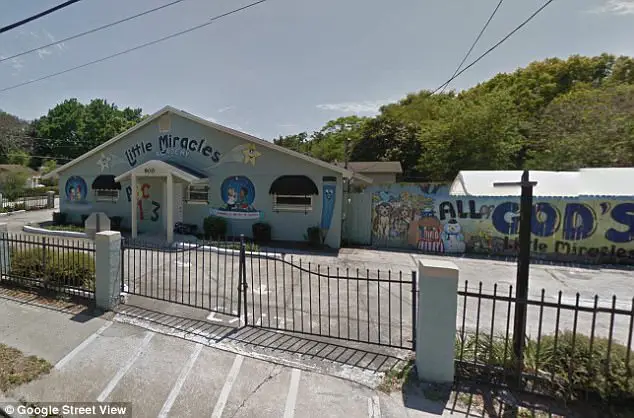 'This is a terrible tragedy and our thoughts are with the family of this little boy,' police said in a statement. 'Detectives are working hard to determine what happened.'
The driver of a Florida day care van has been arrested. Deborah Denise St. Charles, 51, was taken into custody and faces a charge of aggravated manslaughter, police said.
St. Charles failed to do a headcount and left Myles in the van.
"The suspect's failure to locate the [boy] in the vehicle prior to locking the doors placed him in grave danger and subjected him to temperatures between 100-144 degrees, which is the unbearable environment that caused his death," police said in an arrest warrant affidavit.