I'm not gonna lie, if I see a pretty girl on the street I have to take a peek.
I'm not gay or judging, but you never know, she might have a good hair hookup.
Or know an even better place to get my eyelashes done. Whenever I've been brave enough to ask my fellow females, they've always been flattered. In fact they have gone out of their way to help me out.
But when a hair stylist recently got arrested for violating a domestic protective order, her crime wasn't what interested people.
Her viral mugshot showcased her immaculate braids.
Shia Yearwood, 23, from Charlotte, North Carolina, was arrested on January 3.
Her mugshot was posted to the county's records and then shared on Twitter by the account @CharlotteMugs.
When Shia saw that people were commenting about her hair, she turned a humiliating experience into a positive one,
She retweeted the picture, including the hashtag #BraidByShia, and is now profiting from a booming braiding empire.
Speaking to BET, Shia explained her thought process: 'I was just simply showing people that I had nothing to be ashamed about.'
'I thought I looked good and I thought my braids looked amazing — they were literally done two hours prior to the mugshot.'
'At first, I was a little embarrassed that it was getting attention because I didn't want people to think I was taking being arrested as a joke.'
'Instead, I saw it as a lesson and an opportunity to show off my skills,' she added.
The picture has been retweeted over 4,000 times and has received over 9,000 likes.
Most of the comments on the post are requests from prospective clients asking Shia if she has any available appointments.
Twitter user @babyA1angel wrote: 'When you free?'
While @nikkiLynette praised her work ethic: 'The way you turned shade into a marketing opportunity is a great moment in Black a Twitter History.'
And @thailaand typed: 'A fellow Charlotte queen. They tried to blast you little do they know they gave you a platform to expand your clientele. Get it sis'.
A sentiment shared by @CassBrown90: 'Great story! Turning a negative to a positive. This shows that people make mistakes and can over come them.'
Shia has been braiding for 15 years and credits her mother and grandmother with teaching her the skill.
However, she also admitted that she only fell into braiding after her daughter was born and needed extra money.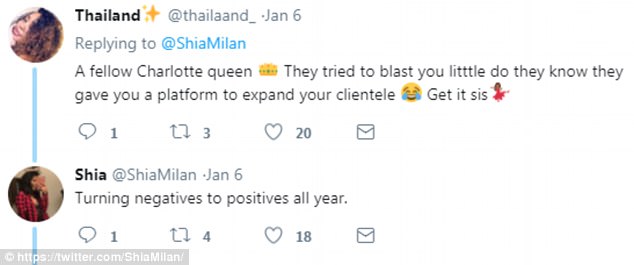 Her advice for others trying to harness the power of social media?
'No matter what, if you stay true to who you are and what you believe in you will flourish. When people try to break you, stand up tall and proud and look people in the face — and don't be ashamed!'
'Own it and then flip it. The goal in life is to secure the bag and prosper.'