You would be forgiven for thinking this incredibly sweet photo is a picture of three loving sisters.
But unbelievably, one person in the picture is the mom.
Kienya Booker, 40, of Nova Scotia has gone viral thanks to the images, which show off her age-defying good looks.
It began when Kienya shared a collage of images showing herself with her girls when they were just young children and what they look like now.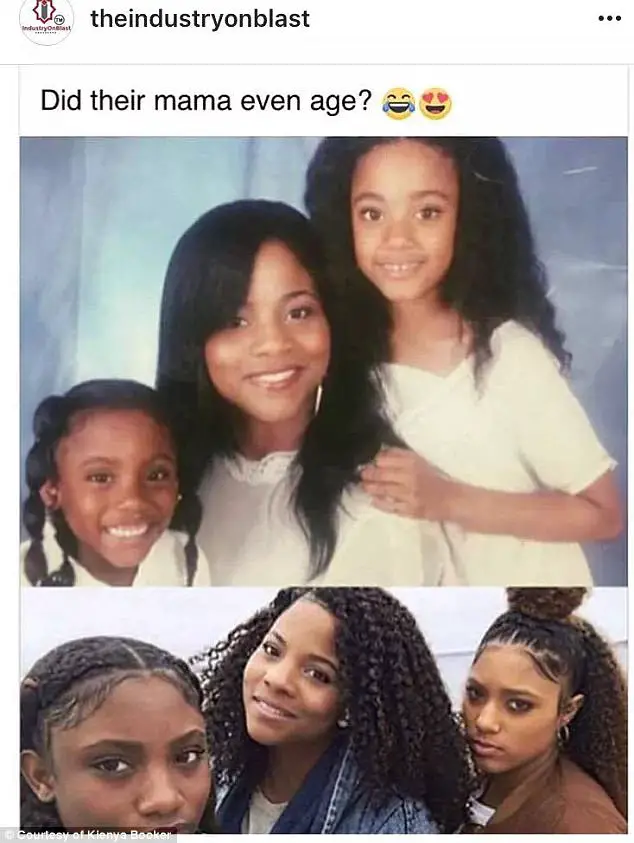 The mom-of-three, who has more than 79,000 followers on Instagram for her natural hair tutorials,  looks like the oldest of three sisters in the first photo with her daughters K'Lienya, 18, and Kolieya, 16. 
The girls are regular features on Kienya's Instagram page. The beautiful girls often pose as hair models for their mom. 
Speaking to Yahoo Lifestyle, Kienya explained that the photos started as just a regular throwback Thursday post. 
'The top half of the picture was a throwback of me and my daughters from about 12 to 13 years ago, and the bottom half was a more recent picture of us,' she said. '
And that's when it all started.' 
Soon enough, their photos went viral and were turned to memes.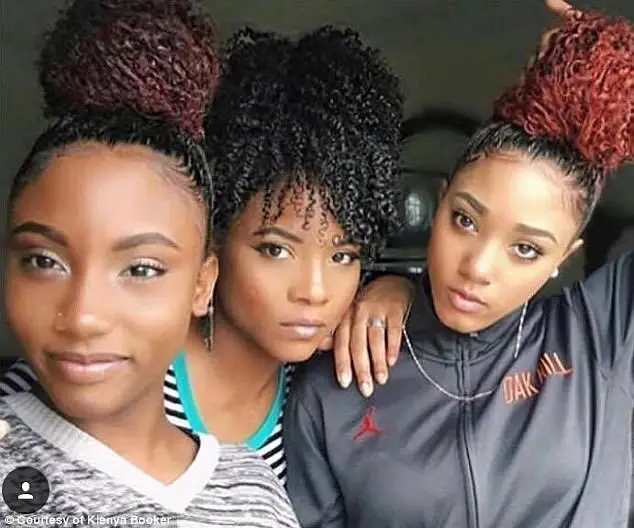 'She's not the mom, she's their sister' said some users, while others added: 'Did their mom even age?'  
But not all the comments were so flattering, with some accusing Kienya as simply posing as the girls' mother for attention.
Others suggested that she must have had the kids when she was 15 years old in order to look that young – which is obviously not the case. 
Kienya says she was a 'bit thrown off with some of the negative comments,' but has otherwise loved the reaction to her photos.
The mom has since shared a number of other photos of herself with her girls.
Kienya wanted to show the haters that the original image was no fluke as it's always nearly impossible to tell which is the mom.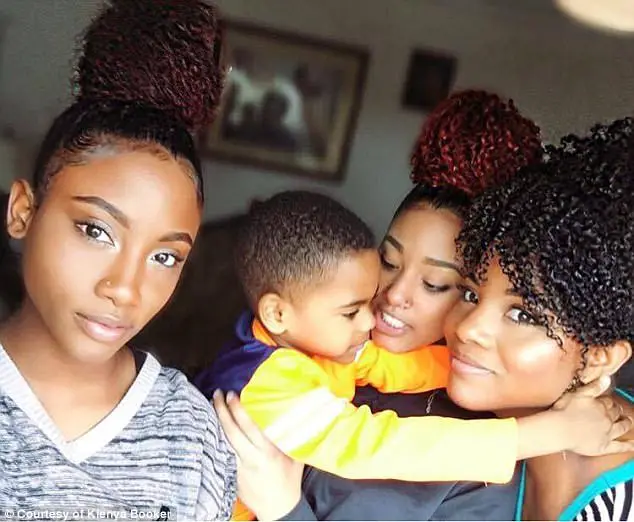 However as far as the mystery about whether or not she really does age, her husband OBryan cleared that up.
He posted a happy birthday message to his wife of five years on his own Instagram account – although he graciously left out her actual age. 
'Happy ** Birthday to my beautiful wife @kienyabooker,' he wrote. 'I [love] you very much! I thank God for you and that you were blessed to be here another year! Fine Wine or China ain't got nothing on you!!'