A brave 11-year-old girl who suffered horrific burns after her 'friend' poured boiling water on her at a sleepover has made an incredible recovery. 
After her terrifying ordeal, Jamoneisha 'Jamoni' Merritt has been pictured with a huge smile on her face after leaving Harlem Hospital.
But just 11 days ago Jamoni suffered a brutal attack and was burned on more than 85 percent of her face.
The school girl suffered second degree burns to her face, shoulders and back. Her injuries were inflicted by 12-year-old Aniya Grant Stuart who threw the boiling water over her to mimic the 'Hot Water Challenge.' A so-called prank made popular on social media.
But in an apparent sign of guilt Aniya herself was hospitalized after trying to kill herself with a knife. 
Her mother claims she attempted suicide when she saw the extent of Jamoni's injuries. 
Meanwhile Jamoneisha says after numerous surgeries she is feeling 'so great' –  but her road to recovery will be a long one. 
Her mom, Ebony Merritt, said her daughter will have to be homeschooled for a few months while she continues to heal. 
'Her arm is still raw, it hasn't healed yet,' Meritt told New York Daily News. 'And she can't go outside in the sun. It's going to take maybe about six months for all her color to come back in.' 
Ebony Merritt says her daughter's attacker Aniya filled a cup with boiling water before pouring it on Jamoneisha's head, neck, face and chest.
Aniya and girls at a sleepover had attempted to recreate the 'Hot Water Challenge', a popular prank on YouTube. This is where people film themselves throwing boiling water on friends. 
Shernett Panton, Aniya's mother, said the incident occurred at around 4am on the 7th August.
Following the incident she gave Jamoneisha ice and had her take a cold shower.  
Panton told New York Daily News her daughter was retaliating after Jamoneisha threw cold water on her earlier in the day. 
'They always prank each other. My daughter was sleeping and Jamoni poured cold water on Aniya. 
'My daughter was like, "OK, if you're gonna do a prank on me, I'm gonna prank you back."
'But my daughter — I don't know what she was thinking — boiled hot water and poured it on Jamoni's face,' she said. 
Jamoneisha said the girls claimed it was an accident and gave her a 'half-hearted apology' while telling her to 'stop yelling and buggin'. 
Aniya was reportedly taken into custody afterwards and the case is being handled by family court because she is a minor. 
Panton condemned Aniya's behavior but said: 'What she did was really wrong, but it's too much right now. 'My daughter is 12. Everybody makes mistakes.' 
But Jamoneisha's mother said the other girls had been bullying her daughter and that they often picked on her.
She said her daughter has been left 'confused' and 'upset' by the attack.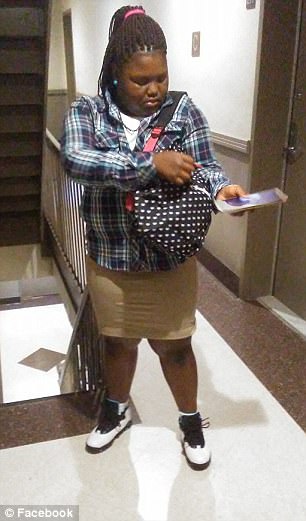 'She's very sad. She's emotionally messed up. She don't understand why they did that to her. She thought they was her friends.' 
'I was told that they didn't like her. And they just been bullying her,' Merrit told Spectrum News 1.   
Jamoni's mom believes all three girls and Aniya's mom should be arrested. 'The mother is just as involved as the other kids,' she told the Daily News. 
'This happened at 4am, but they didn't come to my house until 5.30. That means she was there for an hour and a half while they were trying to cover their tracks.'