Who would be callous enough to discard a helpless puppy in the woods, essentially condemning it to death?
We would never know but a ten-week-old puppy was found in Woodland in Stockton, left to die in a Sports Direct bag.
The ten-week-old puppy who has since been named Eleven was discovered starving, thirsty and covered in scabs and scars inside the bag which also contained Christmas lights and decorations.
Using the presence of the lights and decorations as a factor, it is extremely likely that poor eleven was dumped in the woods before Christmas last month.
Named after Eleven from the trending television series 'Stranger Things', Eleven was saved by an old couple walking in the woods on December 28 when temperatures had plummeted to -2C.
Cold, weak and helpless, the pitiful state of the puppy pushed the couple to do something about its welfare.
The puppy was taken to Jacqui Paterson's Veterinary Clinic in Stockton-on-Tees where she was named Eleven after the character in the Netflix series Stranger Things, who was also found in woodland.
According to the practice manager at Jacqui Paterson's Veterinary Clinic in Stockton-on-Tees, the puppy would have died in a few hours if not for the interference of the couple.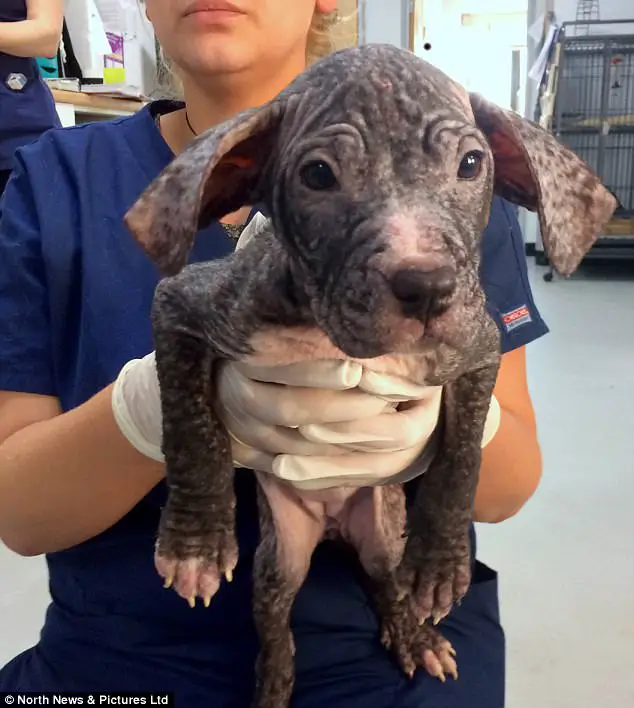 Jenny Walker, the practice manager at the surgery, said,
'It was very lucky that she was found when she was because she would have died if she had been left outside for much longer. When she came to us, she had mange and mites that she will have had for a long time so she had no fur and a lot of scabs – it would have been very itchy and uncomfortable for her'.
The lucky puppy or should we say formerly unlucky puppy has since being treated by the members of the veterinary clinic.
After she was brought to Jacqui Paterson's Veterinary Clinic in Stockton-on-Tees this past Thursday, she was treated with antibiotics and a lot of anti-parasitic medicine.
Furthermore one of the good nurses at the clinic fostered her over the weekend where she had a bath.
Eleven who practically had no fur when she was brought it is starting to grow her fur back and according to Jenny Walker, her skin is improving.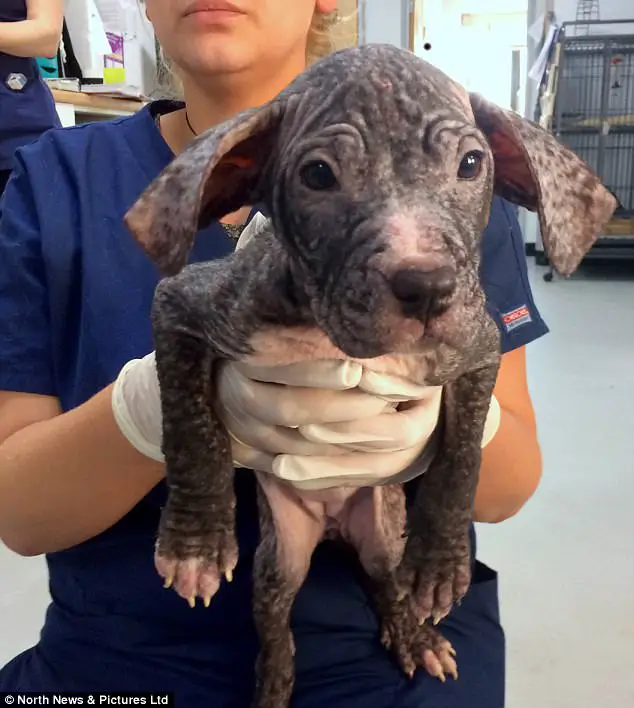 Jenny Walker said,
'Her skin is beginning to improve and the scabs have gone, so we hope that her fur will also begin to grow back soon. She's doing really well and we expect her to make a full recovery.'
After being cared for over the weekend, Eleven has been fostered this week by Claire and Rob Neal, the couple who found her in the Sports Direct bag that also contained an old curtain and Christmas decorations.
According to a member of staff at the veterinary,
'She's currently with the people who found her and they were as keen as mustard to foster her and take her on. She might not stay there forever…but we're sure she'll find a home whatever happens.'
The RSPCA were contacted when Eleven was found, with inspectors raising concerns for the rest of the litter that are believed to be Staffordshire Bull Terriers.
Anyone with information on the litter is urged to contact the RSPCA by calling 0300-123-8018.