They are both Grammy-winning artists. And one is now a certified billionaire.
But if you ask Beyoncé and Jay Z – they are are parents first.
In fact a source confirms that Beyoncé and Jay-Z have a hands-on relationship with kids Blue Ivy, Rumi, and Sir.
Their huge careers mean they do have to hire full time care. But the devoted couple make sure they are present in their kids' lives and daily routines.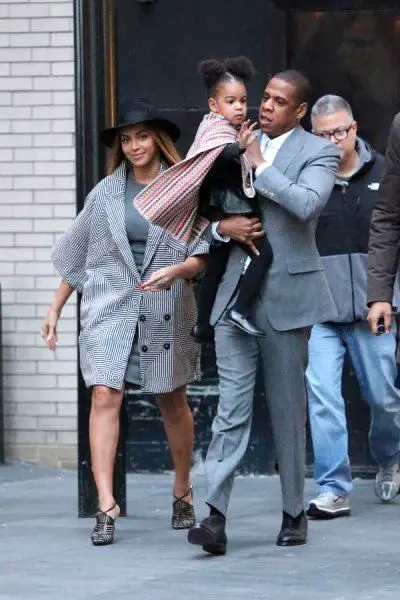 Getty
Blue Ivy is now 7 years old, while twins Rumi and Sir are only 2 years old.
A insider claims Beyoncé and Jay-Z "try and bring the kids everywhere." While the twins aren't yet old enough to travel as frequently, they've been on tour with famous parents.
"Blue always travels with Beyoncé and comes with her when she's working," the source shares. "The twins are getting older and Beyoncé has been taking them out a little more too."
The source told Us Weekly that Beyoncé and Jay-Z "have nannies for the kids and their assistants help out too."
But when Carters are home, the source says that Jay-Z takes over "daddy duty," like taking Blue to school in the morning.
"They're a very tight-knit family and like to do everything together," says Us Weekly's source.
Meanwhile Jay-Z, the rap legend husband of pop star Beyoncé, was listed as a billionaire last week, according to Forbes.
His lavish lifestyle is a world away from the violence-ravaged housing project in Brooklyn, he once called home.
The 49-year-old's commercial empire spans not only to music but champagne and cognac, and a large stake in the taxi service Uber.
Jay-Z and his three siblings were raised by their mom Gloria in the poverty-stricken Bedford-Stuyvesant neighbourhood of Brooklyn.
Known as Shawn Carter back then, the young boy says music helped him survive after his father turned to drugs and left the family.
He was fatally stabbed when Jay-Z was 11.