They say "the apple doesn't fall far from the tree". It is only logical that kids look like their parents, but in case of some people, they look exactly the same, like they are twins. And celebrities are great example for that as well. Let's take a look how celebrity kids are mimicking their parents.
1. Kaia Gerber and Cindy Crawford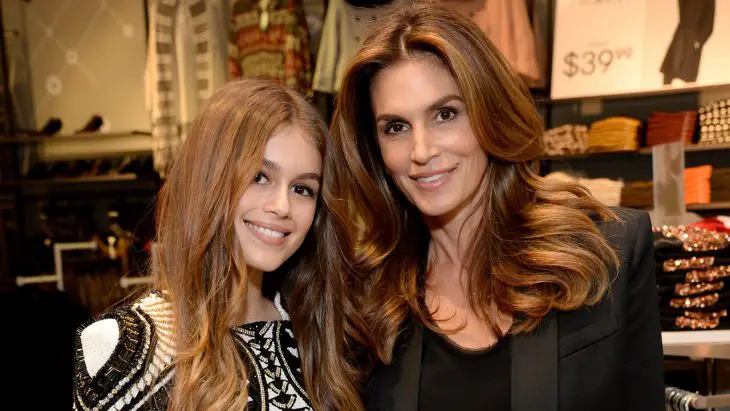 Kaia is just 14 years old, and she is already becoming one of the most popular kids in Hollywood. On her first magazine cover, the little girl looks exactly like her mother. A bright modeling career is in the stars for Kaia, and we know for sure her mom will guide her. A year ago they posed together for the French Vogue cover.
2. Violet Affleck and Jennifer Garner
It seems like it was yesterday when Ben Affleck and Jennifer played with their little adorable daughter. Violet will turn 11 this December, and she is growing up nicely. With her mom's smile, she will be liked for sure.
3. Hilary Duff's little boy, Luca Comrie
Hillary is one of the most determined and dedicated moms in Hollywood at the moment. She is divorced from Luca's father, but that doesn't stop the two of them to take care for their child. Hillary is attending every sports event her kid goes, and at he moment, he is into soccer.
4. Kris and Kendall Jenner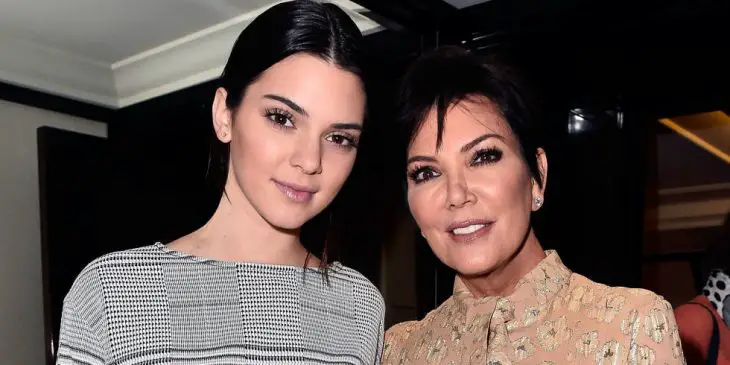 If these two look like twins, that might be because it might be true. Jokes aside, but Kendall and Kris have exactly the same face lines. Truth be told, almost all Kardashian children resemble Kris, but Kendall is the closest one.
5. Miley Cyrus' mother Tish
Miley's mother is not a famous celebrity in Hollywood. But she tries to support her daughter as much as possible. Here, for example, she poses for Miley's signature tongue selfie.
6. Tom and Colin Hanks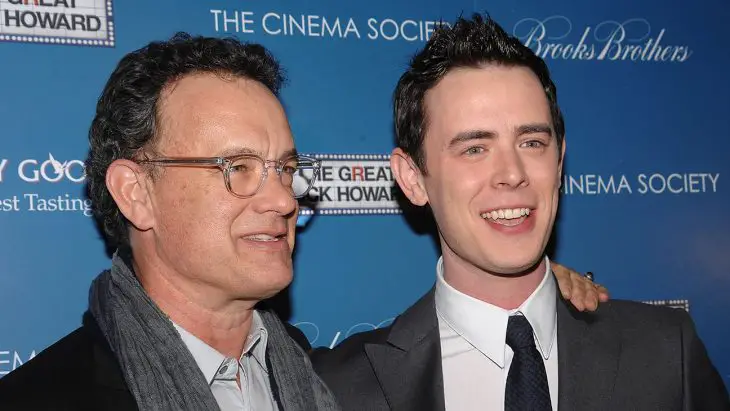 Some say Colin is the spitting image of his father Tom. And that is true. He even followed his father's footsteps into Hollywood. Now, Colin is not as successful as Tom, but who can match up to that standard.
7. Angelina Jolie & Shiloh Jolie-Pitt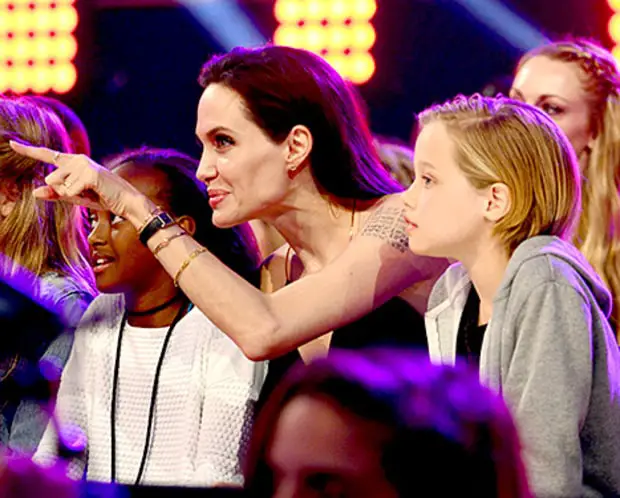 The little girl is not so little any more. Brad and Angelina's eldest biological child is grown up, and she looks like her mother more and more. There were rumors in 2015 about Shiloh becoming a transgender kid, but that is all behind them. She has her mother's jaws, and her father's smile.
8. Julianne Moore and Liv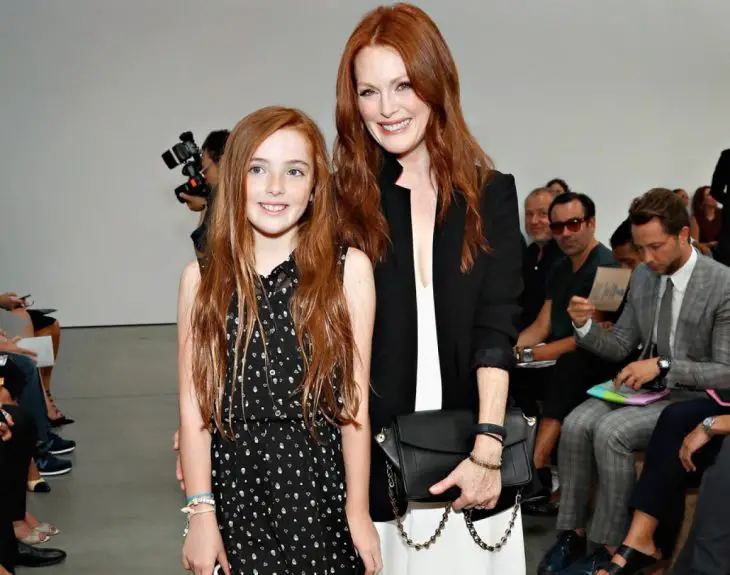 To make things interesting, we often see Liv stealing the spotlight on the red carpet from Julianne. But the famous actress doesn't mind, as her lookalike daughter is one of the most beautiful celebrity kids.
9. David Beckham and Romeo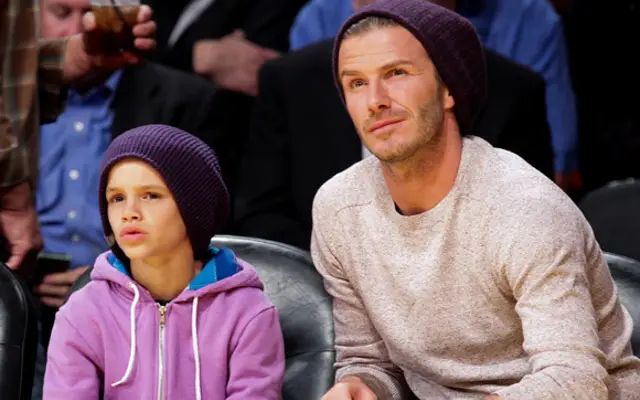 Romeo is just 13 years old, and he is already becoming a regular in Hollywood. Unlike his father, Romeo is more into tennis. But he has copied some of his father's iconic haircuts, showing even more resemblance to the famous soccer star. But the best part was when he defended his mother Victoria publicly in 2015.
10. Tina Fey and Alice
Tina regularly shows her daughter in public, and the fun part is that Alicia is growing up to be a comedian as well. Looks like she won't be getting only her mother's looks, but smarts as well. At the age of 10, she already has a Tumblr website dedicated to some of the funniest comments she has given.
11. Teresa Giudice and Gia
Exactly the same eyebrows, same lips, same nose, same jaws, it is like Gia has undergone a plastic surgery to look exactly like her mother. While that is not the case, we cannot help but gaze at how much these two are the same.
12. Nicole Richie and Harlow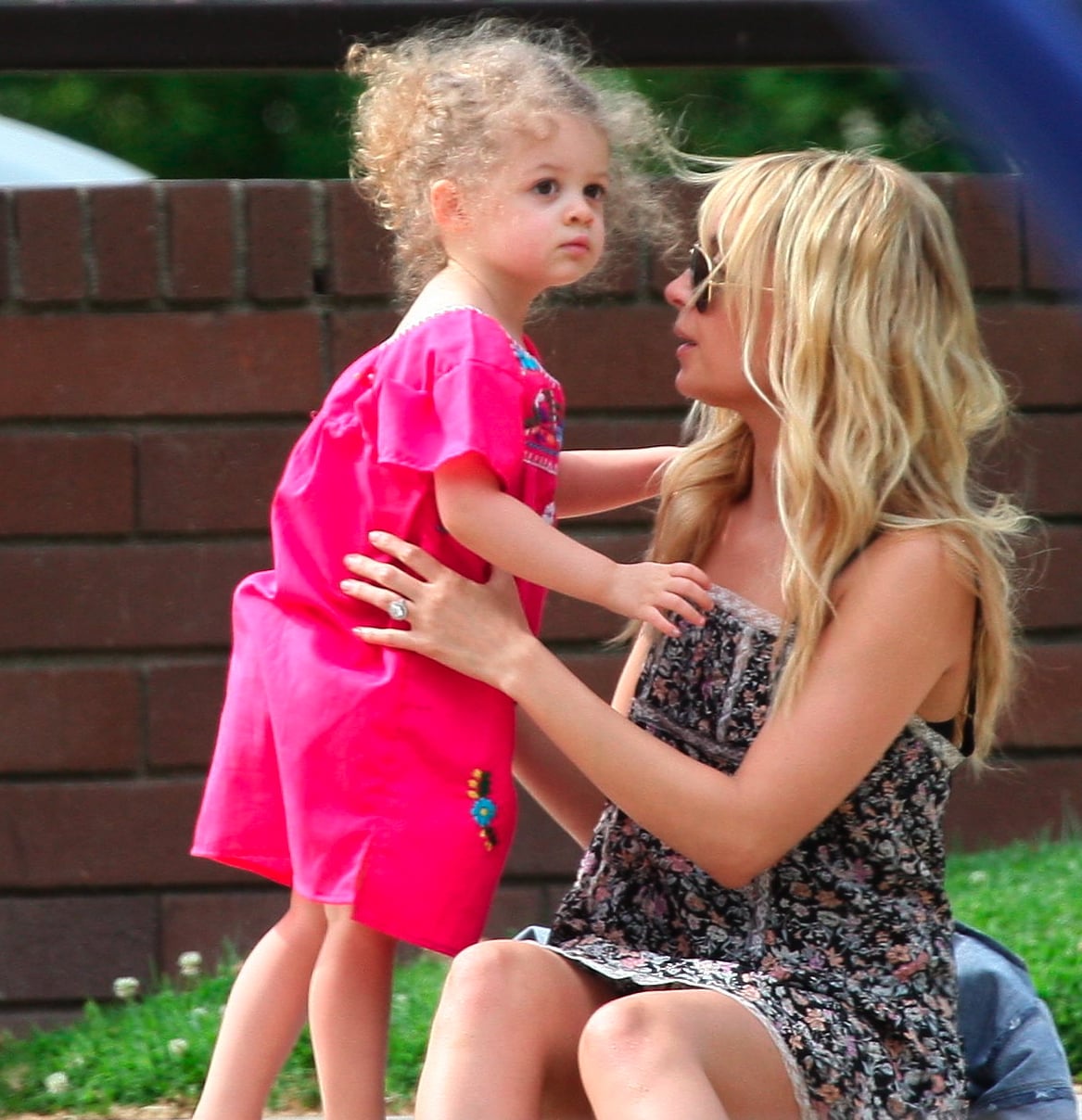 Nicole's daughter is one of the cutest and most adorable children in Hollywood. Ring a bell? Nicole was exactly the same when she was young. And unlike her friend Paris Hilton, Nicole turned out to be much more intelligent and down to Earth.
13. Reese Witherspoon and Ava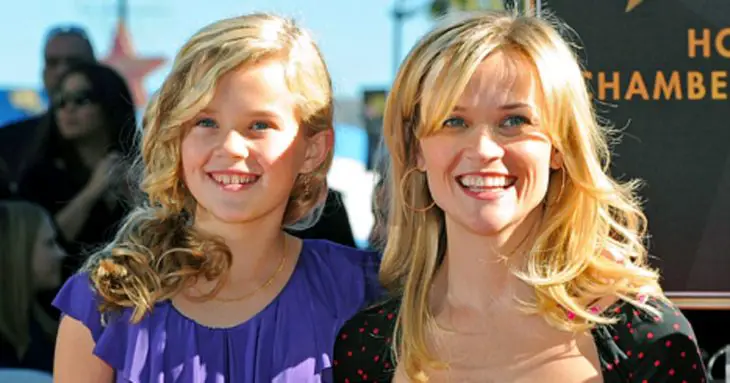 Reese regularly shares photos on her Instagram feed with her daughter. And even the actress calls Ava "mini me". And just one look is enough to see the resemblance.
14. Katie Holmes and Suri
These two are BFFs, as they are together almost all the time. It was a long ago since Suri was just a little baby. She is all grown up now, and things are looking great for the daughter of Tom Cruise and Katie Holmes. She was one of the most famous kids because her parents ties with Scientology  some years ago, but that is all behind her.
15. Gavin Rossdale and Zuma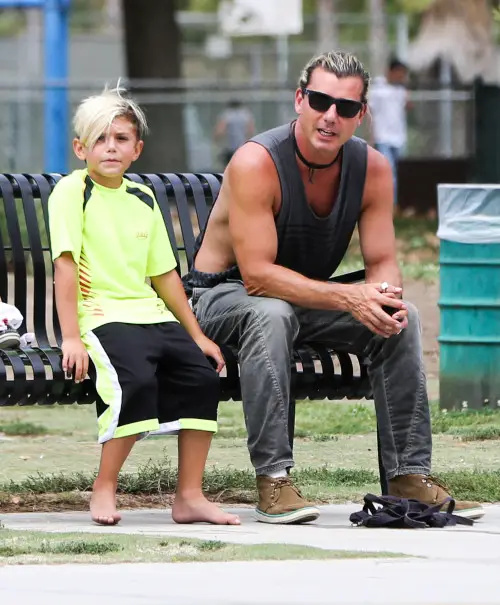 Some might say that Zuma has his mother's blood running through his veins more than his father. His rebel-like look is more resembling Gwen Stefani. But when it comes to face lines and characters, it is all Gavin.
16. Halle Berry and Nahla
Nahla might be seven years old, but Halle holds tight to her like she is still her little baby. The resemblance is evident, even if Halle is wearing a short hair cut these days.
17. Will Smith and Jaden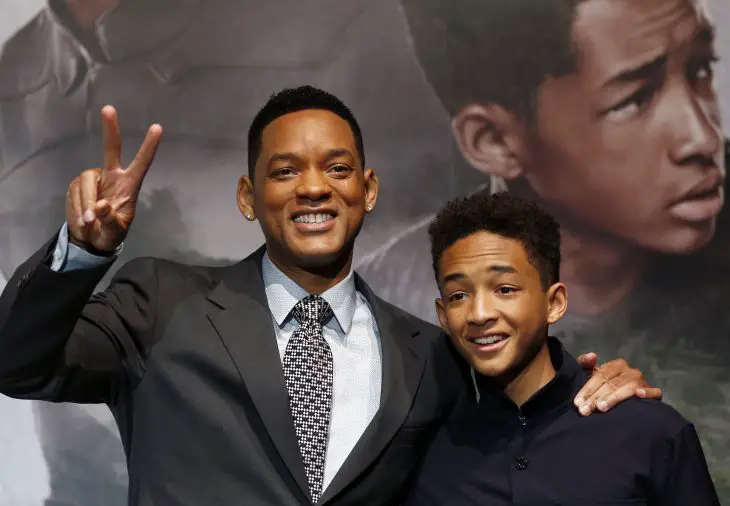 Will and Jaden might be the most famous father-son duo in Hollywood. Both are actors, and Will even helped launch Jaden's career as he starred alongside Jaden in his first movie "The Pursuit of Happiness". Jaden hasn't been as successful in acting, and he is more into rap music these days, but the resemblance is evident.
18. Kevin Bacon and Sosie
In most cases, the resemblance is between a father and son, a mother and a daughter. But Kevin's daughter Sosie is an exception, as she is spitting image of her father.
19. Chelsea Houska and Aubree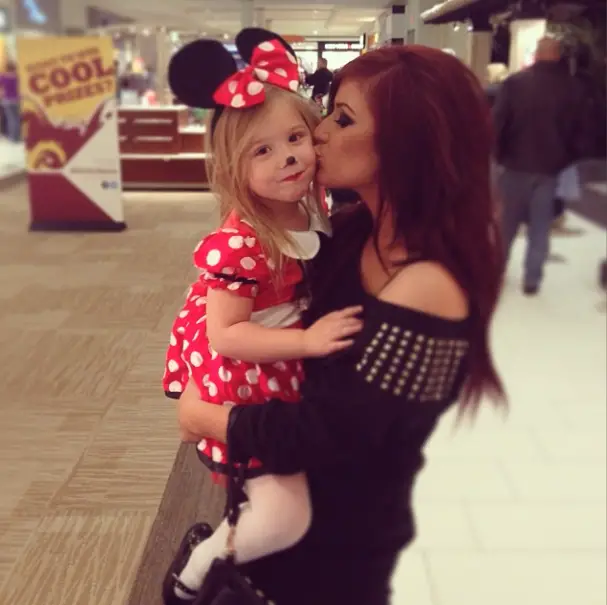 When you start your career in Hollywood as part of "teen mom" TV show, you are about to get lots of negative comments and bad rep. But Chelsea is not the case, as she has embraced being a mother from a young age. She is pregnant again, and we will see if her next child is as spitting image as Aubree is.
20. Kate Hudson and Goldie Hawn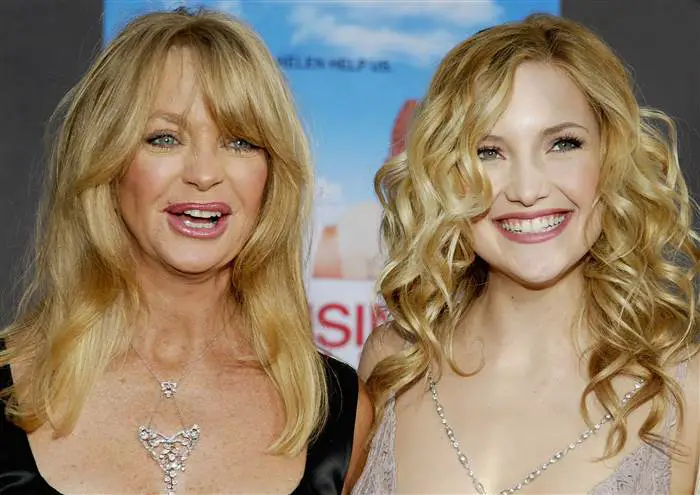 Kate Hudson was just poised for a big career in the movie industry. With parents like Goldie Hawn and Kurt Russell, you just cannot stay away from the spotlight. And it doesn't hurt when you look like one of the best actresses in the 70s and 80s, Goldie Hawn.
21.  Kate Middleton, Prince William, and Prince George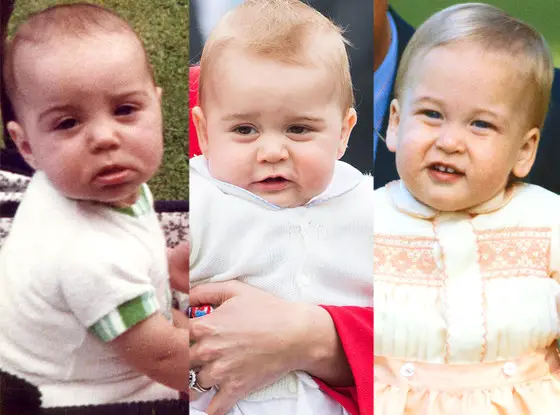 The young British princes are still babies, but their baby photos are very much alike from the baby photos from their parents. Kate and William have brought a beautiful baby to this world, but with so much beauty among them, it was to be expected.
22. Britney Spears and Sons
This year, for Mother's day, Britney wrote an emotional letter to her sons, saying "You are my masterpiece". And she is spot on. One of the most famous singer of the 90s had alcohol, drugs and behavior problems in the 2000s, but her two sons are definitely something she should be proud of. They are great kids, and they resemble Britney to the fullest.
23. Kanye & North West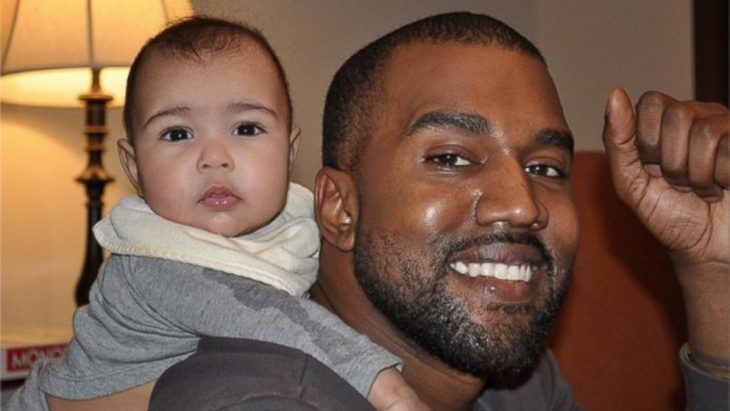 North is a little bit grown up now, but her baby photo was 100% Kanye. She still resembles the rap singer, but not as much as she was a baby. Who knows, when she gets older she might resemble him even more.
24. Demi Moore and Rumer Willis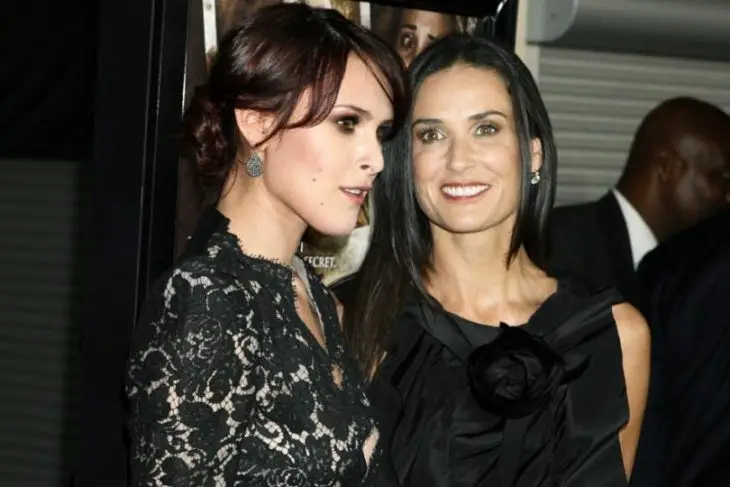 It is a rarity in Hollywood to find 100% resemblance when the child grows older, but Rumer is exactly like her mother. Same as Demi, Rumer has a career of making movies, albeit not as successful. She did won Dancing with the Stars though.
25. Maci Bookout and Bentley Edwards
Another "Teen Mom" makes the list. Maci was part of "16 and pregnant" first, and then followed up with another MTV show, "Teen Mom". And as with other teen moms out there, she was heavily criticized for becoming a mother so young. But Maci has gone through everything, and as a result, she has a beautiful baby boy.
26. Martin Sheen, Charlie Sheen and Emilio Estevez
When you watch Charlie Sheen's "Anger Management" TV show, you just cannot help but wonder if he and Martin Goodson (the character Martin Sheen plays) are actually real life father and son. And then you throw Emilio to the mix, and you see a happy family that looks like a family.
27. Gwyneth Paltrow and Apple
Gwyneth's and Chris Martin daughter is 12 years now, but she is still a spitting image of her mother. And same as her mother, she visits her dad playing at concerts. At one concert in Barcelona, Chris blew a kiss for his daughter.
28. Meryl Streep and Mamie
It is hard to follow the footsteps of Meryl Streep. After all, she is one of the most successful, if not the most successful actress in Hollywood. But Mamie is following her nicely, and has adopted her mom's style in clothing, looks and everything in between.
29. Kim Basinger and Ireland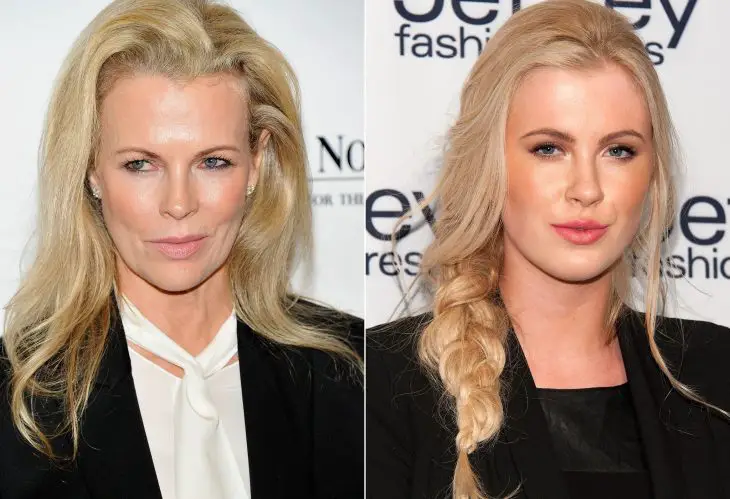 Young Kim Basinger was one of the most beautiful women in Hollywood. She is still beautiful, but not to the point of being a sex icon. Ireland Baldwin, her daughter, has inherited her mother's looks, and used them to become a fashion model.
30. Eva Amurri and Susan Sarandon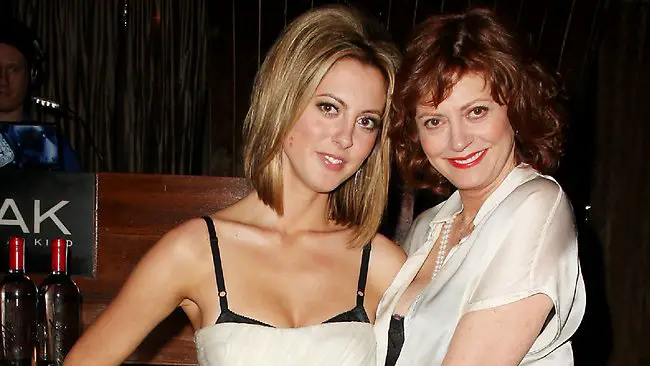 One look at Eva and you instantly think back of Susan and her role in "Thelma and Louise". Susan has actually helped Eva by getting her in some movies. The two have starred together in few movies, and the resemblance is just amazing.
31. Clint Eastwood and his son Scott
Back in his hey days, Clint was one of the hottest and most handsome guys around. And his son Scott is not far behind. Now at 30 years, the young Eastwood has a body to die for. He is also following Clint's footsteps in the movie industry.
32. Heather Locklear and  Ava Zambora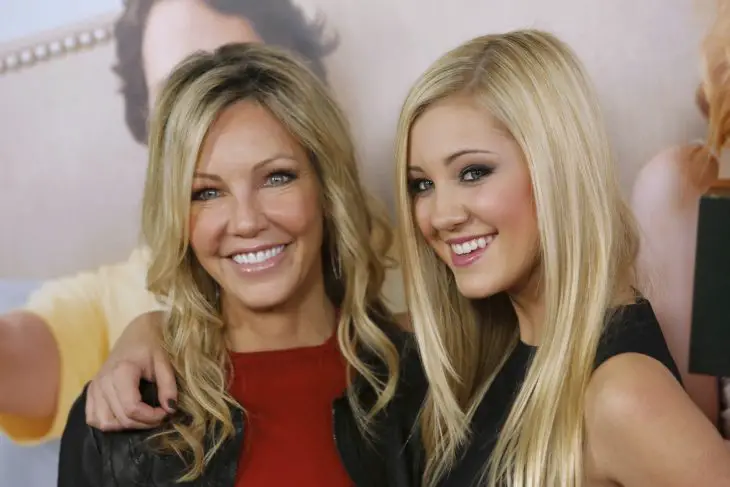 Ava is just another perfect example of a celebrity kid inheriting her parent's amazing looks. The 18-year old daughter of Heather Locklear has already become one of the most beautiful supermodels, and her modeling career has bright future.
33. Kate Moss and her daughter Lila Grace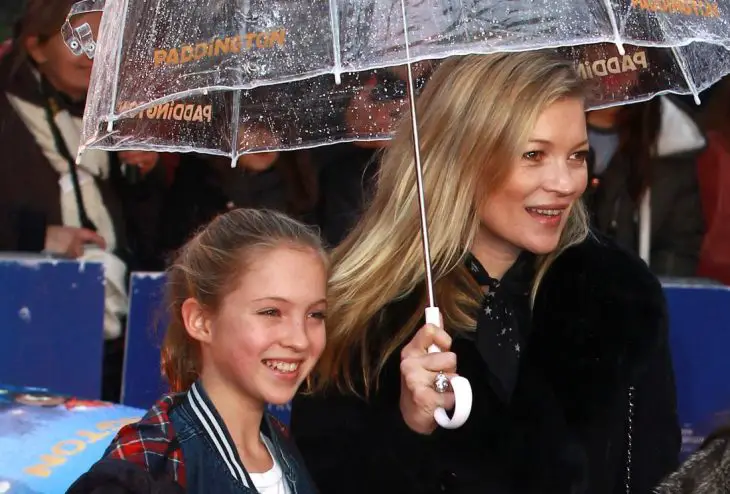 Many people remember Kate Moss as this controversial model. But the reality is that she was one of the most natural beauties the fashion world has ever seen. And her daughter Lila is not far behind, as she has a million dollar smile and grace that few other young kids have.
34. Larry King and Chance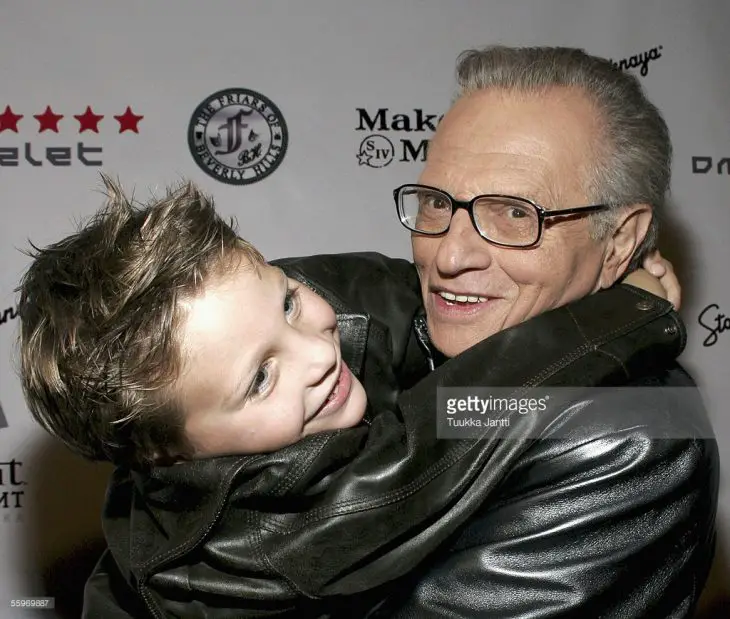 Larry King has four children, but Chance is the one that looks like him the most. It is just amazing to think that Larry become a father at 65 when Chance was born.
35. Madonna and Lourdes Leon
Madonna has launched a special collection for her daughter, called "The Material Girl". Lourdes was big part of the filming and marketing of the campaign for the collection. And you can see just how much these two look a like at any event. Magazines already call her a "carbon copy of Madonna".
36. Director Ron Howard and his daughter Bryce
Ron has three daughters and one son, and it is amazing that his eldest daughter resembles him the most. Truth be told, all his daughters look a lot like Ron, but Bryce is the one considered a carbon copy.
37. Kate Beckinsale and Lily Mo Sheen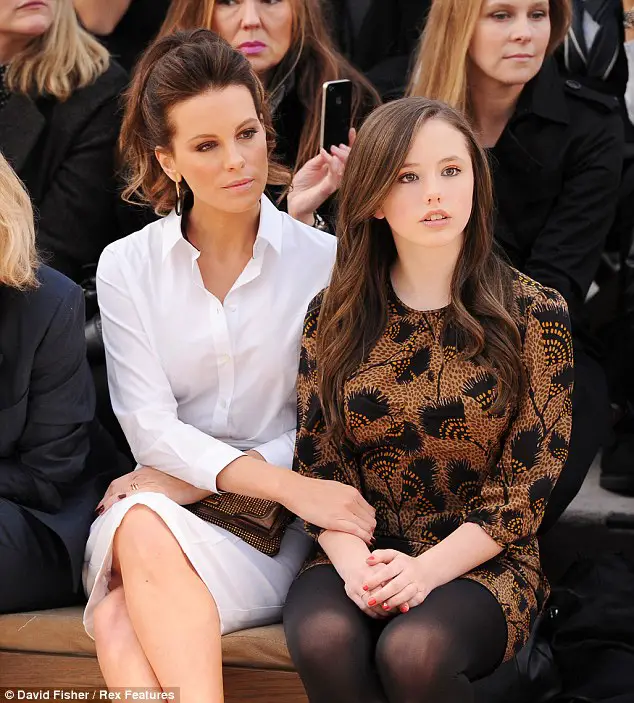 When you look at Kate and Lily, you just know who had the stronger genes in the marriage between Beckinsale and Michael Sheen. The 17 year old Lily is just like her mother, and she is already becoming a very famous face in Hollywood.
38. Lisa Bonet and Zoe Kravitz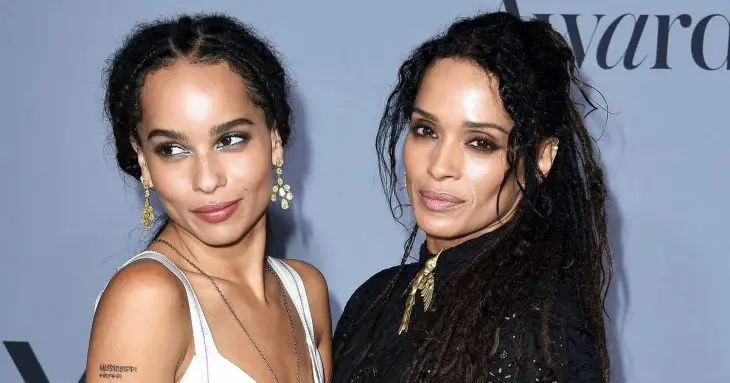 Zoe has inherited her mother's looks, but also her talents for everything. At the age of 27, she is already known as a model, a singer, and an actress. Talented parents usually end up with talented kids.
39. Christie Brinkley and Sailor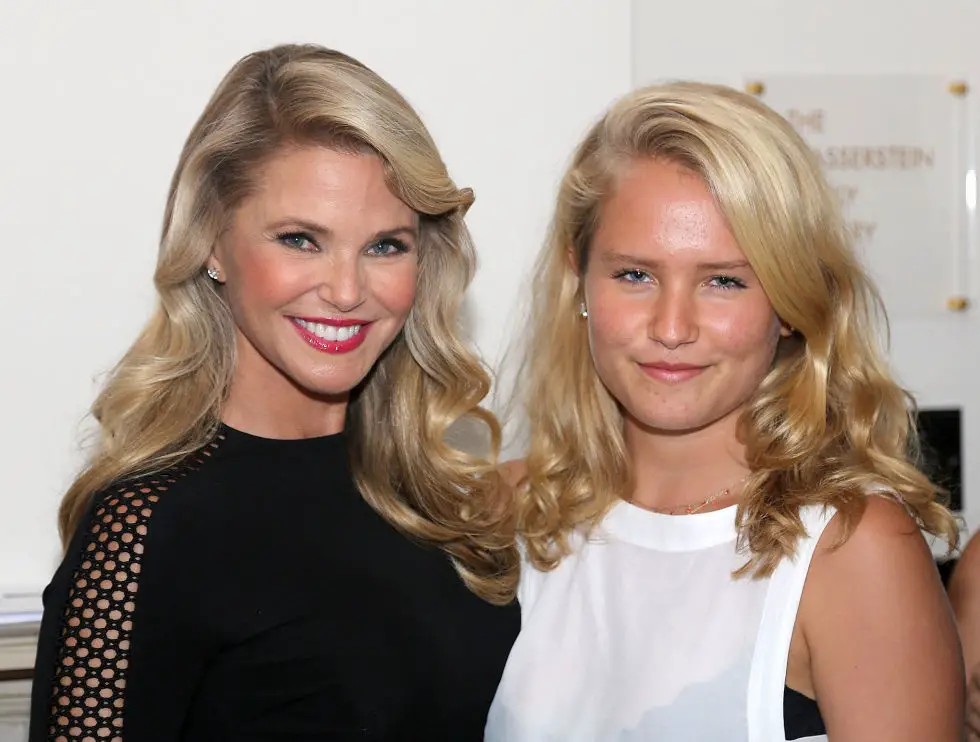 Christie was one of the most beautiful women of the 70s. She appeared in three consecutive Sports Illustrated covers, so you might say she was a sex icon back in the days. Her daughter Sailor is also very beautiful, and while some internet bullies try to downgrade her, saying she is nothing like her mother, Sailor doesn't mind and says she is her own person.
40. Bette Midler and Sophie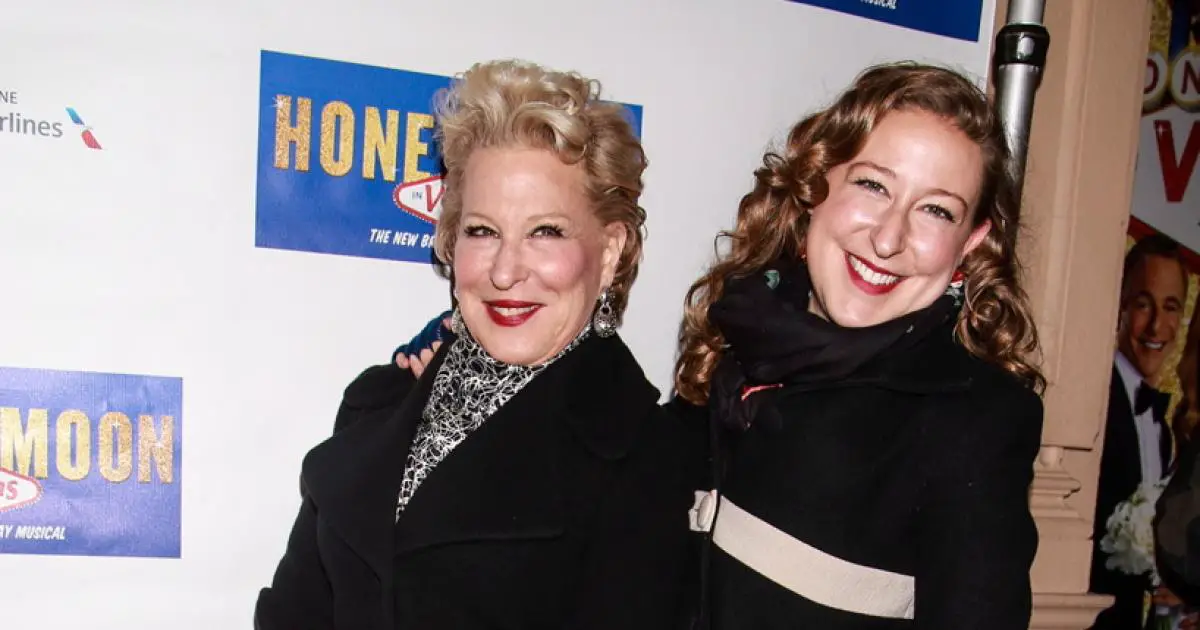 These two are probably the most funny, comical and humorous mother-daughter duo. Just look at that smile. You can be sure Sophie will be a comedian just like her mother. The resemblance between these two is uncanny, and in 2015, they posed for a picture together, just so they can show everyone.
41. Viola Davis and Genesis Tennon
In most cases, a mother and a daughter look alike because they share the same genes. But Genesis is adopted, and she still resembles Viola. Talk about coincidence.