After what seems like years of hype, retired boxer Floyd Mayweather and UFC fighter Conor McGregor will go toe to toe in Las Vegas on August 26.
It has been billed as the biggest hybrid fight of all time. 
It will also be the biggest grossing event in the history of combat sports since Mayweather fought (and beat) Manny Pacquiao in 2015.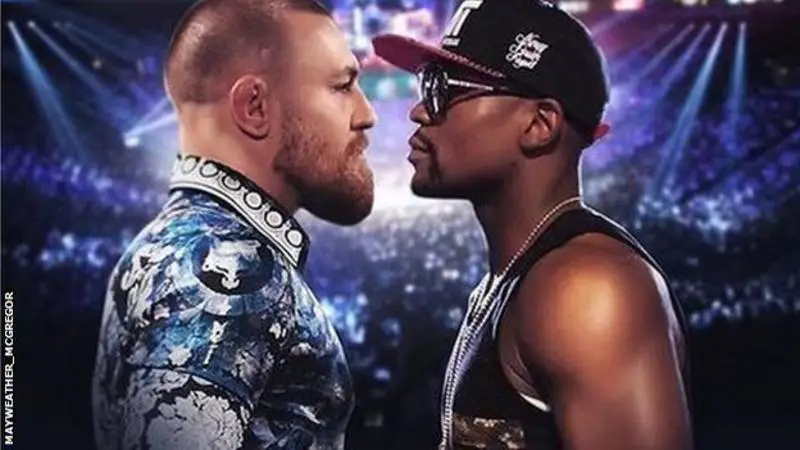 Mayweather, 40, posted a video on Twitter confirming the bout in August, with the message: "It's official."
Irish lightweight champion McGregor, 28, also confirmed the fight and mocked his opponent's age on Twitter by posting a picture of Mayweather Snr.
"The Fight Is On," he captioned the image.
Both men are sure to make a minimum of $100million dollars each. They will likely profit from the high sales of the fight by Showtime, the cable network showing the fight.
Mayweather and Manny Pacquiao finally got it together to the tune of more than half a billion dollars between them.
McGregor, who has never boxed professionally, became the UFC's first dual-division champion in November 2016. He has previously challenged Mayweather to a fight under mixed martial arts rules.
McGregor's boxing licence was granted by the California State Athletic Commission in December, allowing him to box in the United States.
UFC president Dana White told ESPN: 'We've been in negotiations now for a while and to be honest the negotiation went smooth. We got the thing done.
'The impossible deal is now done.'
White said the fight would be at 154lbs – light middleweight – and added: 'It'll be in a ring, it's a boxing event.'
'Conor McGregor is a guy who's done a lot of good things over here for the sport and this company and he wanted this and the fans wanted it too.'
'I talked to Conor McGregor this morning. He is absolutely 100 per cent positive that he wins this fight and I stopped doubting Conor McGregor a long time ago.'
'Floyd Mayweather is 40 years old, he's always had problems with southpaws. Conor McGregor is 28 and he is a southpaw. Whenever Conor hits people, they fall.'
'I'm not saying Conor McGregor's going to win. I'm not saying Floyd Mayweather's going to win. But the reason Conor McGregor's as big as he is is he'll fight anybody, anywhere, anytime. He will go after Floyd Mayweather and he will try to knock him out.' 
'This is really an unprecedented event,' said Stephen Espinoza, who heads Showtime Sports, which will handle the pay-per-view.
'Really we haven't seen anything in modern history that resembles it, it's impossible to predict how many sales this will do.'
Espinoza said the fight came together quickly after McGregor and the UFC reached agreement last month on their end of the deal and Mayweather's team pushed for the fight in recent days.
'All parties were motivated and reasonable and thrilled we could get everything done,' he said. 'The sky's the limit on this.'