It's every parent's worse nightmare.
For Rechelle Haigh the nightmare unfolded right in front of her eyes. 
The terrified mom has released shocking CCTV footage which appears to show a van driver attempt to lure her three children to his van using doughnuts.
The 26-year-old has now warned people living on her street about the creepy man who pulled up just yards from her garden where her children were playing.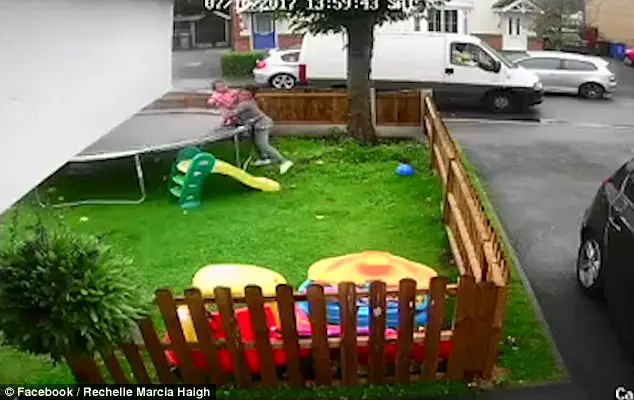 Harrowing footage shows her children Sadè, eight, Ameya, two, and step-daughter Roxie, six, playing on a trampoline together.
Then out of nowhere a man in a large white van vehicle approaches the fence near the garden of the girls' home in Partington, Greater Manchester. 
He is seen shouting to the three underage youngsters to 'come and get some doughnuts'.
But Sadè and Ameya quickly ran off.
Sadè is being hailed a hero after she sprinted back to pick up infant Ameya who remained on the trampoline. 
Ms Haigh then chased after the man who was 'acting weirdly'.
She wrote online: 'WARNING Partington Manchester area. Here is the footage of the man that tried to offer my children doughnuts he told them to go to his van. 
'Absolutely scary to watch but I'm so proud of my Sadè for acting fast in this footage.'
'Today being 7/10/2017 at approximately 2pm please keep your kids safe. When I approached this man he acted weird and asked me if my kids wanted some doughnuts then drove off when I stepped out the house.'
I thank my blessing I still have my children and I have always told Sadè to run if this ever happened.'
Ms Haigh, a car sales owner, told the Sun Online: 'I was sat on my couch and I could hear him shouting 'come on, quick girls, come get some doughnuts'.
'My daughter ran in saying 'mum, mum, quick'. When I approached the man he looked petrified.'
'I asked him what he wanted and he said 'oh, oh, oh, I was just offering the girls some doughnuts'.
She has now reported the incident to Greater Manchester Police who are investigating. 
A police spokeswoman said: 'The incident was reported to us at 11.30pm on October 7. It was believed to have happened at 2pm that day. 
'It appears a van driver offered two girls doughnuts on Inglewood Close, Partington. 
'He has then driven off. We are currently treating it as suspicious circumstances. Enquiries are ongoing.'