Despite facing troubles that would break most families – Kevin Hart's bond with his brood seems stronger than ever.
The 38-year-old actor/comedian posted several sweet snaps of himself with pregnant wife Eniko Parrish and his two kids on Instagram, Wednesday.
The cute family shots included Kevin's two kids from his previous marriage to Torrei Hart: 12-year-old daughter Heaven and 10-year-old son Hendrix.
Kevin also shared a snap of pregnant 33-year-old Eniko wearing a white dress. Eniko is seen cradling her bump as Hart stands topless in the background.
Despite his sextortion scandal months ago, he gushed about his wife in the accompanying caption.
'#WCW #Beautiful #ForeverMyRib #Flawless #StrongestWomanOnThePlanet #MyWife #Harts #DopePic'
'P.S i told them to edit my feet out but i don't think they listened to me #MyFeetLookLikeOldLadyHands.'
Kevin also shared another adorable snap of he, Eniko, Heaven and Hendrix wearing fluffy white robes.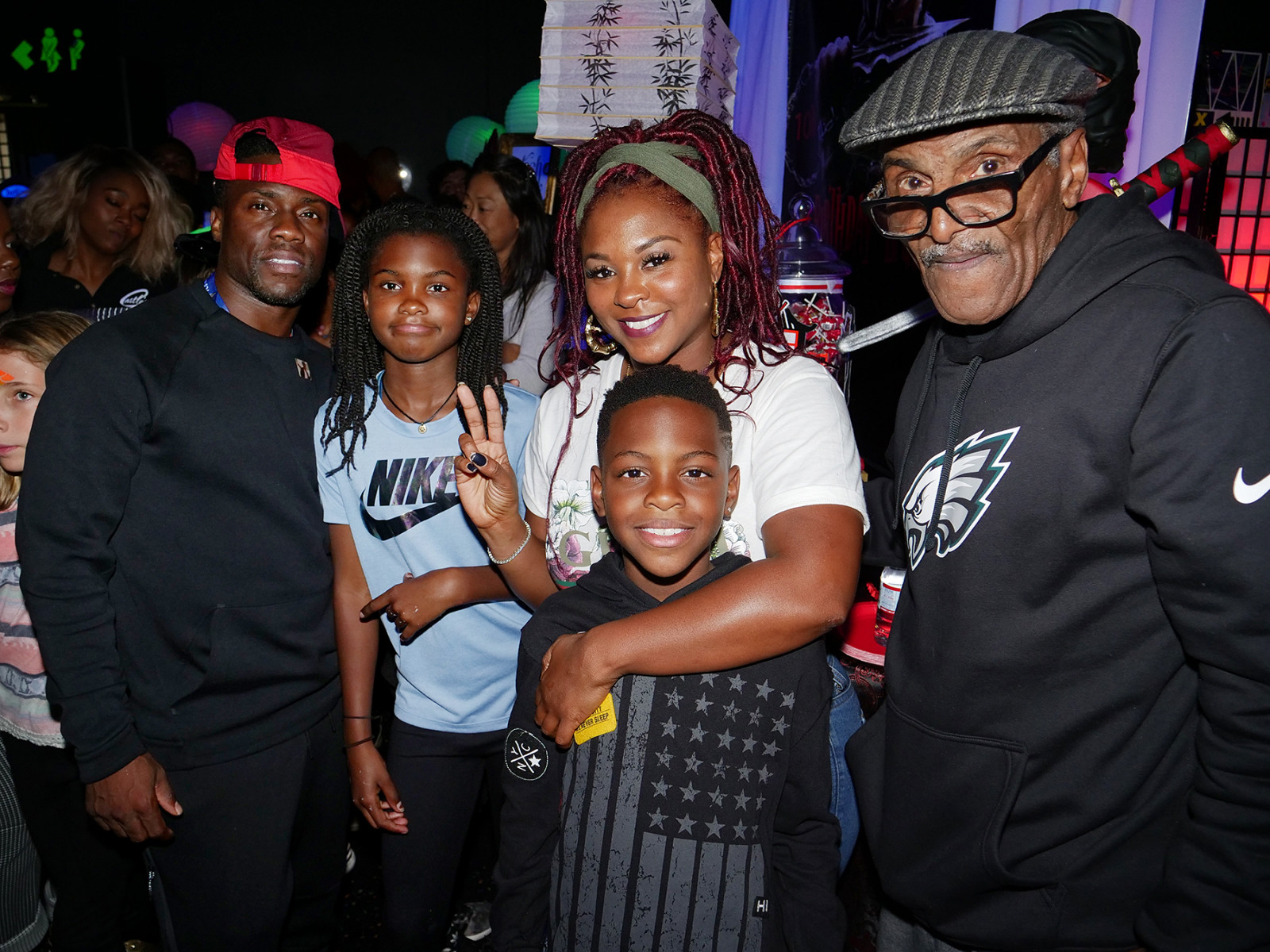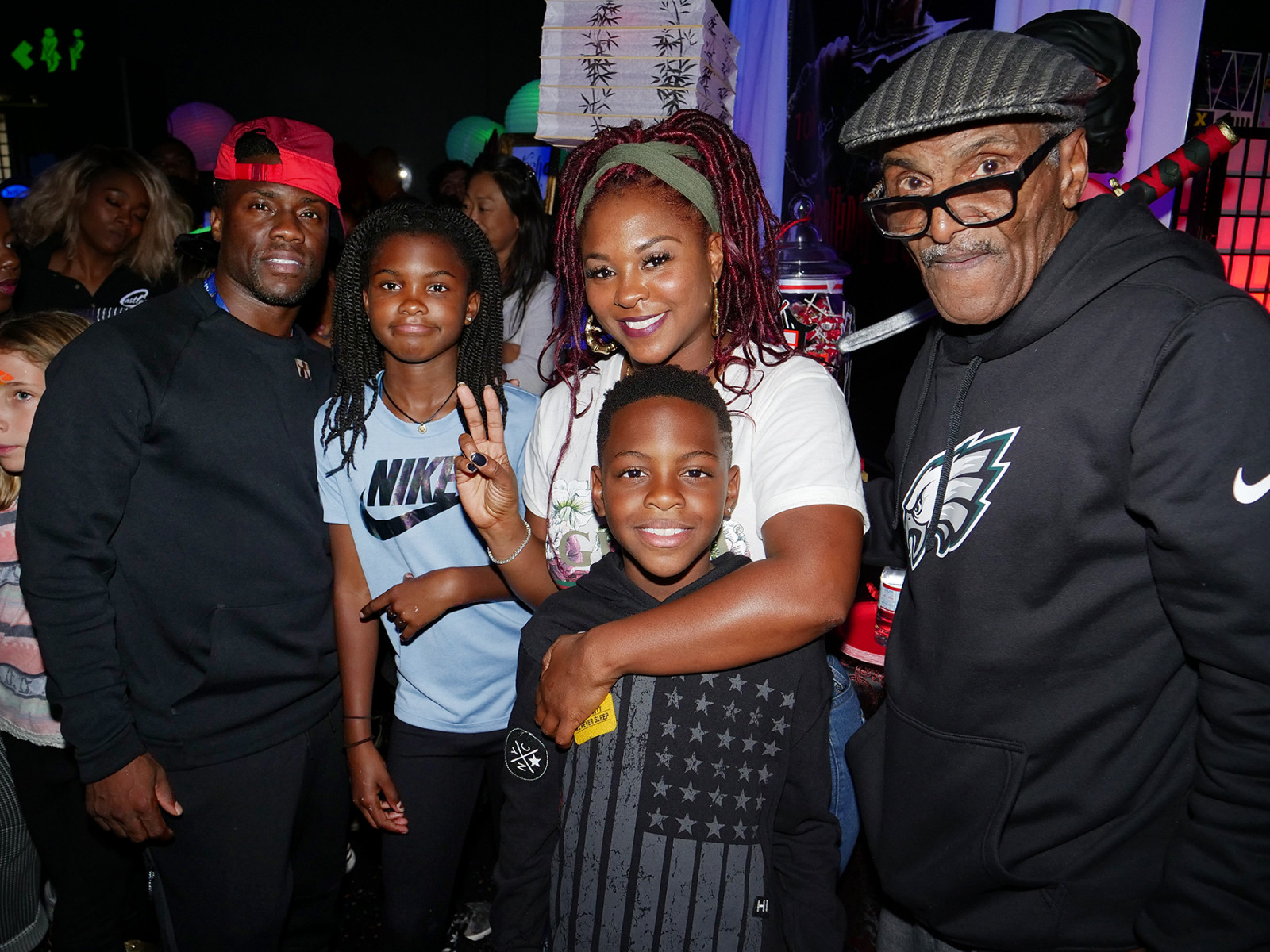 On Sunday, Kevin and his ex-wife, Torrei, celebrated their son Hendrix's 10th birthday.
Lucky Hendrix had a ninja warrior-themed party at GlowZone in Los Angeles.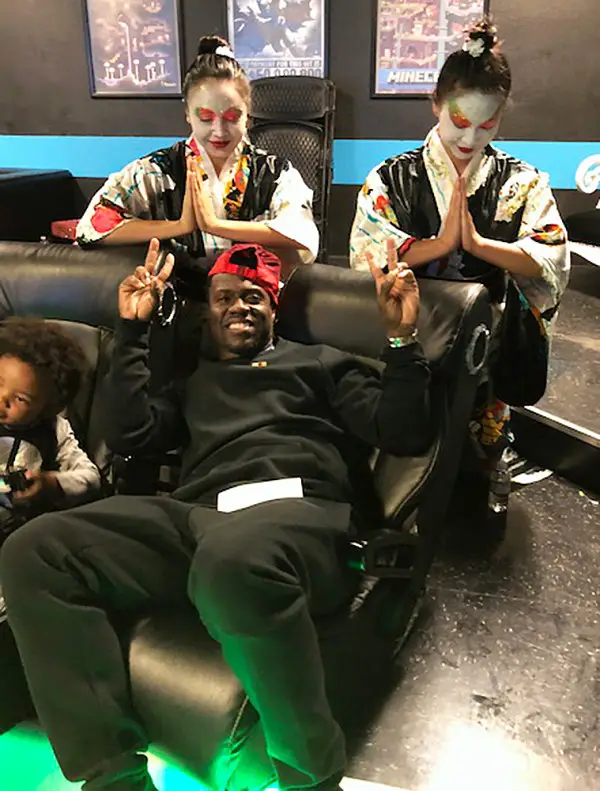 More than 70 children and their families attended the fun-filled bash.
Hendrix's big day featured face-painting, activity packed game rooms and themed desserts. 
The happy family snaps comes after the woman who appeared in a leaked sex tape with Hart claims she has received death threats.
Montia Sabbag says she finds it 'very distasteful' that Kevin joked about their alleged affair in a promo for his upcoming tour.
In a new commercial for his 'Irresponsible' shows, Hart is seen being interviewed by himself.
He lists the times he has been caught cheating, including a reference to the tape.
He asks: 'What about Las Vegas?', before replying to himself: 'F*** you, man.'
Sabbag admitted sleeping with the married Hollywood star three times during a three day bender in Las Vegas in August.
Her attorney, Lisa Bloom, said: 'This stuff takes a toll mentally and physically, and now with this tour it's like this whole thing was a joke.'