School custodian Wilbert Knight has a heart of gold and a voice of an angel.
The elementary school custodian sings as he works bringing smiles to both children and adults alike. 
Wilbert has been working for the Steubenville, Ohio school system for 22 years. He says seeing the beaming faces of the children makes his job extra special. 
'I love the kids. I love seeing them smile and seeing them happy,' Knight told ABC News on Monday. 
The 61-year-old greets students and faculty nearly every morning with a song, as they make their way through the hallways of Pugliese West Elementary School. 
Sometimes he belts out the classics and now sings festive tunes to get everyone in the holiday spirit.
'He's an inspiration to all of us. Not only to the kids, but to our staff,' Principal Lynnett Gorman told ABC News.
'In a world where kids are sometimes lacking a positive male role model, Mr. Knight has really shown to be that for them.'
'The kids love him. They give him hugs, he greets them with songs and they greet him with smiles. We're pretty lucky to have him.'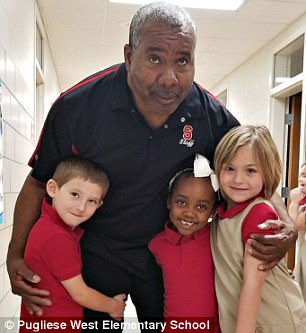 It was second grade teacher Jared Robinson who posted originally posted footage of Wilbert singing online. 
'When I first get here in the morning I can hear it echoing through the halls and it always brightens our day,' he said.   
Now videos of Wilbert singing 'Silent Night' and Sam Cooke's 'A Change is Gonna Come,' have gone viral.
But despite the praise from online fans, kind-hearted Wilbert remains humble. He told ABC that he can hardly believe the attention that he's getting.
'I just want to touch people's hearts,' he said. 'I'm going to keep on singing. I'm not going to stop. That's my gift from God.' 
He says his favorite artist is Luther Vandross and feels most at home singing in church. 
'I'm a gospel singer. That's what I do,' Wilbert says proudly.