When you fall in love with someone you vow to stand by their side through thick and thin.
For Atittaya Chumkeaw, when her love was diagnosed with eye cancer she was devastated.
Her boyfriend – Pooh Chokchai Kaew – also developed serious tumors that spread across his face.
Pooh's cancer has spread and sadly now threatens his life.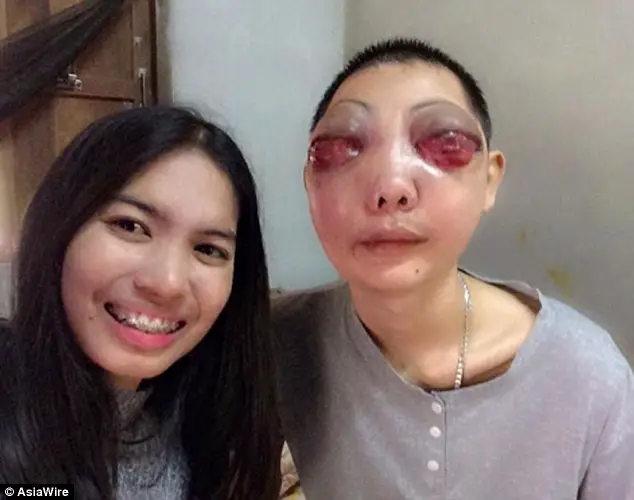 Loyal girlfriend Atittaya is trying to make her boyfriend as comfortable as possible.
The 21-year-old from the city of Songkhla, in Thailand's Songkhla Province, posted a picture of the pair on social media and wrote:
'Third anniversary, love the same.'
The post quickly went viral after being shared by a group named 'True Buddhism'.
True Buddhism also recounted the couple's love story, saying:
'The young man is suffering from end-stage cancer that has spread throughout his face.'
'The family revealed that doctors have no treatment, with radiotherapy or chemotherapy.'
'But the young man still hopes for a miracle and that the tumor will disappear.'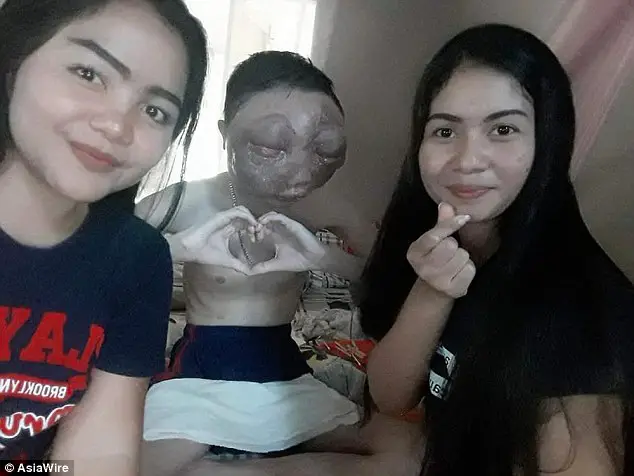 'But this post is not to give false hope to cancer patients. I admire the girl who is standing by her partner.'
'Fans say the love that she gives to her boyfriend is the best thing she can offer. It may even cause miracles to happen.'
Local media report that Pooh's illness started as a retinoblastoma.
Then tragically the cancer cells then spread all over his face.
Doctors are reportedly pessimistic but Pooh is not giving up hope.
The devoted couple say they are happy to have some internet fame and hope for good health.
But humbly they say they want healing for Pooh, but for cancer patients worldwide.
One user wrote online of Atittaya's unwavering support for her boyfriend:
'I believe this is a wonderful way for Heaven and Earth to make miracles happen.'