Nicki Minaj brought her fiancé Kenneth Petty, to her Beverly Hills party for her Fendi collaboration on Tuesday.
The "Megatron" artist rocked an open-weave net dress that flashed her metallic underwear as she arrived at the launch event.
Minaj rocked a bright red hair which she complemented with a touch of purple lipstick for her big night.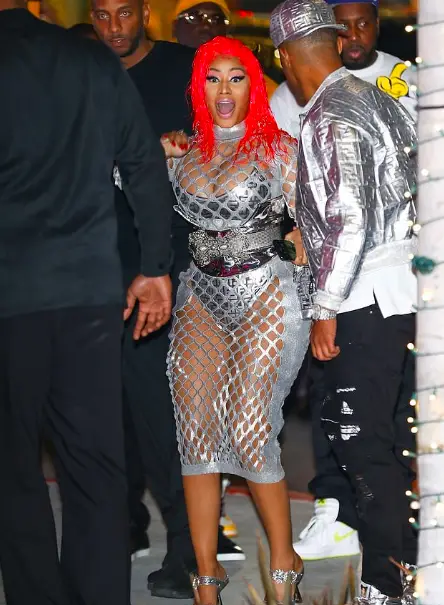 The bride-to-be took selfies on the sidewalk with her man, who wore a silver Fendi jacket with metallic shoes and a sparkling baseball cap.
Chloe and Halle Bailey, the sister-act who release music under the name Chloe X Halle were in attendance at the Fendi launch.
Michael Jackson's 21-year-old daughter Paris could also be spotted arriving at the party.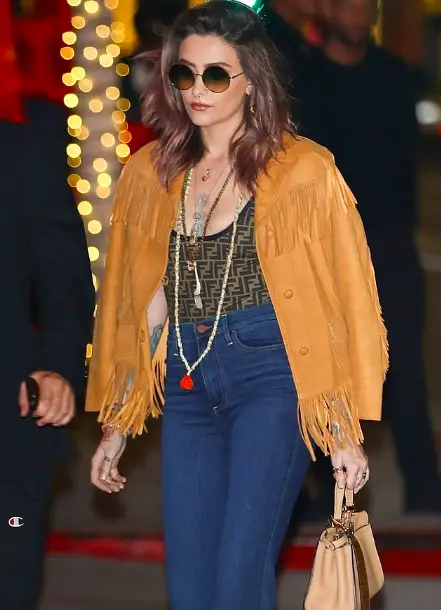 Super Bass rapper Nicki Minaj revealed on her Queen Radio show in June that she is set to wed in "about 80 days."
Minaj, 36, said that she and her fiancé Kenneth Petty have filed for a marriage license. 
"We filed for the marriage license and we still had to pick it up and I was traveling, by the time I came back, we had to renew it again," Minaj dished on her Beats 1 show. 
The couple have been officially been involved with Petty since December of last year. But they dated as teens.
"From that time, you have 90 days to get married. That was about a week ago, so now I have about 80 days," she explained.
The 10-time Grammy-nominee is busy with producing her new album. So she is opting to have a "big wedding later" in favor of a smaller ceremony.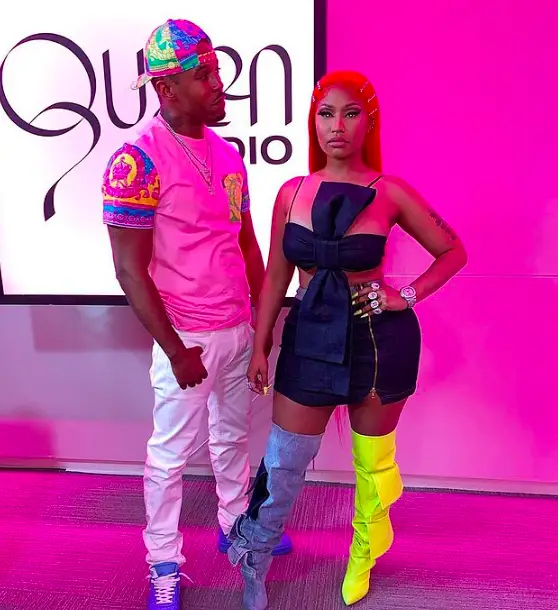 "I'll be married before my album comes out, but will have my wedding after the album comes out. Before the 90 days is over, yes, I will be married."
But the Anaconda artist has been widely criticized for becoming engaged to convicted felon Kenneth "Zoo" Petty. 
Minaj has come out swinging against fans who have cast doubt on Petty.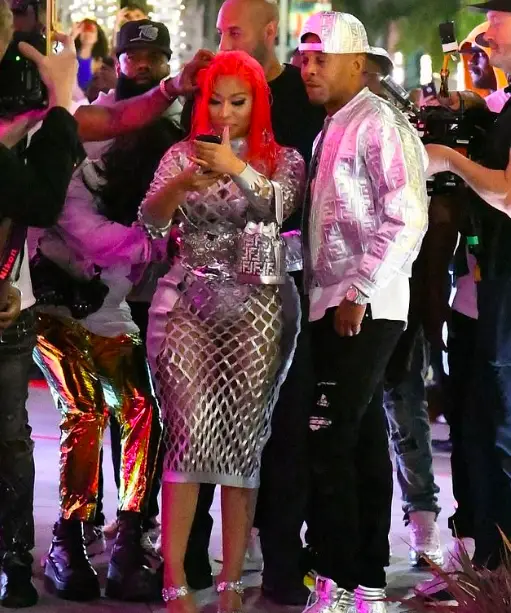 "When a person is with a n**** that loved them before they had a dime in their pocket?" she proclaimed on her show. 
"How do you not understand that? How do you not understand happiness versus clout? How f***ing dare you talk about lowering standards," the Megatron star added. 
Minaj insisted she is happy Petty is not famous in his own right.
However her beau's criminal rap sheet is disturbing to say the least. One of his felonies includes the attempted rape of a 16-year-old girl in 1994 when he was 16.
He went to prison for almost four years for the crime and was registered as a level two sex offender in New York.
In response to naysayers on Instagram, Minaj replied: "He was 15, she was 16 … in a relationship. But go awf Internet. Y'all can't run my life. Y'all can't even run y'all own life. Thank you boo."
He fiancé has also been arrested for manslaughter for his involvement in the deadly shooting of a man. Petty grew up in Queens, New York just like his girlfriend Minaj. It is where the pair first met before Minaj hit the big time.